Old Articles
Saturday, May 26
·
Colonialism never ended, it continues by different means
Monday, March 19
·
Social Media Scam Alert: Top Ten Ways to Tell Kony is Phony
Friday, March 09
·
Kony 2012: Invisible Children and Visible Racism
Friday, January 20
·
Black America Still Paralyzed, Powerless, Irrelevant
Wednesday, January 11
·
Hell No, We Won't Go To War Against Africa!
Friday, December 02
·
Africa Lies Naked to Euro-American Military Offensive
Monday, October 31
·
Understanding Tunisia's Elections Results
Friday, October 21
·
America's New African Empire
Saturday, September 24
·
US Ambassador Echoes Cecil Rhodes
Tuesday, August 02
·
End Game for Benghazi Rebels as Libyan Tribes Prepare to Weigh In?
Sunday, July 24
·
Ground Your Warplanes, Save the Horn of Africa
Wednesday, May 04
·
Who We Attack: History Can't Hide Hypocrisy
Wednesday, April 06
·
What Is Behind The Libyan Defections?
Monday, February 21
·
Challenging Western Distortions about Zimbabwe's Land Reform
Friday, December 17
·
Zimbabwe's Road to Vindication
Saturday, July 03
·
World Cup 2010: Bend It Like Imperialism!
Tuesday, June 01
·
Oil Leaks in the Gulf of Mexico & Niger Delta: Double Standard World Racism
Wednesday, April 14
·
Zimbabwe: U.S. Must Come Clean - SA Envoy
·
UK media's covert racism laid bare
Friday, April 02
·
Africa: since ages living in the racist abyss of capitalist barbarism
Older Articles
Africa Focus: South Sudan: When the Empire is Your Liberator, You're Not Independent
Monday, January 20 @ 06:20:00 UTC
By Glen Ford
January 15, 2014 - blackagendareport.com

"The South Sudanese military has broke up into its component warlord parts."

For decades, the United States and Israel sought to bring about the fracturing of Sudan, which had been, geographically, the largest nation in Africa. Secession of the South was a special project of Israel, whose most enduring and fundamental foreign policy is to spread chaos and dissention in the Muslim and Arab worlds. Sudan, under the political control of the mostly Muslim North, joined the Arab League immediately upon independence, in 1956. Israel has sought to destabilize Sudan ever since, both to strike a blow at "Arabized" Africans and to curry favor among Christians on the continent.

John Garang, who rose to leader of the Sudanese People's Liberation Army, received military training in Israel in 1970, during Sudan's first civil war. However, Garang favored keeping the South in federation with a united Sudan. In 2005, under a Comprehensive Peace Agreement, Garang became vice president of the whole of Sudan and premier of the southern part of the country. He died in a mysterious helicopter crash six months later. Garang was succeeded by Salva Kiir, who sports a black cowboy hat given to him by President Bush, in 2006.


(Read More... | 4332 bytes more | Score: 0)
Africa Focus: Mandela Is Dead: Why Hide The Truth About Apartheid?
Monday, December 30 @ 05:31:19 UTC
By Fidel Castro
December 29, 2013 - monthlyreview.org

Maybe the empire thought that we would not honor our word when, during days of uncertainty in the past century, we affirmed that even if the USSR were to disappear Cuba would continue struggling. World War II broke out on September 1, 1939 when Nazi-fascist troops invaded Poland and struck like a lightning over the heroic people of the USSR, who contributed 27 million lives to preserve mankind from that brutal massacre that ended the lives of 50 million persons.

War, on the other hand, is the only venture that the human race throughout history has failed to avoid, leading Einstein to say that he did not know how World War III would be like but most certainly the fourth would be fought with sticks and stones.

Added up, the means available to the two most powerful powers –United States and Russia— amount to 20,000 (twenty thousand) nuclear warheads. Mankind should know that three days before John F. Kennedy assumed the presidency of his country on January 20, 1961, a US B-52 bomber, in a routine flight, carrying two atomic bombs with a destructive capacity 260 times that of the bomb dropped in Hiroshima, had an accident and the aircraft crashed. For such cases sophisticated automatic equipment are in place to prevent the bombs from exploding. The first bomb landed without risks. In the case of the second, three of the four mechanisms failed, and the fourth, in very critical conditions could barely function. The bomb did not explode by mere chance.


(Read More... | 14009 bytes more | Score: 0)
Africa Focus: The Mandela Barbie
Sunday, December 15 @ 17:51:09 UTC
By Greg Palast
December 13, 2013 - gregpalast.com

I can't take it anymore. All week, I've watched Nelson Mandela reduced to a Barbie doll. From Fox News to the Bush family, the politicians and media mavens who body-blocked the anti-Apartheid Movement and were happy to keep Mandela behind bars, now get to dress his image up in any silly outfit they choose.

It's more nauseating than hypocrisy and ignorance. The Mandela Barbie tells us in a squeaky little doll voice, not his own, that apartheid is now "defeated" - to quote the ridiculous headline in the Times.

Poor Mandela. When he's not a doll, he's a statue. He joins Martin Luther King as another bronzed monument whose use is to serve a new version of racism, Apartheid 2.0, worsening both in South Africa - and in the USA.


(Read More... | 7601 bytes more | Score: 5)
Africa Focus: Good Liberation Hero-Bad Liberation Hero
Saturday, December 07 @ 19:54:42 UTC
By Stephen Gowans
December 07, 2013 - gowans.wordpress.com

It seemed almost inevitable that on the new day Western newspapers were filled with encomia to the recently deceased South African national liberation hero Nelson Mandela that another southern African hero of national liberation, Robert Mugabe, should be vilified. "Nearly 90, Mugabe still driving Zimbabwe's economy into the ground," complained Geoffrey York of Canada's Globe and Mail.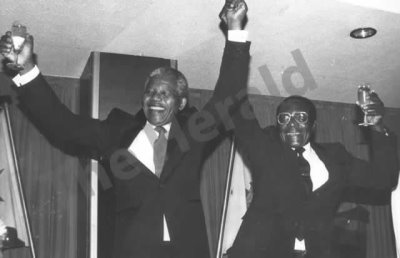 President Mugabe gives a toast to a closer relationship between Zimbabweans and progressive South Africans and to peace and prosperity in 1990.
(Read More... | 4958 bytes more | Score: 0)
Africa Focus: Mandela, A Life of Struggle: The History Most Mainstream Obits Omit
Saturday, December 07 @ 07:34:55 UTC
By Derrick O'Keefe and Jahanzeb Hussain
December 07, 2013 - commondreams.org

Nearly 50 years ago, in 1964, Nelson Mandela — along with many other comrades in the struggle for the liberation of South Africa from racist white domination under apartheid — was sentenced to life in prison. His statement to the court, made when he was facing the real threat of execution, remains an historic demonstration of defiance and resistance.

Mandela's sentence was "reduced" to life imprisonment. He would spend 27 years caged by the brutal racist regime in South Africa, before the resistance movement there and a worldwide solidarity campaign helped to force his release.

Many times, the apartheid government dangled a pardon for Mandela — if he would agree to publicly renounce the armed struggle. Contrary to liberal, depoliticized histories of the life of Mandela, he was in fact a political leader who believed in achieving liberation by any means necessary. Indeed, in 1961 he helped to found Umkhonto we Sizwe — which means 'Spear of the Nation' — an armed struggle wing of the liberation movement. Earlier that same year, Mandela gave his first ever television interview. In it, he alluded to the sense of futility of fighting against a violent apartheid regime with only non-violent means.


(Read More... | 7869 bytes more | Score: 0)
Africa Focus: US & France Intervene in Mali To Protect Land & Resource Grabs
Monday, April 29 @ 05:36:06 UTC
US & France Intervene in Mali To Protect Land & Resource Grabs, Not Because of Al Qeda

By Bruce Dixon
April 29, 2013 - blackagendareport.com

On March 15, former General and AFRICOM commander Carter F. Ham testified before the House Armed Services Committee that the situation in the West African republic of Mali is, along with that in Nigeria and Somalia, "a direct threat to the national security of the United States." In plain language, claiming a direct threat to US national security is the standard justification for murderous military intervention around the world, and Mali has just been added to the hit list.

Echoing official sources like General Ham, corporate media tell us that Al Qeda and related Islamist forces, flush with weapons from the recent conflict in Libya, are poised to overrun Mali. Should we believe them? Aren't they the same folks who once assured us Saddam, and nowadays Iran, have nuclear weapons? Of course they are, and the real reasons for US intervention are something else entirely.


(Read More... | 4662 bytes more | Score: 4)
Africa Focus: Africa: Imperialism's High Mark of Conquest in the 21st Century
Wednesday, April 10 @ 13:24:17 UTC
The US-NATO military curtain has fallen the length and breadth of Africa. 'Zimbabwe and tiny Eritrea are among the few nations on the African continent that have not yet been absorbed into the AFRICOM matrix.'
By Glen Ford
April 10, 2013 - blackagendareport.com
"Imperialism with a Black face has been fantastically successful, in Africa."


At present, nothing stands in the way of the militarization and occupation of Africa by the United States and its junior imperialist partners. Every global and multinational organization of any consequence on the continent has been suborned to the service of the neocolonial military project. AFRICOM, the United States Military Command in Africa, has become the headquarters of recolonization, augmented by the militaries of NATO and legitimized by the African Uni0n, itself, and the global credentials of the United Nations.


(Read More... | 4673 bytes more | Score: 0)
Africa Focus: The fallacy of the whiteman's burden
Wednesday, March 27 @ 11:36:20 UTC
By Mthulisi Ndebele
March 27, 2013 - herald.co.zw

I am greatly concerned by the misconception that is awash in various foreign and local media that for Zimbabwe's elections to be regarded as free and fair, they must be endorsed by the EU and USA.

The road from colonialism to one man one vote was a long one, accompanied by indiscriminate expropriation of African land and their rights. One such right was the right to one men one vote or universal adult suffrage which finally came after the sacrifices made by the gallant sons and daughters of Zimbabwe.

This right was fought for by our forebears for over 100 years from the first Umvukela to the war of independence. The ability to cast a vote meant they had a voice and they could choose our own leaders but through various colonial measures such as the qualified franchise a few Africans could vote in the then colonial Rhodesia.


(Read More... | 4684 bytes more | Score: 0)
Africa Focus: Gaddafi's warnings now used to justify Mali intervention
Wednesday, February 27 @ 20:46:50 UTC
Once derided, Gaddafi's warnings about jihadists now used to justify Mali intervention

By Stephen Gowans
February 27, 2013 - gowans.wordpress.com

In the January 20th New York Times, Steven Erlanger justifies the French intervention in Mali on these grounds:

It responds to "a direct request from a legitimate government."
It combats "the spread of radical Islamists, some of them foreign jihadists, strongly connected to terrorist groups like Al Qaeda in the Islamic Maghreb."
Erlanger uses the word "legitimate" to describe Mali's government. "Democratic" carries more weight, but Mali is governed by a military dictatorship, a truth one suspects Erlanger would prefer not to draw attention to. Neither does Erlanger's report mention that Human Rights Watch accuses the Malian military of killing civilian Tuareg and Arab minorities (1). Being every bit a salesman, Erlanger presses "legitimate" into use as an inferior, though still high-sounding, surrogate for "democratic" and ignores the civilian killings. A military operation to help a legitimate government must be legitimate, right? In any event, it sounds a whole lot better than the truth, namely, that the West has mounted a military operation to prop up a dictatorship that kills its own people.


(Read More... | 7460 bytes more | Score: 0)
Africa Focus: Imperial Jockeying in Africa: U.S. Intervention Sets to Deepen
Wednesday, February 20 @ 14:57:52 UTC
By Ben Schreiner
February 20, 2013 - workingleft.blogspot.com

As "the peril of guerrilla war looms" for the French in Mali, the United States prepares to step-up its intervention across Africa.

Speaking in Bamako on Tuesday, U.S. Senator Christopher Coons, chairman of the Senate Foreign Relations Committee, stated that direct U.S. military support of the Malian government is likely to resume after the country's July elections.

"After there is a full restoration of democracy," Coons said, "I would think it is likely that we will renew our direct support for the Malian military."

(The U.S. suspended direct military aid to Mali following a coup last year by a U.S.-trained Malian officer.)

Coons went on to deem al-Qaeda in Islamic Maghreb (AQIM) a "'very real threat' to Africa, the United States and the wider world."


(Read More... | 9380 bytes more | Score: 0)
Africa Focus: Opportunities and War in Mali
Wednesday, February 13 @ 08:44:41 UTC
No Security Firms for African Refugees: Opportunities and War in Mali

By Ramzy Baroud
February 13, 2013

The British security firm G4S is set to rake in massive profits thanks to crises in Mali, Libya and Algeria. Recognized as the world's biggest security firm, the group's brand plummeted during the London Olympics last year due to its failure to satisfy conditions of a government contract. But with growing unrest in North and West Africa, G4S is expected to make a speedy recovery.

The January 16th hostage crisis at Algeria's Ain Amenas gas plant, where 38 hostages were killed, ushered in the return of al-Qaeda not as extremists on the run, but as well-prepared militants with the ability to strike deeply into enemy territories and cause serious damage. For G4S and other security firms, this also translates into growing demands. "The British group (..) is seeing a rise in work ranging from electronic surveillance to protecting travelers," the company's regional president for Africa told Reuters. "Demand has been very high across Africa," Andy Baker said. "The nature of our business is such that in high-risk environments the need for our services increases."


(Read More... | 10594 bytes more | Score: 0)
Africa Focus: The Real Invasion of Africa is Not News
Thursday, January 31 @ 11:04:05 UTC
The Real Invasion of Africa is Not News and a Licence to Lie is Hollywood's Gift

By John Pilger
January 31, 2013 - johnpilger.com

A full-scale invasion of Africa is under way. The United States is deploying troops in 35 African countries, beginning with Libya, Sudan, Algeria and Niger. Reported by Associated Press on Christmas Day, this was missing from most Anglo-American media.

The invasion has almost nothing to do with "Islamism", and almost everything to do with the acquisition of resources, notably minerals, and an accelerating rivalry with China. Unlike China, the US and its allies are prepared to use a degree of violence demonstrated in Iraq, Afghanistan, Pakistan, Yemen and Palestine. As in the cold war, a division of labour requires that western journalism and popular culture provide the cover of a holy war against a "menacing arc" of Islamic extremism, no different from the bogus "red menace" of a worldwide communist conspiracy.

Reminiscent of the Scramble for Africa in the late 19th century, the US African Command (Africom) has built a network of supplicants among collaborative African regimes eager for American bribes and armaments. Last year, Africom staged Operation African Endeavor, with the armed forces of 34 African nations taking part, commanded by the US military. Africom's "soldier to soldier" doctrine embeds US officers at every level of command from general to warrant officer. Only pith helmets are missing.


(Read More... | 6757 bytes more | Score: 5)
Africa Focus: Zimbabwe Empowerment Lessons for South Africa
Saturday, December 01 @ 00:50:32 UTC
By Rumbidzayi Zinyuke, Business Reporter
November 30, 2012 - herald.co.zw

ZIMBABWE and South Africa have been urged to join forces in the fight for economic empowerment to ensure that the economies of the two countries lie in the hands of black people.

Speaking at the economic empowerment indaba that ended in Harare yesterday, secretary general of the Black Business Council in South Africa Mr Sandile Zungu said South Africa was faced with the same war that Zimbabweans were fighting to empower locals but reiterated that the situation was worse in his country.

"Less than 25 percent of the South African economy is in the hands of black people and less than 10 percent of large companies are owned by blacks," he said.


(Read More... | 3181 bytes more | Score: 0)
Africa Focus: Donor Dollars Aiding Political Repression in Ethiopia
Tuesday, July 17 @ 16:10:06 UTC
By Graham Peebles
July 17, 2012 - dissidentvoice.org

An ideological poison is polluting all life within Ethiopia, flowing into every area of civil society. Local governance, urban and rural neighbourhoods, farming, education and the judiciary all are washed in Revolutionary Democracy, the doctrine of the ruling party. Human Rights Watch, (HRW) in their detailed report, "Development without Freedom" (DWF) quotes Ethiopia's Prime Minister for the last twenty years, Meles Zenawi, explaining that:

When Revolutionary Democracy permeates the entire society, individuals will start to think alike and all persons will cease having their own independent outlook. In this order, individual thinking becomes simply part of collective thinking because the individual will not be in a position to reflect on concepts that have not been prescribed by Revolutionary Democracy.

A society of automatons is the EPRDF vision — the Borg Collective in the Horn of Africa, men, women and children of the seventy or so tribal groups of Ethiopia all dancing to one repressive tune sung by the ruling EPRDF.


(Read More... | 17588 bytes more | Score: 0)
Africa Focus: The Genocidal Fruits of U.S. Africa Policy
Tuesday, July 17 @ 13:59:12 UTC
By Glen Ford
July 11, 2012 - blackagendareport.com

"Why does the United States place its strategic interests in the hands of the elite of a warlike minority in the heart of Central Africa?"

The United Nations has finally released a report detailing Rwanda's latest destabilization of the neighboring Democratic Republic of Congo. As usual, the delay was caused by the United States, which routinely blocks criticism of its military and political client-state, Rwanda, which has since 1996 been deeply complicit in the death of 6 million Congolese. The United States is, therefore, also liable for the genocide in Congo – the largest mass killings since World War Two.


(Read More... | 4174 bytes more | Score: 0)
Facebook & Twitter


Big Story of Today
There isn't a Biggest Story for Today, yet.
Random Headlines

[ Dubai ]