Old Articles
Tuesday, December 03
·
Venezuela's Maduro Announces More Moves against "Parasitic Bourgeoisie"
Tuesday, November 26
·
Monsanto, the TPP and Global Food Dominance
Thursday, November 21
·
On the Warpath in Venezuela: Against the Bolivarian Revolution
Thursday, November 14
·
Haiti, Antihaitianismo, and the Dominican Republic
Wednesday, November 06
·
Freedom Rider: Black Faces for White People
Sunday, October 06
·
Freedom Rider: Death and Somalia
·
Innocent Kenyan Blood Drips from Imperial Hands
·
If Charles Taylor is a War Criminal, Then So are Obama, Bush and Clinton
Wednesday, October 02
·
Gaza: Crushed between Israel and Egypt
Friday, September 27
·
The World Needs Peace – But Not a Pax Americana
Thursday, September 19
·
Syria's New Game: The Russian Factor
Friday, September 06
·
Obama: As Warlike as Bush, and Just as Lonely
·
Counter-Questions on Syria
Thursday, September 05
·
Abbas's Village Leagues and Palestinian Silence
Wednesday, August 07
·
The Pope and the Pan
Tuesday, August 06
·
Racism ... Just Get Over It?
Monday, July 22
·
Trayvon and White Madness
Friday, July 19
·
Zimmerman Verdict -- Where Do We Go From Here?
Thursday, July 18
·
On Leaks and Pseudo-Reality: The US' Futile Search for 'World Domination
Wednesday, July 17
·
Is Tim Wise Stamping the Anti-Racist Ghetto Passes at Teach For America
Older Articles
Latin America: Venezuela's Opposition Is United Against Maduro, But Internally Divided
Sunday, March 09 @ 11:22:18 AST
By Roberto Lovato
March 7th 2014 – Al Jazeera

CARACAS — His face and muscular arms sweating, hands dirtied from the sand-filled sugar bags he dragged toward the makeshift rampart blocking half of his street, Emilio Palacios' immediate political struggle was with his mother. "No, Mama, no!" he yelled toward his mother, Maria Bravo, a longtime resident of the Chacaito district of Venezuela's capital. "No!" he repeated, after hearing her tell Al Jazeera that the purpose of the barricade under construction in front of their apartment was "getting rid of this government."

Measuring his words, he offered a different explanation. "We're here as students to protest against the insecurity in the country and scarcity and the killing of students by the National Guard," said Palacios, an engineering student at Central University. "This is not a protest against the government. We're sending a message to the government."

"OK. We have differences," responded Bravo, a 48-year-old publicity and marketing executive, while sitting in a plastic lounge chair alongside her dog, Bruno, who almost knocked over a makeshift sign saying "Resistencia SOS Venezuela."


(Read More... | 9367 bytes more | Latin America | Score: 0)
World Focus: Hillary and Other Assorted Barbarians at Russia's Gate
Friday, March 07 @ 14:42:50 AST
By Glen Ford
March 07, 2014 - blackagendareport.com

"Americans sound like southern white fascists, with their reflexive assumptions of supremacy, global privilege, and ordained national mission."

Hillary Clinton is a walking profanity – and, thereby, a prime candidate to be the next president of the United States. The fiend who played Julius Caesar when U.S.-employed jihadists butchered Libya's Muammar Gaddafi ("We came, we saw, he died") now likens Russia's response to the U.S.-backed fascist putsch in the Ukraine to Hitler's quest for a Greater Germany. It is like spitting on the graves of the 25 million Russians and other Soviet nationalities slaughtered in Hitler's racist jihad – the people who actually defeated the Nazis while the U.S. and Britain loitered off Europe's shores. At war's end, the United States imported thousands of Nazis to construct the nuclear/chemical/biological military juggernaut that would usher in an "American Century" – while confiscating Paul Robeson and W.E.B. Dubois' passports.

Thanks to the Americans, West German denazification never happened but, by the mid-Seventies, Washington had implanted fascist military regimes throughout Latin America – one of which exterminated 200,000 Guatemalan Mayas.


(Read More... | 6714 bytes more | World Focus | Score: 0)
World Focus: America's Staggering Hypocrisy
Thursday, March 06 @ 21:18:13 AST
By Robert Parry
March 4, 2014 - consortiumnews.com

Since World War II – and extending well into the Twenty-first Century – the United States has invaded or otherwise intervened in so many countries that it would be challenging to compile a complete list. Just last decade, there were full-scale U.S. invasions of Afghanistan and Iraq, plus American bombing operations from Pakistan to Yemen to Libya.

So, what is one to make of Secretary of State John Kerry's pronouncement that Russia's military intervention in the Crimea section of Ukraine – at the behest of the country's deposed president – is a violation of international law that the United States would never countenance?

Kerry decried the Russian intervention as "a Nineteenth Century act in the Twenty-first Century." However, if memory serves, Sen. Kerry in 2002 voted along with most other members of the U.S. Congress to authorize President George W. Bush's invasion of Iraq in 2003, which was also part of the Twenty-first Century. And, Kerry is a member of the Obama administration, which like its Bush predecessor, has been sending drones into the national territory of other nations to blow up various "enemy combatants."


(Read More... | 13055 bytes more | World Focus | Score: 0)
World Focus: "Journalists" Follow Obama on Ukraine
Wednesday, March 05 @ 14:03:19 AST
By Margaret Kimberley
March 05, 2014 - blackagendareport.com

"Their behaviors are an effort to diminish any debates or arguments against the United States government."

Prominent journalists in the United States may as well be on the White House payroll. They are consistent cheerleaders for whoever occupies the oval office and the corporate corner office. They make no attempt to hide their allegiance to power and their lack of interest in informing the public.

The rotten state of affairs becomes all too obvious whenever a president threatens action against another country. Reporters act more like press agents and spring into action shielding and protecting the aggressors. They make it clear to those few who gain access that questions, criticisms or anything else that smacks of independent thought will not to be tolerated. The American decision to use Ukraine as a means of attacking Russian influence is the latest effort to prop up the empire, and the corporate media obligingly show their approval.


(Read More... | 7122 bytes more | World Focus | Score: 0)
World Focus: Cheering a 'Democratic' Coup in Ukraine
Saturday, March 01 @ 13:15:24 AST
By Robert Parry
February 26, 2014 - consortiumnews.com

There was always a measure of hypocrisy but Official Washington used to at least pretend to stand for "democracy," rather than taking such obvious pleasure in destabilizing elected governments, encouraging riots, overturning constitutional systems and then praising violent putsches.

But events in Ukraine and Venezuela suggest that the idea of respecting the results of elections and working within legal, albeit flawed, political systems is no longer in vogue, unless the "U.S. side" happens to win, of course. If the "U.S. side" loses, then it's time for some "shock doctrine." And, of course, the usual demonizing of the "enemy" leader.

Ukraine's ousted President Viktor Yanukovych was surely no one's idea of a pristine politician, though it looks like there are few to none of those in Ukraine, a country essentially controlled by a collection of billionaire oligarchs who jockey for power and shift their allegiances among corrupt politicians.


(Read More... | 14904 bytes more | World Focus | Score: 5)
Latin America: Venezuelan Government Allege Uribe and U.S. Role in Disturbances
Wednesday, February 26 @ 08:34:00 AST
By Tamara Pearson
February 26, 2014 - Venezuelanalysis.com

Venezuelan governmental authorities have provided what they allege is evidence of former Colombian president Alvaro Uribe's involvement in the current disturbances and violence. They also claim that the US has provided some advice, and that mercenaries are involved.

Communications minister Delcy Rodriguez last night accused Uribe, the Venezuelan Chamber of Commerce (Fedecamaras), and the American-Venezuelan Chamber of Commerce and Industry (Venamcham) of being "implicated" in the current "destabilising" actions.

"We have been showing the proof [of this] for years, at the moment we're investigating other facts so that soon we can show to what extent Fedecamaras is involved in this coup [attempt]," she said.

Further, last night National Assembly president Diosdado Cabello revealed a series of alleged emails between political advisor Juan Jose Rendon, and Ricardo Koesling of the opposition Piedra party.


(Read More... | 4559 bytes more | Latin America | Score: 0)
Latin America: Obama's Arrogant Interference in Venezuela
Sunday, February 23 @ 11:50:12 AST
Obama's Arrogant Interference in Venezuela and Resistance by A Participatory Democracy

By Arnold August
February 23, 2014 - democracycuba.com

On February 19, 2014, at a Press Conference by President Obama, President Peña Nieto (Mexico), and Prime Minister Harper (Canada), in Toluca, Mexico, Obama stated:

"In Venezuela, rather than trying to distract from its own failings by making up false accusations against diplomats from the United States, the government ought to focus on addressing the legitimate grievances of the Venezuelan people. So, along with the Organization of American States, we call on the Venezuelan government to release protestors that it's detained and engage in real dialogue. And all parties have an obligation to work together to restrain violence and restore calm." www.whitehouse.gov

How can Obama say that the accusations against U.S. diplomats for interfering in the internal affairs of Venezuela are false? The above three-sentence statement exclusively on Venezuela uttered by the U.S. president consists in itself as an arrogant attempt to interfere in Venezuela's internal affairs. The "legitimate grievances" of the Venezuelan people were addressed by the Bolivarian Revolution in numerous ballot box contests since December, 1998. These electoral gains precisely target the U.S.-dominated economic and political system existing from 1958 to 1998. The voting includes the April 14, 2013 presidential election won by Nicolás Maduro and which the U.S. refuses to recognize; by negating the results recognized by the whole continent, Obama had planted the seeds of the current violence carried out by the pro-U.S. elements in the country. The candidates of the Bolivarian Revolution's Partido Socialista Unido de Venezuela. (PSUV) also won the majority of municipalities, mayoralties and the popular vote in the December 8, 2013 municipal elections.


(Read More... | 10328 bytes more | Latin America | Score: 0)
Latin America: What Violent Protests Mean for Venezuela
Monday, February 17 @ 17:08:05 AST
Coups, Media and Stalemates: What Violent Protests Mean for Venezuela

Venezuelanalysis.com's staff writers offer their concise insights on three different angles of the violent protests that have been occurring in the country: the opposition's strategy, how the media have reacted, and the implications of the protests for the Bolivarian Revolution.

#1: An Opposition Coup Against The Opposition

Ryan Mallett-Outtrim

The Venezuelan opposition has launched a coup against itself, not against the government. Two strains of the opposition movement are vying for dominance over each other, though they both share the same overarching strategy.

The current opposition strategy is to pressure Nicolas Maduro into resigning from office, and prompt another presidential election. They intend to win the next election by terrorising swing voters into capitulating to the opposition.

For now, this is the only real option available to the opposition. The military is firmly aligned with Chavismo, ruling out a repeat of the April 2002 coup attempt. However, a possible recall referendum is still two years away, plus the far right is short sighted and generally apathetic towards democracy anyway.


(Read More... | 20528 bytes more | Latin America | Score: 0)
Inside U.S.A.: American State of the Union: A Festival of Lies
Friday, January 31 @ 07:05:03 AST
By Glen Ford
January 30, 2014 - blackagendareport.com

"When you say 'jobs,' he says tax cuts – just like the Republicans, only Obama first cites the pain of the unemployed, so that you know he cares."

"Believe it," said the current Prevaricator-in-Chief, in the conclusion to his annual litany lies. President Obama's specialty, honed to theatrical near-perfection over five disastrous years, is in crafting the sympathetic lie, designed to suspend disbelief among those targeted for oblivion, through displays of empathy for the victims. In contrast to the aggressive insults and bluster employed by Republican political actors, whose goal is to incite racist passions against the Other, the sympathetic Democratic liar disarms those who are about to be sacrificed by pretending to feel their pain.

Barack Obama, who has presided over the sharpest increases in economic inequality in U.S. history, adopts the persona of public advocate, reciting wrongs inflicted by unseen and unknown forces that have "deepened" the gap between the rich and the rest of us and "stalled" upward mobility. Having spent half a decade stuffing tens of trillions of dollars into the accounts of an ever shrinking gaggle of financial capitalists, Obama declares this to be "a year of action" in the opposite direction. "Believe it." And if you do believe it, then crown him the Most Effective Liar of the young century.


(Read More... | 7247 bytes more | Inside U.S.A. | Score: 0)
Arab Spring: The Secret War in Libya
Thursday, January 23 @ 05:47:50 AST
By Eric Draitser
January 22, 2014 - Global Research

The battles currently raging in the South of Libya are no mere tribal clashes. Instead, they represent a possible burgeoning alliance between black Libyan ethnic groups and pro-Gaddafi forces intent upon liberating their country of a neocolonial NATO-installed government.

On Saturday January 18th, a group of heavily armed fighters stormed an air force base outside the city of Sabha in southern Libya, expelling forces loyal to the "government" of Prime Minister Ali Zeidan, and occupying the base. At the same time, reports from inside the country began to trickle in that the green flag of the Great Socialist People's Libyan Arab Jamahiriya was flying over a number of cities throughout the country. Despite the dearth of verifiable information - the government in Tripoli has provided only vague details and corroboration - one thing is certain: the war for Libya continues.


(Read More... | 9861 bytes more | Arab Spring | Score: 0)
Africa Focus: South Sudan: When the Empire is Your Liberator, You're Not Independent
Monday, January 20 @ 06:20:00 AST
By Glen Ford
January 15, 2014 - blackagendareport.com

"The South Sudanese military has broke up into its component warlord parts."

For decades, the United States and Israel sought to bring about the fracturing of Sudan, which had been, geographically, the largest nation in Africa. Secession of the South was a special project of Israel, whose most enduring and fundamental foreign policy is to spread chaos and dissention in the Muslim and Arab worlds. Sudan, under the political control of the mostly Muslim North, joined the Arab League immediately upon independence, in 1956. Israel has sought to destabilize Sudan ever since, both to strike a blow at "Arabized" Africans and to curry favor among Christians on the continent.

John Garang, who rose to leader of the Sudanese People's Liberation Army, received military training in Israel in 1970, during Sudan's first civil war. However, Garang favored keeping the South in federation with a united Sudan. In 2005, under a Comprehensive Peace Agreement, Garang became vice president of the whole of Sudan and premier of the southern part of the country. He died in a mysterious helicopter crash six months later. Garang was succeeded by Salva Kiir, who sports a black cowboy hat given to him by President Bush, in 2006.


(Read More... | 4332 bytes more | Africa Focus | Score: 0)
Africa Focus: Mandela Is Dead: Why Hide The Truth About Apartheid?
Monday, December 30 @ 05:31:19 AST
By Fidel Castro
December 29, 2013 - monthlyreview.org

Maybe the empire thought that we would not honor our word when, during days of uncertainty in the past century, we affirmed that even if the USSR were to disappear Cuba would continue struggling. World War II broke out on September 1, 1939 when Nazi-fascist troops invaded Poland and struck like a lightning over the heroic people of the USSR, who contributed 27 million lives to preserve mankind from that brutal massacre that ended the lives of 50 million persons.

War, on the other hand, is the only venture that the human race throughout history has failed to avoid, leading Einstein to say that he did not know how World War III would be like but most certainly the fourth would be fought with sticks and stones.

Added up, the means available to the two most powerful powers –United States and Russia— amount to 20,000 (twenty thousand) nuclear warheads. Mankind should know that three days before John F. Kennedy assumed the presidency of his country on January 20, 1961, a US B-52 bomber, in a routine flight, carrying two atomic bombs with a destructive capacity 260 times that of the bomb dropped in Hiroshima, had an accident and the aircraft crashed. For such cases sophisticated automatic equipment are in place to prevent the bombs from exploding. The first bomb landed without risks. In the case of the second, three of the four mechanisms failed, and the fourth, in very critical conditions could barely function. The bomb did not explode by mere chance.


(Read More... | 14009 bytes more | Africa Focus | Score: 0)
Africa Focus: The Mandela Barbie
Sunday, December 15 @ 17:51:09 AST
By Greg Palast
December 13, 2013 - gregpalast.com

I can't take it anymore. All week, I've watched Nelson Mandela reduced to a Barbie doll. From Fox News to the Bush family, the politicians and media mavens who body-blocked the anti-Apartheid Movement and were happy to keep Mandela behind bars, now get to dress his image up in any silly outfit they choose.

It's more nauseating than hypocrisy and ignorance. The Mandela Barbie tells us in a squeaky little doll voice, not his own, that apartheid is now "defeated" - to quote the ridiculous headline in the Times.

Poor Mandela. When he's not a doll, he's a statue. He joins Martin Luther King as another bronzed monument whose use is to serve a new version of racism, Apartheid 2.0, worsening both in South Africa - and in the USA.


(Read More... | 7601 bytes more | Africa Focus | Score: 5)
Africa Focus: Good Liberation Hero-Bad Liberation Hero
Saturday, December 07 @ 19:54:42 AST
By Stephen Gowans
December 07, 2013 - gowans.wordpress.com

It seemed almost inevitable that on the new day Western newspapers were filled with encomia to the recently deceased South African national liberation hero Nelson Mandela that another southern African hero of national liberation, Robert Mugabe, should be vilified. "Nearly 90, Mugabe still driving Zimbabwe's economy into the ground," complained Geoffrey York of Canada's Globe and Mail.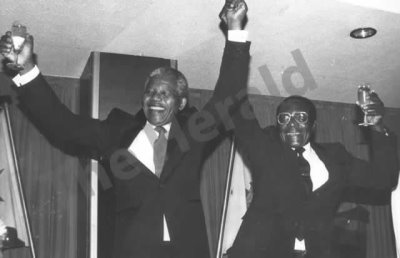 President Mugabe gives a toast to a closer relationship between Zimbabweans and progressive South Africans and to peace and prosperity in 1990.
(Read More... | 4958 bytes more | Africa Focus | Score: 0)
Africa Focus: Mandela, A Life of Struggle: The History Most Mainstream Obits Omit
Saturday, December 07 @ 07:34:55 AST
By Derrick O'Keefe and Jahanzeb Hussain
December 07, 2013 - commondreams.org

Nearly 50 years ago, in 1964, Nelson Mandela — along with many other comrades in the struggle for the liberation of South Africa from racist white domination under apartheid — was sentenced to life in prison. His statement to the court, made when he was facing the real threat of execution, remains an historic demonstration of defiance and resistance.

Mandela's sentence was "reduced" to life imprisonment. He would spend 27 years caged by the brutal racist regime in South Africa, before the resistance movement there and a worldwide solidarity campaign helped to force his release.

Many times, the apartheid government dangled a pardon for Mandela — if he would agree to publicly renounce the armed struggle. Contrary to liberal, depoliticized histories of the life of Mandela, he was in fact a political leader who believed in achieving liberation by any means necessary. Indeed, in 1961 he helped to found Umkhonto we Sizwe — which means 'Spear of the Nation' — an armed struggle wing of the liberation movement. Earlier that same year, Mandela gave his first ever television interview. In it, he alluded to the sense of futility of fighting against a violent apartheid regime with only non-violent means.


(Read More... | 7869 bytes more | Africa Focus | Score: 0)
Facebook & Twitter


Big Story of Today
There isn't a Biggest Story for Today, yet.