Old Articles
Saturday, June 18
·
U.S. Sets Stage for Libya-Like Regime Change in Eritrea, "Africa's Cuba"
Monday, June 06
·
Muhammad Ali: My Name, Not Yours
Friday, June 03
·
There Has Been A Coup In Brazil
Saturday, May 28
·
Silencing America as It Prepares for War
Friday, May 27
·
The Looting Stage of Capitalism: Germany's Assault on the IMF
Wednesday, May 25
·
Get Real: Petrodollars, not corruption is the reason for Brazilian coup
·
Russia Denounces External Forces for Crisis in Venezuela
Tuesday, May 24
·
Call It a 'Coup': How Elite Orchestrated Overthrow in Brazil
Thursday, May 19
·
Hillary Clinton's Race Problem
·
Roots of the Conflict: Palestine's Nakba in the Larger Arab 'Catastrophe'
Monday, April 25
·
Black Lives Don't Matter, Black Votes Do
Friday, December 11
·
San Bernardino Incident Has the Earmarks of a False Flag
Wednesday, December 09
·
The Religious Element of Terrorism
Sunday, November 29
·
Israelis – Not Muslims – Cheered in Jersey City on 9/11
Friday, November 27
·
Turkey Provokes Russia with Shoot-down
Thursday, November 26
·
Turkey Downs Russian Fighter to Draw NATO and US Deeper into Syrian Quagmire
Saturday, November 21
·
The Paris Attacks and the White Lives Matter Movement
Thursday, November 19
·
Snowden Leak Reveals Obama Gov't Ordered NSA, CIA to Spy on Venezuela Oil
·
More Paris Puzzles
·
Military Intervention Is the Problem, Not the Solution
Older Articles
War on Syria: Trump Competes With Clinton in U.S. War of Lies and Terror Against Syria
Saturday, July 01 @ 01:58:03 UTC
By Glen Ford
June 30, 2017 - blackagendareport.com

Donald Trump is the very embodiment of why the undeserving rich must no longer be allowed to reproduce themselves, as a class. They are the fuse that, if not removed, will ignite a fiery doom for the species. Decisively kettled in the White House by a bipartisan War Party that feared he might weaken the momentum of the Obama-Clinton military offensive in Syria, Trump appears to have opted to outdo his tormentors in mad brinksmanship.

On Monday, seemingly out of the blue, the White House announced that the U.S. had "identified potential preparations for another chemical weapons attack by the Assad regime that would likely result in the mass murder of civilians, including innocent children." Press secretary Sean Spicer provided no substantive details, only a warning that if "Mr. Assad conducts another mass murder attack using chemical weapons, he and his military will pay a heavy price."


(Read More... | 20826 bytes more | War on Syria | Score: 0)
Latin America: Venezuelan Opposition Comes Under Fire from Mujica and Pope
Tuesday, May 02 @ 11:00:59 UTC
By Rachael Boothroyd-Rojas
May 01, 2017 - Venezuelanalysis.com

Venezuela's opposition came under fire from both Pope Francis and the former leftist president of Uruguay, Jose "Pepe" Mujica, this past weekend.

In an interview with Uruguayan media, Mujica accused opposition figures of acting in an irresponsible way and putting the future of Venezuela in danger, reports teleSUR.

"What scares me most about Venezuela is the opposition, or an important part of it," commented Mujica.

"I think there is a climate of radicalization that has turned irrational, and that in the long term that will favor the right-wing… That is very dangerous with Trump in the United States," he continued.


(Read More... | 5832 bytes more | Latin America | Score: 0)
World Focus: Our Misguided 'Wars of Choice'
Thursday, April 20 @ 10:45:51 UTC
By Jeffrey D. Sachs
April 20, 2017 - Common Dreams

There is one foreign policy goal that matters above all the others, and that is to keep the United States out of a new war, whether in Syria, North Korea, or elsewhere. In recent days, President Trump has struck Syria with Tomahawk missiles, bombed Afghanistan with the most powerful nonnuclear bomb in the US arsenal, and has sent an armada toward nuclear-armed North Korea. We could easily find ourselves in a rapidly escalating war, one that could pit the United States directly against nuclear-armed countries of China, North Korea, and Russia.

Such a war, if it turned nuclear and global, could end the world. Even a nonnuclear war could end democracy in the United States, or the United States as a unified nation. Who thought the Soviet Uni0n's war in Afghanistan would end the Soviet Uni0n itself? Which of the belligerents at the start of World War I foresaw the catastrophic end of four giant empires — Hohenzollern (Prussia), Romanov (Russia), Ottoman, and Hapsburg — as a result of the war?


(Read More... | 12535 bytes more | World Focus | Score: 0)
World Focus: Australia Beckons A War With China
Thursday, April 13 @ 09:35:02 UTC
By John Pilger
April 13 2017 - johnpilger.com

Australia is sleep-walking into a confrontation with China. Wars can happen suddenly in an atmosphere of mistrust and provocation, especially if a minor power, like Australia, abandons its independence for an "alliance" with an unstable superpower.

The United States is at a critical moment. Having exported its all-powerful manufacturing base, run down its industry and reduced millions of its once-hopeful people to poverty, principal American power today is brute force. When Donald Trump launched his missile attack on Syria - following his bombing of a mosque and a school - he was having dinner in Florida with the President of China, Xi Jinping.


(Read More... | 5148 bytes more | World Focus | Score: 0)
War on Syria: Russia-Baiting Pushed Trump to Attack Syria
Monday, April 10 @ 10:14:57 UTC
...and Increases the Risks of Nuclear Annihilation

By Norman Solomon
April 10, 2017 - Common Dreams

Vast efforts to portray Donald Trump as Vladimir Putin's flunky have given Trump huge incentives to prove otherwise. Last Thursday, he began the process in a big way by ordering a missile attack on Russia's close ally Syria. In the aftermath of the attack, the cheerleading from U.S. mass media was close to unanimous, and the assault won lots of praise on Capitol Hill. Finally, the protracted and fervent depictions of Trump as a Kremlin tool were getting some tangible results.

At this point, the anti-Russia bandwagon has gained so much momentum that a national frenzy is boosting the odds of unfathomable catastrophe. The world's two nuclear superpowers are in confrontation mode.


(Read More... | 7437 bytes more | War on Syria | Score: 0)
War on Russia: Media Hype Fake News Report Claiming Russian US Election Hacking
Saturday, January 07 @ 08:52:20 UTC
By Stephen Lendman
January 07, 2017

Media scoundrels are all over the new CIA/FBI/NSA report, supporting it like gospel, disgracefully claiming Putin ordered America's election hacked to help Trump defeat Hillary - despite no evidence in the contents proving it.

In a statement released to reporters, Trump said "(w)hile Russia, China, other countries, outside groups and people are consistently trying to break through the cyber infrastructure of our governmental institutions, businesses and organizations including the Democrat National Committee, there was absolutely no effect on the outcome of the election including the fact that there was no tampering whatsoever with voting machines."

Media hype barely stopped short of suggesting Putin declared war on America, a disgraceful example of hyperbolic misrepresentation of reality.


(Read More... | 4758 bytes more | War on Russia | Score: 0)
Inside U.S.A.: What can go wrong?
Friday, December 02 @ 20:50:50 UTC
By William Blum
November 30th, 2016 - williamblum.org

That he may not be "qualified" is unimportant.

That he's never held a government or elected position is unimportant.

That on a personal level he may be a shmuck is unimportant.

What counts to me mainly at this early stage is that he – as opposed to dear Hillary – is unlikely to start a war against Russia. His questioning of the absolute sacredness of NATO, calling it "obsolete", and his meeting with Democratic Congresswoman Tulsi Gabbard, an outspoken critic of US regime-change policy, specifically Syria, are encouraging signs.

Even more so is his appointment of General Michael Flynn as National Security Adviser. Flynn dined last year in Moscow with Vladimir Putin at a gala celebrating RT (Russia Today), the Russian state's English-language, leftist-leaning TV channel. Flynn now carries the stigma in the American media as an individual who does not see Russia or Putin as the devil. It is truly remarkable how nonchalantly American journalists can look upon the possibility of a war with Russia, even a nuclear war.


(Read More... | 4855 bytes more | Inside U.S.A. | Score: 0)
Caribbean: Cuba, Fidel, Socialism … Hasta la victoria siempre!
Friday, December 02 @ 20:37:19 UTC
By William Blum
November 30th, 2016 - williamblum.org

The most frequent comment I've read in the mainstream media concerning Fidel Castro's death is that he was a "dictator"; almost every heading bore that word. Since the 1959 revolution, the American mainstream media has routinely referred to Cuba as a dictatorship. But just what does Cuba do or lack that makes it a dictatorship?

No "free press"? Apart from the question of how free Western media is (<a href="http://www.africaspeaks.com/reasoning/index.php?topic=10749.0">see the preceding essays</a>), if that's to be the standard, what would happen if Cuba announced that from now on anyone in the country could own any kind of media? How long would it be before CIA money – secret and unlimited CIA money financing all kinds of fronts in Cuba – would own or control almost all the media worth owning or controlling?


(Read More... | 3855 bytes more | Caribbean | Score: 0)
Inside U.S.A.: George Soros Financed Anti-Trump Protests
Sunday, November 13 @ 19:06:50 UTC
By Stephen Lendman
November 13, 2016

Soros is one of the world's most infamous figures, an international con man profiting from human misery, supporting color revolutions and wars to serve his interests.

He menaces fundamental freedoms worldwide, supports anything that smells money, once saying "(w)e need a global sheriff," perhaps with himself in mind.

As a market participant, he's unconcerned about the consequences of his actions. He supported war goddess/Wall Street favorite Hillary for president, contributing millions of dollars to her campaign.


(Read More... | 5426 bytes more | Inside U.S.A. | Score: 0)
Inside U.S.A.: Clinton Is the Most Dangerous Person Alive
Sunday, November 13 @ 19:00:31 UTC
Clinton Is the Most Dangerous Person Alive – An Interview with Edward S. Herman

By Ann Garrison
November 08, 2016 – blackagendareport.com

The just-concluded election revealed as much about the corporate media, which has broken every rule of journalism to support Hillary Clinton, and the fraudulence of much of the American Left, which turns out to have no real problem with war or capitalism, than it did about the candidates, themselves. Edward Herman is an exception, a genuine man of the Left. He says "a vote for Hillary Clinton is a vote for war with Syria and Russia."

"The election of Hillary Clinton might threaten a democratic order as much as a Trump victory."

Ann Garrison: Earlier this year, you told me that you differ with Noam Chomsky, your co-author of Manufacturing Consent and other books, in that you plan to vote for the Green Party's presidential and vice presidential candidates Jill Stein and Ajamu Baraka in the swing state of Pennsylvania. Are you still planning to do so?


(Read More... | 7375 bytes more | Inside U.S.A. | Score: 0)
Racism Watch: Always remember
Sunday, October 09 @ 03:04:53 UTC
By Dr. Selwyn R. Cudjoe
October 09, 2016

In academic and political lectures, when I refer to the negative psychological and economic impact slavery has had on black people, my questioners usually retort: "You have to bring up slavery again?"

The same people who object to my bringing up slavery's impact upon black people have no objections when Jews urge their people: "Never forget!"

This raises the question: Why should black people forget about slavery when Haiti, well into the 20th century, paid reparations to France for having fought for and won their freedom? In 1825, threatening an invasion, France sent a flotilla to Haiti to compel Haitians to pay a ransom of 150 million gold francs for their freedom. It was reduced subsequently to 90 million gold francs or US$40 billion in today's currency. In 2010, 90 leading academics, authors, and human rights activists, in an open letter to president Nicolas Sarkozy, "urged the French government to pay Haiti for the 90 million gold francs Haitians were forced to pay France for their independence" (London, Guardian, 16 August 2010).


(Read More... | 5855 bytes more | Racism Watch | Score: 0)
War on Syria: He Who Hesitates Is Lost And Russia Hesitated
Tuesday, September 27 @ 03:16:03 UTC
By Paul Craig Roberts
September 27, 2016 - paulcraigroberts.org

The Russian government deceived itself with its fantasy belief that Russia and Washington had a common cause in fighting ISIS. The Russian government even went along with the pretense that the various ISIS groups operating under various pen names were "moderate rebels" who could be separated from the extremists, all the while agreeing to cease fighting on successive verges of victory so that Washington could resupply ISIS and prepare to introduce US and NATO forces into the conflict. The Russian government apparently also thought that as a result of the coup against Erdogan, which was said to implicate Washington, Turkey was going to cease supporting ISIS and cooperate with Russia.

Alas, the Russians so fervently, or perhaps I should say feverishly, desired an agreement with Washington that they deceived themselves. If Finian Cunningham's report is correct, Washington has taken advantage of Russia's urging that Washington and Turkey join in the attack on ISIS by invading northern Syria under the guise of "fighting ISIS."


(Read More... | 6176 bytes more | War on Syria | Score: 0)
World Focus: US Impunity under threat: Turkey may disintegrate NATO
Thursday, August 18 @ 07:51:45 UTC
By Paul Craig Roberts
August 18, 2016 - paulcraigroberts.org

If Turkey leaves NATO, that would be a big change. Turkey has been in the pockets of Washington for a long time. If Washington was behind the coup, this probably has damaged the relationship permanently. Erdogan has very strong motives to realign with Russia despite the problems he had caused. The Russian government has a very strong interest to overlook Turkey's past behavior and to befriend it, because it weakens NATO on Russia's borders. There is a possibility, but I don't know how quickly it happens and what Washington will try to do to retrieve the relationship. It will be some sort of a competition to establish relations with Turkey.

I think Washington will try to fix the problems with Turkey. It has an endless supply of money, because the dollar is the world's reserve currency. So they can offer to Turkish leader billions of dollars.


(Read More... | 2926 bytes more | World Focus | Score: 0)
Inside U.S.A.: Made Man in a Blue Vest: Deray McKesson
Monday, July 11 @ 15:56:52 UTC
Made Man in a Blue Vest: Deray McKesson Is Debutante At Aspen One-Percenters Coming Out Party

By Bruce A. Dixon
July 11, 2016 - blackagendareport.com

It's been a good spring and summer so far for Teach For America alum Deray McKesson. After raising a ton of out of town money the dude in the blue vest finished sixth in the Baltimore mayoral election with a mere 2% of the vote. He was promptly awarded a six figure yearly salary as "interim chief of human capital," the current term of art for personnel department directors. And last weekend, he was one of the headliners at the annual Aspen Ideas Festival.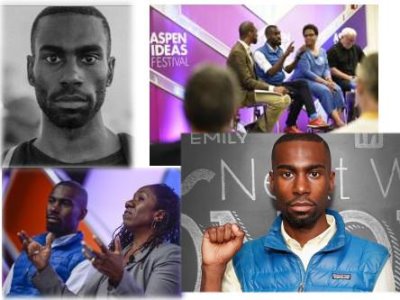 Made Man in a Blue Vest: Deray McKesson
(Read More... | 7072 bytes more | Inside U.S.A. | Score: 0)
World Focus: Why the British said no to Europe
Saturday, June 25 @ 15:11:48 UTC
By John Pilger
June 25, 2016 - johnpilger.com

The majority vote by Britons to leave the European Uni0n was an act of raw democracy. Millions of ordinary people refused to be bullied, intimidated and dismissed with open contempt by their presumed betters in the major parties, the leaders of the business and banking oligarchy and the media.

This was, in great part, a vote by those angered and demoralised by the sheer arrogance of the apologists for the "remain" campaign and the dismemberment of a socially just civil life in Britain. The last bastion of the historic reforms of 1945, the National Health Service, has been so subverted by Tory and Labour-supported privateers it is fighting for its life.

A forewarning came when the Treasurer, George Osborne, the embodiment of both Britain's ancient regime and the banking mafia in Europe, threatened to cut £30 billion from public services if people voted the wrong way; it was blackmail on a shocking scale.


(Read More... | 7566 bytes more | World Focus | Score: 0)
Facebook & Twitter


Big Story of Today
There isn't a Biggest Story for Today, yet.