Old Articles
Thursday, December 09
·
AMERICA: Y UR PEEPS B SO DUM?
Wednesday, November 24
·
A Greater Threat Than the Terrorists: TSA's Gestapo Empire
Sunday, October 24
·
America's Tea Party Phenomenon
Friday, October 15
·
Foreclosuregate: Time to Break Up the Too-Big-to-Fail Banks?
Wednesday, September 29
·
We've Been Here Before: The FBI Raids in Context
Saturday, September 25
·
Regarding US Muslims: A Misguided Debate
Tuesday, September 14
·
Fiddling in the Wasteland: Walking in Reagan's Shoes
Saturday, May 08
·
Computer-Driven Bloodletting on Wall Street: Glitch in the System
Wednesday, May 05
·
Toxic Transfer: Bernanke's Biggest Bailout
Friday, March 12
·
The Right, the Left and the Ugly: Fear and Loathing in White America
Monday, March 01
·
Empire and Oligarchy: Whatever Happened to "We the People"?
Monday, November 16
·
How I Stopped Hating Thanksgiving and Learned to Be Afraid
·
The Audacity of Failure: The 4-year presidency of Barack Hoover Obama
Thursday, August 20
·
Is Barack Obama steering a healthy ship out of turbulent titanic global waters?
Wednesday, March 11
·
Wall Street's House of Cards: Too Big...Period
Saturday, March 07
·
The Rove-Obama Deal: Tangled Up in Karl
Monday, February 09
·
A New Administration, Tired Old Policies
·
Change the Lobby
Wednesday, February 04
·
Obama's economic plan won't fix the crisis
Monday, January 12
·
The Enduring Priorities in Obama's Time of Change
Older Articles
Inside U.S.A.: Made Man in a Blue Vest: Deray McKesson
Monday, July 11 @ 15:56:52 UTC
Made Man in a Blue Vest: Deray McKesson Is Debutante At Aspen One-Percenters Coming Out Party

By Bruce A. Dixon
July 11, 2016 - blackagendareport.com

It's been a good spring and summer so far for Teach For America alum Deray McKesson. After raising a ton of out of town money the dude in the blue vest finished sixth in the Baltimore mayoral election with a mere 2% of the vote. He was promptly awarded a six figure yearly salary as "interim chief of human capital," the current term of art for personnel department directors. And last weekend, he was one of the headliners at the annual Aspen Ideas Festival.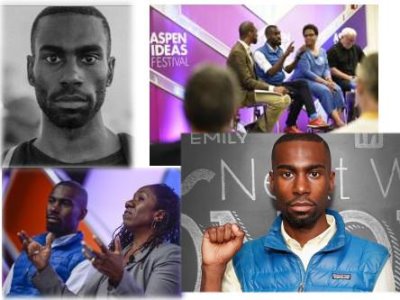 Made Man in a Blue Vest: Deray McKesson
(Read More... | 7072 bytes more | Score: 0)
Inside U.S.A.: Hillary Clinton's Race Problem
Thursday, May 19 @ 13:34:27 UTC
By Eric Draitser
May 19, 2016 - stopimperialism.org

When Hillary Clinton was endorsed by Will Quigg, a grand dragon of the Ku Klux Klan in California, many observers were skeptical that the statement of support for the presumptive Democratic nominee was genuine. Indeed, some went so far as to argue that the very public backing of Clinton by a white supremacist of Quigg's standing was a diversionary tactic designed to either smear Clinton or distract attention from former grand wizard David Duke's endorsement of Donald Trump, which the presumptive Republican nominee failed to disavow. Regardless of whether the support of Clinton was genuine or not, the fact of the matter is that Clinton policies have indeed been unconscionably destructive for Black Americans, and other people of color.


(Read More... | 7781 bytes more | Score: 0)
Inside U.S.A.: Black Lives Don't Matter, Black Votes Do
Monday, April 25 @ 15:53:28 UTC
The Racial Hypocrisy of Hillary and Bill Clinton
By Richard W. Behan
April 25, 2016 - counterpunch.org
The Clinton legacy is black impoverishment—so why are we still voting for Hillary?
—Michelle Alexander, author, The New Jim Crow: Mass Incarceration in the Age of Colorblindness

African-Americans have few reasons to vote for Hillary Clinton. No one understands this better—and says it more forcefully—than Michelle Alexander, civil rights activist, author, and professor of law. She has studied the public life of the Clintons, chronicled their catastrophic impacts on black lives, and observed their self-serving, hypocritical pandering to the African-American community.

The Clintons have always cultivated a warm affection for African-Americans. One iconic image shows Bill riffing on his saxophone for Arsenio Hall. Another pictures Hillary hugging parishioners in black churches. Similar beguiling images appear daily in the media as her presidential campaign progresses.

The affection seems to be mutual. It was apparent in the primary elections across the South, where black voters gave Hillary Clinton overwhelming majorities. But their loyalty is tragically misplaced: the Clintons' affection is not matched by a serious commitment to relieving the poverty, prejudice, mass incarceration, and second-class citizenry suffered by much of the black community today.


(Read More... | 19466 bytes more | Score: 0)
Inside U.S.A.: America's gun massacre blues seem to play on an endless loop
Friday, October 02 @ 13:46:15 UTC
By Gary Younge
October 02, 2015 - theguardian.com

Within the American polity there is a cyclical requiem in the wake of each mass shooting – a predictable collective lament for a calamity that ostensibly everyone regrets and nobody can resolve. Profiles of the victims emerge as reporters opine in front of police tape, wringing every last detail from tear-stained survivors. Gradually facts about the shooter emerge, followed by endless speculation about his (they are almost always men) motives before the president calls for prayer and healing.

Everybody knows their lines. With 45 mass shootings already this year they have rehearsed them often enough. Indeed, the tragedy lies not only in the trauma of the victims but in the apparent helplessness of the political class and the hopelessness that the deathly cycle might be broken.


(Read More... | 6899 bytes more | Score: 0)
Inside U.S.A.: Deadly Eye Contact: Freddie Gray and the Baltimore Police
Tuesday, April 28 @ 20:18:14 UTC
Black America is Fighting Back

By RON JACOBS
April 28, 2015 - counterpunch.org

Like many other folks, I've been following the protests in Baltimore around the manslaughter of the young Black Baltimore man who "died in police custody" on April 19, 2015. Every day the protests demanding the arrest of the officers involved grow larger. Major League Baseball fans are concerned about missing their games as organizers talk about shutting Baltimore down. The suburbs in between Baltimore and its southern neighbor Washington, DC adjust their attention span to the news about this incident primarily according to the darkness of their skin. In other words, the broken spine of Freddie Gray has much more meaning to the dark-skinned suburbanites than it does to most other suburban dwellers.

Baltimore is not a pretty town. Sure, they've prettied up the Inner Harbor in a very modern capitalist manner; in other words, restaurants, shopping malls and museums. These areas are primarily populated with tourists, office workers and sports fans. Outside of this zone is where the desperation of neoliberal capitalism's castoffs is palpable. It is nothing the authorities and their supporters want to get riled up. Just like in other communities left behind by neoliberal capitalism, the means to repress and suppress the anger and desperation felt by the residents of West Baltimore (where Freddie Gray was killed) include the illegal drug business, minimum wage jobs and plain old police brutality. This vicious brew of oppression is present in other parts of Baltimore, too, but the Western District is where the repression is currently the starkest.


(Read More... | 10003 bytes more | Score: 0)
Inside U.S.A.: Racism and War in America and Beyond
Wednesday, December 10 @ 07:07:41 UTC
By Ramzy Baroud
December 10, 2014

America's ruling elites are blatant in their intentions of maintaining "white privilege" at home and economic dominance by military means abroad.

Their "democracy" in both of these regions is a ruse, and it is yet to deliver any degree of social justice and equality to the millions of disadvantaged Americans which are comprised mostly of black and Latino communities. The unequal distribution of wealth in the United States is simply staggering. In fact, 75.4% of all wealth in the US is owned by the richest 10 percent, according to the authoritative Credit Suisse Global Wealth Databook (2013).

This influx of wealth comes at the heels of a major economic recession, of which rich bankers were mostly to blame, but were never held accountable. Instead, millions of lower-middle class and poor Americans became even poorer. And since America's political and economic classes largely overlap and feed upon the privileges of one another, millions of Americans lost their homes and savings, while the rich got richer.


(Read More... | 9082 bytes more | Score: 0)
Inside U.S.A.: Ferguson Reexamined
Sunday, November 30 @ 21:20:59 UTC
By Paul Craig Roberts
November 30, 2014 - paulcraigroberts.org

Few, if any, of the correct questions were asked in the grand jury hearing to decide whether policeman Darren Wilson would be indicted for killing Michael Brown.

The most important unexamined question is whether police are trained to use force immediately as a first resort before they assess a situation or determine if they are at the correct address. Are the police trained that the lives of police officers are so much more valuable than the lives of possible suspects, or a houseful of people into whose residence a heavily armed SWAT team enters, that police officers must not accept the risk of judicious behavior when encountering citizens? If this is the case as all evidence indicates that it is, then the police when they gratuitously murder members of the public are merely doing what they have been trained to do. As police are trained to use violence as a first resort, the police cannot be held accountable when they do.


(Read More... | 7341 bytes more | Score: 0)
Inside U.S.A.: Freedom Rider: Jackson, Sharpton, Holder and Ferguson
Monday, November 24 @ 17:29:03 UTC
By Margaret Kimberley
November 24, 2014 - blackagendareport.com

"Jackson was supplanted by Al Sharpton, who surpassed him in crookedness and politically prostitution."

If a picture is worth 1,000 words the photo above proves the old adage to be true. This image encapsulates so much that is wrong with the so-called leaders of the black political class. Each of the three men depicted make a mockery of any claim to be allies of black people.

For decades Jesse Jackson's seal of approval was enough to quiet or excite the masses to action. As a young lieutenant of Martin Luther King and then as leader of Operation PUSH he became in effect the leader of what was left of the civil rights movement old guard. His presidential campaigns in 1984 and 1988 mobilized millions of people to vote and brought election victories to progressives across the country. His history is part righteous and part mercenary, as he sought and received tribute from corporations around the country eager to curry favor with him and by extension the masses he sometimes did represent.


(Read More... | 6824 bytes more | Score: 0)
Inside U.S.A.: American State of the Union: A Festival of Lies
Friday, January 31 @ 07:05:03 UTC
By Glen Ford
January 30, 2014 - blackagendareport.com

"When you say 'jobs,' he says tax cuts – just like the Republicans, only Obama first cites the pain of the unemployed, so that you know he cares."

"Believe it," said the current Prevaricator-in-Chief, in the conclusion to his annual litany lies. President Obama's specialty, honed to theatrical near-perfection over five disastrous years, is in crafting the sympathetic lie, designed to suspend disbelief among those targeted for oblivion, through displays of empathy for the victims. In contrast to the aggressive insults and bluster employed by Republican political actors, whose goal is to incite racist passions against the Other, the sympathetic Democratic liar disarms those who are about to be sacrificed by pretending to feel their pain.

Barack Obama, who has presided over the sharpest increases in economic inequality in U.S. history, adopts the persona of public advocate, reciting wrongs inflicted by unseen and unknown forces that have "deepened" the gap between the rich and the rest of us and "stalled" upward mobility. Having spent half a decade stuffing tens of trillions of dollars into the accounts of an ever shrinking gaggle of financial capitalists, Obama declares this to be "a year of action" in the opposite direction. "Believe it." And if you do believe it, then crown him the Most Effective Liar of the young century.


(Read More... | 7247 bytes more | Score: 0)
Inside U.S.A.: Gun Rights: From the Black Panthers to the NRA
Tuesday, July 31 @ 11:27:21 UTC
State Violence, Individual Violence

By Patrick Higgins
July 30, 2012 - counterpunch.org

Just as misplaced debates about civilian gun control were emerging in the wake of the massacre in Aurora, a billboard was raised in Idaho by a libertarian organization placing the face of the Aurora shooting suspect beside that of President Obama. The text surrounding James Holmes's reads: "KILLS 12 IN A MOVIE THEATER WITH AN ASSAULT RIFLE. EVERYONE FREAKS OUT." The text surrounding Obama's reads: "KILLS THOUSANDS WITH HIS FOREIGN POLICY. WINS NOBEL PEACE PRIZE."

The reaction of the Village Voice—"extremely offensive," one headline states—to the billboard is exemplary of the chronic softness of liberalism on issues of war. In the media overall, this softness has led to the current emphasis on civilian gun control, which is an emphasis that is now actively removing the spotlight from the violence of the state while increasing fear of the general public. Surely the Village Voice that hosted the late, great Alexander Cockburn would never have so unforgivably favored etiquette over truth.


(Read More... | 6279 bytes more | Score: 0)
Inside U.S.A.: How Liberty Was Lost
Wednesday, April 25 @ 15:25:41 UTC
By Paul Craig Roberts
April 25, 2012 - paulcraigroberts.org

When did things begin going wrong in America?

"From the beginning," answer some. English colonists, themselves under the thumb of a king, exterminated American Indians and stole their lands, as did late 18th and 19th century Americans. Over the course of three centuries the native inhabitants of America were dispossessed, just as Israelis have been driving Palestinians off their lands since 1948.

Demonization always plays a role. The Indians were savages and the Palestinians are terrorists. Any country that can control the explanation can get away with evil.

I agree that there is a lot of evil in every country and civilization. In the struggle between good and evil, religion has at times been on the side of evil. However, the notion of moral progress cannot so easily be thrown out.


(Read More... | 11538 bytes more | Score: 0)
Inside U.S.A.: Why Can't Americans Have Democracy?
Sunday, March 04 @ 19:54:08 UTC
By Paul Craig Roberts
March 03, 2012 - Global Research

Syria has a secular government as did Iraq prior to the american invasion. Secular governments are important in Arab lands in which there is division between Sunni and Shi'ite. Secular governments keep the divided population from murdering one another.

When the american invasion, a war crime under the Nuremberg standard set by the US after WW II, overthrew the Saddam Hussein secular government, the Iraqi Sunnis and Shi'ites went to war against one another. The civil war between Iraqis saved the american invasion. Nevertheless, enough Sunnis found time to fight the american occupiers of Iraq that the US was never able to occupy Bagdad, much less Iraq, no matter how violent and indiscriminate the US was in the application of force.


(Read More... | 5348 bytes more | Score: 0)
Inside U.S.A.: Obama Humiliates the Black Caucus – and They Pretend Not to Notice
Monday, October 03 @ 08:22:12 UTC
By BAR executive editor Glen Ford
October 03, 2011 - blackagendareport.com

"Obama has very publicly commanded them to shut up and perform what he believes is their only legitimate function: to get him re-elected."

This magazine spent much of the 2008 presidential campaign warning that reflexive, unquestioning, uncomplaining support for Barack Obama would render African Americans politically irrelevant for the next four years. "About 90 percent of Black America has allied itself with a candidate that never promised them a damn thing," we wrote, back on April Fools Day, 2008. One year before, in Selma, Alabama, Obama had first deployed his pseudo-Baptist preacher delivery to announce that Blacks had already come "90 percent of the way" towards equality, strongly inferring that his election would take us the other ten percent of the way, while simultaneously sending "a signal to whites that the days of Black racial agitation were nearly over."


(Read More... | 8873 bytes more | Score: 0)
Inside U.S.A.: Barack Obama and the Debt Crisis: a Successful Con Game Explained
Monday, August 08 @ 00:06:07 UTC
By Bruce A. Dixon
August 08, 2011 - blackagendareport.com

The phony debt ceiling crisis was, from beginning to end, a con. It was an elaborate and successful hoax in which the nation's first black president, the Democratic and Republican parties, Wall Street and corporate media all played indispensable parts. The object of the supposed "crisis" was to short circuit public opinion, existing law, democratic process and traditions of public oversight, in order to deal fatal blows to Medicaid, Medicare, social security, job growth and public expenditures for the common good. It worked. We've been conned.

President Barack Obama as First Actor in the Con

The key actor in the con was and is Barack Obama, leader of the Democratic party and president of the United States. When the Bush and Obama administrations bailed out the banksters in 2008, 2009 and 2010 they didn't print new warehouses of greenbacks and send them over in a fleet of trucks. The Federal Reserve simply opened its spreadsheets, and wrote numbers with lots of zeroes crediting the banksters' accounts. It literally created the new money by giving it away, and next proceeded to borrow those funds back from the banksters at interest. The debt ceiling crisis was nothing but those same banksters twirling their mustaches and oinking "Well, we don't think you (the government that created the money by giving it to them) can really afford to repay all these loans you've been taking out... We might have to downgrade your credit rating..."


(Read More... | 10855 bytes more | Score: 5)
Facebook & Twitter


Big Story of Today
There isn't a Biggest Story for Today, yet.