Old Articles
There isn't content right now for this block.
Satire: 'Miracle Cure' For Holocaust Denial Syndrome
Tuesday, February 21 @ 10:45:21 UTC
By Michael James
in Frankfurt, Germany
2-20-6

FRANKFURT, Germany -- Governments, police services and prison authorities around the world are reportedly "overjoyed" by the launch of a new prescription drug that cures people who are suffering doubts about the veracity of the so-called Jewish Holocaust.

Shares in Israel-based Goy & Goy Pharmaceuticals Incorporated rocketed to 89 US dollars following the long-awaited announcement of a miracle cure for Holocaust Denial Syndrome (HDS).

Soon to be marketed and sold under the name Holozac, the drug works by rapidly closing down the brain's centre of intellectual inquiry. It also blocks the re-uptake of politically incorrect neurotransmitters involved in critical thought processes, making it more difficult to distinguish between truth and lies.


(Read More... | 7376 bytes more | Score: 3)
Satire: Bush misspeaks, or talks the truth for the first time?
Thursday, August 05 @ 21:42:18 UTC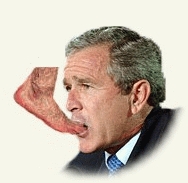 Feel free to reproduce this graphic.


Bush misspeaks, says his administration seeking 'new ways to harm our country'

Bush misspoke as he delivered a speech at the signing ceremony for a $417 billion defense spending bill.

"Our enemies are innovative and resourceful, and so are we," Bush said. "They never stop thinking about new ways to harm our country and our people, and neither do we."

No one in Bush's audience of military brass or Pentagon chiefs reacted.


(Read More... | 1303 bytes more | Score: 5)
Satire: Bush Reads?
Thursday, September 26 @ 22:13:56 UTC
One student who probably won't get a
scholarship until he learns how to read: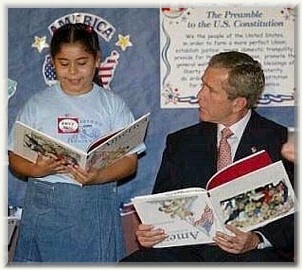 Photo from: www.narconews.com
(Read More... | Score: 0)
Facebook & Twitter


Big Story of Today
There isn't a Biggest Story for Today, yet.