Old Articles
Saturday, February 18
·
'Human Rights' Warriors for Empire
Wednesday, December 21
·
The Reality of America's Aggression Against Iraq
Tuesday, November 29
·
Turkey's Foreign Policy Falls Over Syrian 'Abyss'
·
Freedom Rider: Propagandized America
Tuesday, June 14
·
CIA Requires Secrecy To Conceal Its Own Crimes
Monday, May 16
·
Bin Laden and the Spring of Arab Revolutions
Friday, May 13
·
The Obama Administration Targets Antiwar Activists
Monday, May 09
·
Americans Are Living In 1984
Wednesday, May 04
·
Media Lies and Misinformation on Bin Laden
·
Venezuelan Government Demands End to U.S. Occupations
Friday, April 08
·
David Cameron's gift of war and racism, to them and us
Tuesday, April 05
·
Occupying the World: The New Colonialism
Thursday, March 10
·
Pack Journalism Promotes War on Libya
Sunday, February 20
·
The Notion of Permanent Bases in Afghanistan
Tuesday, January 11
·
Britain's War on Islam
Monday, January 10
·
A Shocking Act of Political Violence: Silent Surge in Afghanistan
Tuesday, December 21
·
Seoul and Washington play dangerous game with Korean lives
·
Korea Steps Back From The Brink
Friday, December 10
·
Games of Provocation: The Korean War, Round Two
Monday, November 15
·
Bush Pens True Crime Book
Older Articles
War and Terror: US Political Impotence in the Middle East
Thursday, May 23 @ 16:54:43 AST
Syria as a Game-Changer

By Ramzy Baroud
May 23, 2013

In an article published May 15, 2013, American historical social scientist Immanuel Wallerstein wrote, "Nothing illustrates more the limitations of Western power than the internal controversy its elites are having in public about what the United States in particular and western European states should be doing about the civil war in Syria."

Those limitations are palpable in both language and action. A political and military vacuum created by past US failures and forced retreats after the Iraq war made it possible for countries like Russia to reemerge on the scene as an effective player.

It is most telling that over two years after the Syrian uprising-turned bloody civil war, the US continues to curb its involvement by indirectly assisting anti-Bashar al-Assad regime opposition forces, through its Arab allies and Turkey. Even its political discourse is indecisive and often times inconsistent.


(Read More... | 9632 bytes more | Score: 0)
War and Terror: What Motivated the Boston Bombers
Wednesday, May 22 @ 17:02:38 AST
Why It's Not a Chechen Thing, But All About the Wars in Iraq and Afghanistan

By Gary Leupp
May 22, 2013 - counterpunch.org

New details emerge every day, raising more questions. But the outlines of the stomach-churning story seem clear. Two young men, brothers who emigrated from Kyrgyzstan twelve years ago with their parents and sisters—high-achieving, "well-assimilated" immigrant men—planted bombs at the finish line of the Boston Marathon, killing three and injuring well over 250. They killed an MIT campus policeman for no apparent reason, hijacked an SUV, engaged in a gunfight with police, and sowed citywide fear for five days. Both self-identified as Chechens, although neither grew up nor spent much time in the Russian republic of Chechnya; and as Muslims, although the older was the observant one, the younger a pot-smoking (maybe pot-dealing) Hennessey drinker. The older held a green card and had applied for U.S. citizenship but had been denied it.

How to define these men, and to describe the event? Let us step back and survey the big picture.


(Read More... | 20380 bytes more | Score: 0)
War and Terror: Red lines and other double standards
Thursday, May 09 @ 12:14:49 AST
By Stephen Gowans
May 09, 2013 - gowans.wordpress.com

According to the White House, Israel has the right to defend itself. I would argue that it doesn't. Based on the theft of another people's land and denial of their right to return to the homes from which they fled or were driven, Israel no more than any other thief has the right to defend itself.

Judging by its indulgent attitude to Israeli aggressions, Washington claims that Israel has the right to defend itself in any way it pleases: by unprovoked air-strikes across international borders; by meting out collective punishment; by carrying out extra-judicial assassinations; by invasions and occupations; and through other outrages against international law, sovereignty and humanity. In fact, by doing what the United States, itself, regularly does.

The White House says that the most recent Israeli aggression, air-strikes carried out over the last few days against Syrian military facilities, were intended to stop a shipment of advanced surface-to-surface missiles from Iran to the Lebanese resistance organisation, Hezbollah. Striking a dissenting note, The New York Times reported that, "Some American officials are unsure whether the new shipment was intended for use by Hezbollah or by the Assad government."


(Read More... | 5739 bytes more | Score: 5)
War and Terror: Washington's "playbook" on provoking North Korea
Tuesday, April 30 @ 05:11:37 AST
By Stephen Gowans
April 30, 2013 - gowans.wordpress.com

In an April 3 Wall Street Journal article, "U.S. dials back on Korean show of force," reporters Adam Entous and Julian E. Barnes revealed that the White House approved a detailed plan, called 'the playbook,' to ratchet up tension with North Korea during the Pentagon's war games with South Korea.

The war games, which are still in progress, and involve the deployment of a considerable amount of sophisticated US military hardware to within striking distance of North Korea, are already a source of considerable tension in Pyongyang, and represent what Korean specialist Tim Beal dubs "sub-critical" warfare.

The two-month-long war games, directed at and carried out in proximity to the Democratic People's Republic of Korea, force the North Korean military onto high alert, an exhausting and cripplingly expensive state of affairs for a small country whose economy has already been crippled by wide-ranging sanctions. North Korea estimates that sanctions and US military aggression have taken an incalculable toll on its economy. [1]


(Read More... | 5249 bytes more | Score: 0)
War and Terror: Our Invisible Wars: What Dzokhar Tsarnaev has to do with Bradley Manning
Wednesday, April 24 @ 15:07:55 AST
By Alyssa Rohricht
April 24, 2013 - thecrashculture.wordpress.com

The media is ablaze right now with discussions about Dzokhar Tsarnaev, the Boston Bomber, and whether or not he should receive a fair trial as an American citizen. A few politicians and general lunatics have called for torture, military tribunals, and even "a July 4 celebration of stringing this son-of-a-b-tch up in the Boston Common and letting the crows pick on his rotting flesh." (That last one is courtesy of Ted Nugent). And despite not being read his Miranda Rights, it does seem that, at the least, Tsarnaev will receive a trial-by-jury. How fair that trial will be remains to be seen, but one thing's for sure: The only reason Tsarnaev is getting this fair trial is because this case is so predominantly in the public's eye.

Certainly, it stands to the symbolic greatness of a country who promises a fair trial-by-jury to all of its citizens, regardless of the hideousness of the crimes committed. Unfortunately, this promise is only rhetorical and applies only when it serves the purposes of the power elite. Tsarnaev will get his promise of a trial with a jury of his peers, yet, behind the scenes, the Obama Administration and those in power wage a secret war against whistleblowers that the public does not see.


(Read More... | 9454 bytes more | Score: 0)
War and Terror: What North Koreans Think
Saturday, April 13 @ 00:50:05 AST
"We learned the lesson in Yugoslavia, Iraq, Afghanistan: be strong."

By Stansfield Smith
April 11, 2013 - counterpunch.org

I recently returned from a late March trip to North Korea [Democratic Peoples Republic of Korea, DPRK], along with 45 others, through Koryo Tours. On that tour I had the opportunity to discuss with the Korean tour guides their views on the current situation. I only recall the DPRK view mentioned here once in the corporate media, when Dennis Rodman returned with a message from new President Kim Jong. The message was "I don't want war, call me." Nobel Peace Prize winning President Obama refused to accept it, evidently preferring an escalating threat of a regional nuclear war to talking. I asked my Korean tours guides to be interviewed so I could present their views to US people.

Has the DPRK made proposals for peaceful national reunification?

Yes, now we have options: the historic option of a federal republic, and the recent option. In our history we proposed three principles for reunification: that the North and South unite the country independently of foreign forces, that we reunify peacefully, and that we work together over the years to create the unity of the whole nation.


(Read More... | 11573 bytes more | Score: 0)
War and Terror: North Korea's Justifiable Anger
Friday, April 12 @ 10:18:14 AST
By Stansfield Smith
April 10, 2013 - www.counterpunch.org

The corporate media reduces the DPRK (North Korea) to the Kim family and prefaces their names with the terms "madman", "evil" and "brutal". Such vilifications of foreign leaders are used here not only to signify they are target for US overthrow. They are meant to intimidate and isolate anti-war activists as being out in left field for ever wanting to oppose a war against countries ruled by "madmen" – be they Saddam, Fidel, Hugo Chavez, Ahmadinejad, Qaddaffi.

Yet to a sensible person, it is crazy that the US, with nuclear weapons thousands of miles from home, in South Korea, denies North Korea has a right to have its own nuclear weapons on its own land – particularly when the North says it is developing nuclear weapons only as a deterrent because the US won't take its own weapons out of the Korean peninsula.


(Read More... | 6051 bytes more | Score: 0)
War and Terror: Armistice Agreement Withdrawal: North Korean Belligerence?
Thursday, March 21 @ 12:09:34 AST
By Stephen Gowans
March 21, 2013 - gowans.wordpress.com

Why has North Korea withdrawn from an armistice agreement that has kept overt hostilities on the Korean peninsula at bay since 1953? Does the withdrawal portend an imminent North Korean aggression? Hardly. North Korea is in no position to launch an attack on its Korean neighbour, or on the United States, at least not one that it would survive. North Korean forces are dwarfed by the US and South Korean militaries in size, sophistication and fire-power. The withdrawal serves, instead, as a signal of North Korean resolve to defend itself against growing US and South Korean harassment, both military and economic.

US provocations

For decades, North Korea has been subjected to the modern form of the siege. "The aim of the siege is to reduce the enemy to such a state of starvation and deprivation that they open the gate, perhaps killing their leaders in the process and throw themselves on the mercy of the besiegers." [1] North Korea withstood the siege, and even flourished, during the years it was able to trade with the Soviet Uni0n and Eastern Europe's socialist countries. But with the demise of Soviet socialism, the country has bent, but not broken, under the pressure of US-led sanctions of mass destruction.


(Read More... | 14435 bytes more | Score: 0)
War and Terror: The Reality of the 'Lesser Evil'
Thursday, December 06 @ 13:18:33 AST
Is This Child Dead Enough for You?

By Chris Floyd
December 06, 2012 - chris-floyd.com

To all those now hailing the re-election of Barack Obama as a triumph of decent, humane, liberal values over the oozing-postule perfidy of the Republicans, a simple question:

Is this child dead enough for you?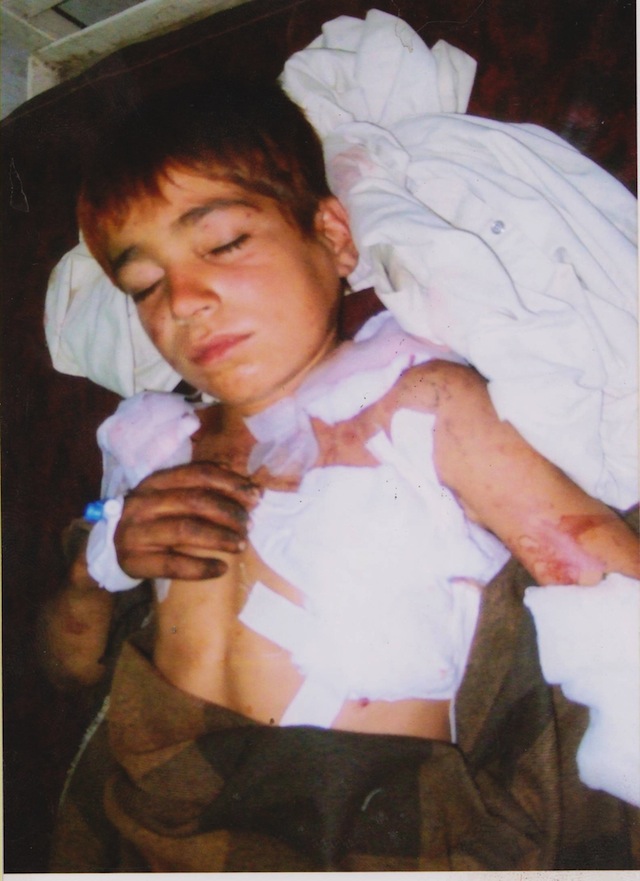 (Read More... | 12089 bytes more | Score: 0)
War and Terror: A new call against standing idly by?
Wednesday, December 05 @ 08:22:36 AST
By Stephen Gowans
December 05, 2012 - gowans.wordpress.com

Will the United States, or its proxies, directly intervene militarily on the side of Syrian rebels? If so, a pretext will likely be needed, and it may be this: Syrian leader Bashar Assad, desperate to cling to power, is poised to use chemical weapons against civilians. An intervention is necessary to prevent a massacre.

Yesterday, White House Press Secretary Jay Carney said:"We are concerned that an increasingly beleaguered regime, having found its escalation of violence through conventional means inadequate, might be considering the use of chemical weapons against the Syrian people." (my emphasis) (1)

The Syrian Foreign Ministry denies the allegation, ruling out the use of chemical weapons against Syrians "under any circumstances." (2)


(Read More... | 4255 bytes more | Score: 0)
War and Terror: Starving and Broke: Yemen's Renewed 'War on Terror'
Wednesday, May 30 @ 16:07:29 AST
By Ramzy Baroud
May 30, 2012

Yemeni forces continue to push against Islamic fighters affiliated with al-Qaeda. Their major victories come on the heels of the inauguration of Abd Rabbuh Mansur al-Hadi, who is now entrusted with the task of leading the country through a peaceful transition. A new constitution and presidential elections are expected by 2014.

Faced with the most strenuous of circumstances – the unyielding ruling family, the US-lead war on al-Qaeda, sectarian tension, unsettled political divides between south and north, and unforgiving poverty - the youth of Yemen successfully managed to introduce a hopeful chapter to an otherwise gloomy modern history. While they should be proud of this, they must also remain wary of the challenges awaiting them in the next two years.


(Read More... | 7263 bytes more | Score: 0)
War and Terror: You are all suspects now. What are you going to do about it?
Monday, April 30 @ 14:23:14 AST
By John Pilger
April 26, 2012 - johnpilger.com

You are all potential terrorists. It matters not that you live in Britain, the United States, Australia or the Middle East. Citizenship is effectively abolished. Turn on your computer and the US Department of Homeland Security's National Operations Center may monitor whether you are typing not merely "al-Qaeda", but "exercise", "drill", "wave", "initiative" and "organisation": all proscribed words. The British government's announcement that it intends to spy on every email and phone call is old hat. The satellite vacuum cleaner known as Echelon has been doing this for years. What has changed is that a state of permanent war has been launched by the United States and a police state is consuming western democracy.

What are you going to do about it?


(Read More... | 6611 bytes more | Score: 0)
War and Terror: Reflections by Fidel: The Roads Leading to Disaster
Monday, April 02 @ 18:05:31 AST
By Fidel Castro Ruz
March 23, 2012 - en.cubadebate.cu

This Reflection could be written today, tomorrow or any other day without the risk of being mistaken. Our species faces new problems. When 20 years ago I stated at the United Nations Conference on the Environment and Development in Rio de Janeiro that a species was in danger of extinction, I had fewer reasons than today for warning about a danger that I was seeing perhaps 100 years away. At that time, a handful of leaders of the most powerful countries were in charge of the world. They applauded my words as a matter of mere courtesy and placidly continued to dig for the burial of our species.

It seemed that on our planet, common sense and order reigned. For a while economic development, backed by technology and science appeared to be the Alpha and Omega of human society.

Today, everything is much clearer. Profound truths have been surfacing. Almost 200 States, supposedly independent, constitute the political organization which in theory has the job of governing the destiny of the world.


(Read More... | 7484 bytes more | Score: 0)
War and Terror: The U.S. Empire's Achilles Heel: Its Barbaric Racism
Monday, March 19 @ 23:37:40 AST
A Black Agenda Radio commentary by Glen Ford
March 19, 2012 - blackagendareport.com

"What people would agree to allow such armed savages to remain in their country if given a choice?"

The American atrocities in Afghanistan roll on like a drumbeat from hell. With every affront to the human and national dignity of the Afghan people, the corporate media feign shock and quickly conclude that a few bad apples are responsible for U.S. crimes, that it's all a mistake and misunderstanding, rather than the logical result of a larger crime: America's attempt to dominate the world by force. But even so, with the highest paid and best trained military in the world – a force equipped with the weapons and communications gear to exercise the highest standards of control known to any military in history – one would think that commanders could keep their troops from making videos of urinating on dead men, or burning holy books, or letting loose homicidal maniacs on helpless villagers.


(Read More... | 4375 bytes more | Score: 0)
War and Terror: NATO Forces Operating Covertly in Syria: Wikileaks
Friday, March 09 @ 09:34:47 AST
By Stephen Lendman
March 09, 2012

On March 6, the BBC reported Obama saying Washington won't intervene in Syria unilaterally. At the same time, he stopped short of ruling out joint Western aggression. In his first 2012 news conference, he said:

"The notion that the way to solve every one of these problems is to deploy our military, that hasn't been true in the past, and it won't be true now."

"We've got to think through what we do through the lens of what's going to be effective - but also through what's critical for US security interests."


(Read More... | 13280 bytes more | Score: 0)
Facebook & Twitter


Login
Don't have an account yet? You can create one. As a registered user you have some advantages like theme manager, comments configuration and post comments with your name.
Who's Online
There are currently, 174 guest(s) and 17 member(s) that are online.

You are Anonymous user. You can register for free by clicking here