Jizelle Salandy's Send-Off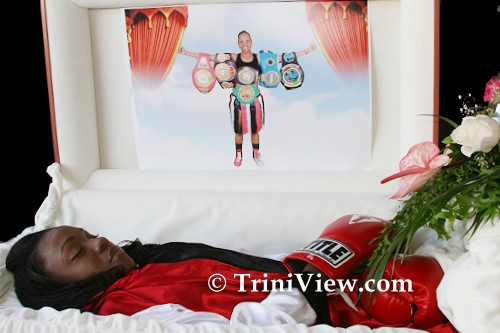 Deceased Trinidadian boxing champion, Jizelle Salandy




TriniView.com Reporters
Event Date: January 07, 2009
Posted: January 10, 2009

Hundreds of people turned up at the St. Benedict's Roman Catholic Church in La Romaine to remember and bid farewell to the World Boxing Champion Jizelle Salandy. They came in buses, maxis and cars from all over Trinidad to pay their last respects. Many persons in attendance admitted that they did not know Jizelle personally but her life inspired them in some way.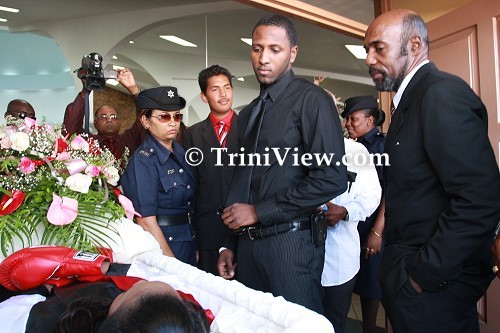 Richard Thompson and his father Ruthven Thompson Sr. view Jizelle Salandy's body



There were contingents of young boxers from various boxing gyms, a large contingent of martial artists led by Don Jacob, moko jumbies, many school children in uniform and numerous public personalities including Maximus Dan, Hasely Crawford and double Olympic silver medallist Richard Thompson.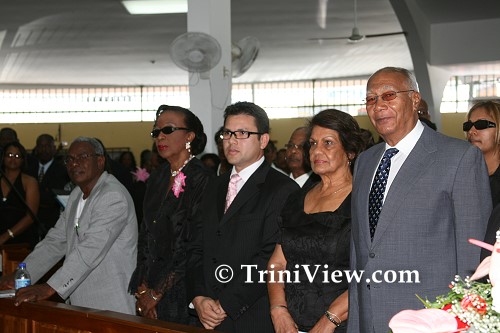 LEFT: Buxo Potts, Joan Yuille-Williams, Gary Hunt, First Lady Dr. Jean Ramjohn-Richards and His Excellency Professor George Maxwell Richards



Also present were President George Maxwell Richards and his wife Dr. Jean Ramjohn-Richards, Sports Minister Gary Hunt, Culture Minister Marlene McDonald, Legal Affairs Minister Peter Taylor, Opposition MPs Jack Warner and Winston Peters and Ambassador Joan Yuille-Williams.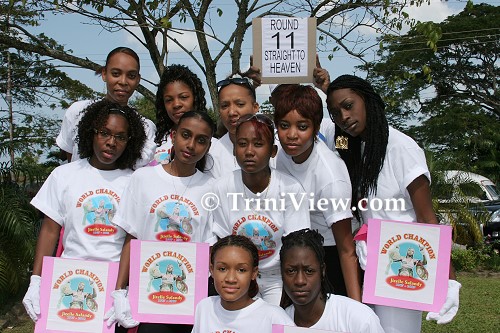 Ring Girls with images of Jizelle Salandy



The outpouring of support was a testament to the manner in which Jizelle Salandy touched the lives of so many ordinary people. Many persons shared stories of how Jizelle Salandy's success and embracing personality impacted on them and inspired them to do better. All of these stories (both from those who knew her personally and those who did not but were inspired by her life) shed light on the life and times of Jizelle Salandy.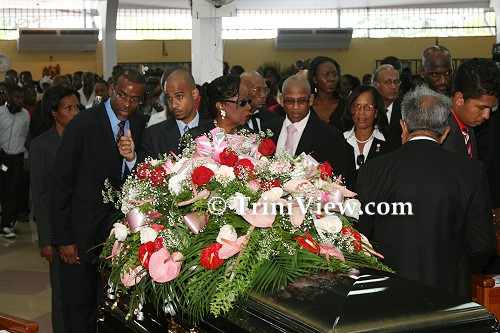 Inside the Church



What emerged was the picture of a young woman, who had struggled with the loss of her mother at a young age and whose life was marked by bravery, deep strength and a passionate desire to succeed. It is these characteristics that endeared her to the nation.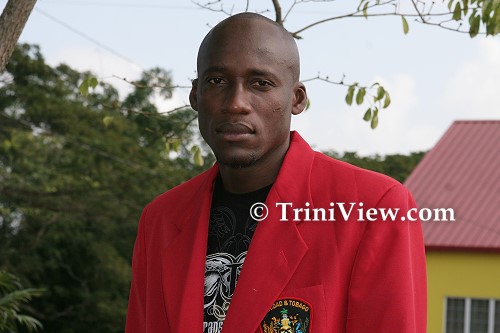 Trinidad and Tobago Super Midweight Boxing Champion
and former WBA Caribbean Champion Kirt Sinnette



Super Midweight Boxing Champion Kirt Sinnette expressed that Jizelle Salandy has done a lot for boxing, especially as a woman. He highlighted that her ability, aggression and bravery were aspects that were inspiring and he recommended that a boxing facility be dedicated to the memory of Jizelle Salandy. Another member of the boxing fraternity, Mckenzie Granger, a professional boxing judge and referee, expressed that over the many years that he had known Jizelle, her conduct inside and outside the ring was exemplary. "She is an inspiration to many people and that will be so for many years to come," Granger said.



Edghill 'Maximus Dan' Thomas and Jadee



Popular singer Maximus Dan expressed that in the midst of a society with so many distracting influences here was an individual who stood for something positive, who made her light shine. "We need to record that, highlight that," he said, "because she is definitely a hero to many, especially young women, and she made an impact on the world." Shelly-Ann Cupid, a school friend of Jizelle came to the funeral with her other schoolmates from Fyzabad Composite School and remarked that Jizelle was a great inspiration to her and was a positive influence among her peers. She said "She gave me a lot of inspiration so I can do something with myself and make myself better."



Founder of Purple Dragon, Professor Don Jacob (dark jacket) and students



Martial artist Don Jacobs expressed that more needs to be done to highlight rising sports people to show their work while they are alive. "Jizelle is a queen and there are no words to fully describe her contribution," he said. From the many people who spoke about her contributions, one of the things that emerged is that one of the best ways to remember her is to have some sporting facility in her honour.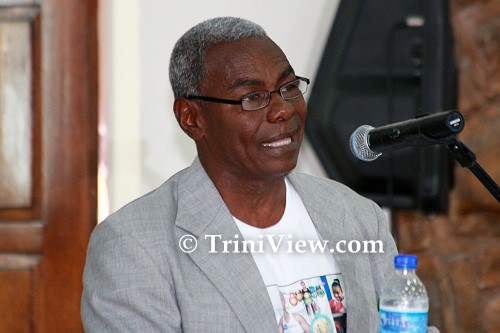 Buxo Potts delivers the eulogy for Jizelle Salandy



Inside the chapel, her life was remembered and celebrated in various ways. Former manager Boxu Potts remembered Jizelle as the greatest boxer of all time, as he recalled various memories of her. Similarly Gary Hunt, Minister of Sports and Youth Affairs, speaking on behalf of the government, also paid glowing tribute to Jizelle Salandy for her contributions to Trinidad and Tobago.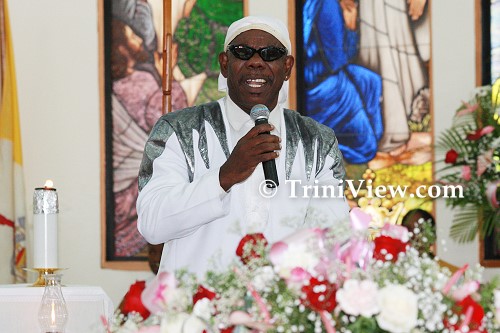 'De Original De Fosto Himself' doing a musical tribute entitled "Trinity"



De Original De Fosto was in fine form as he sung a song "We Rise Again" in tribute to Jizelle to loud applause and appreciation from those gathered. Her eight world boxing belts were displayed to be viewed by the public. The church was filled to capacity and hundreds more watched the service on monitors strategically placed outside the church.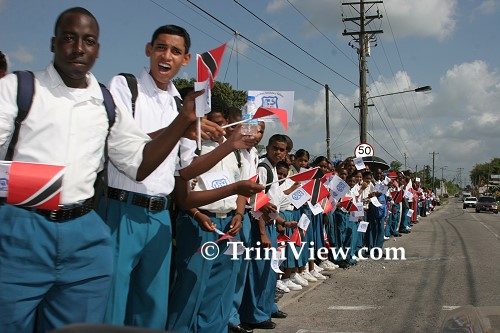 Schoolchildren lined the streets leading to the cemetery



After the service, it was on to the Siparia Public Cemetery where Jizelle was to be laid to rest in the same grave as her mother. Schoolchildren lined the streets leading to the cemetery and waved small flags as the funeral procession passed.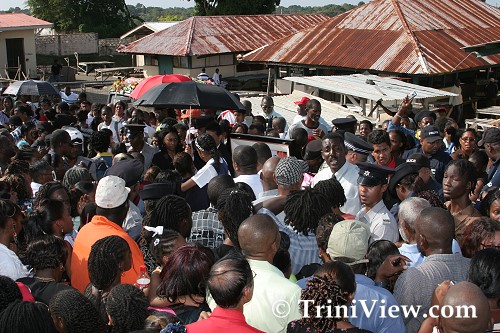 Viewing the body at the cemetery



Thousands of people filled the cemetery and emotions ran high as mourners, many of them apparently from her home town, demanded to see her body for a final time. Hundreds clamored to get a last look at Jizelle, who looked peaceful, laying in the coffin clad in national colours and wearing boxing gloves.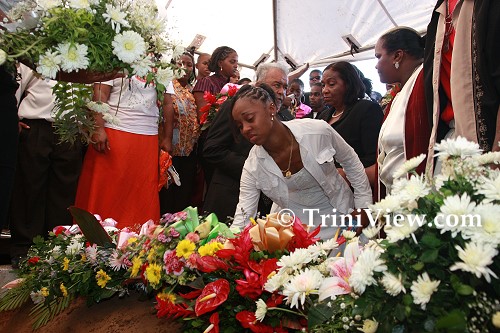 Placing wreaths on Jizelle's grave



At the gravesite, led by Brian London and Knycky Cordner, mourners broke into song as the coffin was lowered into the grave as spectators wept openly. Emotions ran so high that the police had a hard time controlling the large crowd at certain points. Final rites were performed by a Baptist minister.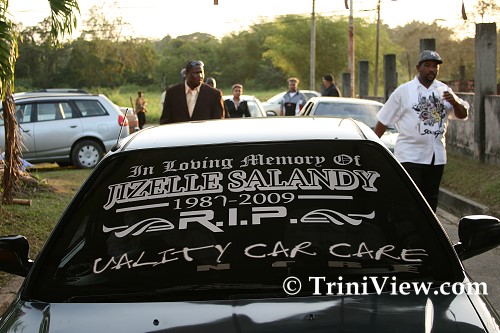 Tribute to Jizelle painted on a car



Angela Fleary from Jizelle's home village known as the Quarters said that Jizelle did so much for Trinidad and Tobago that other children can learn and be inspired from, especially her strength and her ability to go on. "She was a beautiful woman... a cultural ambassador," she said as she recalled fond memories of Jizelle Salandy. On her home street, tributes to Jizelle were painted along the street and several persons decorated their cars in her honour.

Family and Friends Remember Jizelle Salandy:
www.triniview.com/jizelle_salandy/interviews

Remembering Jizelle Salandy (Giselle Salandy) in pictures
www.triniview.com/gallery/main.php?g2_itemId=330729

Boxing Champion Giselle Salandy Dies in Car Crash

Boxing Sensation Jizelle Salandy's Biography

Jizelle Salandy's Home

Jizelle Salandy's Photo Gallery


Share your views here...