Boxing Sensation Jizelle Salandy's Biography
Boxing Champion Giselle Salandy Dies in Car Crash
Prepared by Boxu Potts
Posted: January 05, 2009
| | |
| --- | --- |
| Jizelle Salandy also known as Giselle Salandy | |
Jizelle Salandy has been through it all and survived many obstacles in her life to become one of the most accomplished boxers in boxing history.

Born on the 25th January, 1987, Jizelle Salandy has had, from a young age, to deal with the passing of her mother (Maureen Salandy) who loved her dearly but never spoon fed her, which gave her the level of mental toughness that she has today. Unfortunately, Jizelle had to deal with her mother's death at the tender age of eleven.

After the passing of her mother she was taken in by Ms. Ivy Corian who took the responsibility of caring for Jizelle as a mother, between the ages of eleven to fourteen. Ms. Ivy Corian played a vital role in fashioning Jizelle's life in a positive direction, which, during that period, Jizelle attended St. Bourgies R.C. School, then Penal Junior Secondary School, and later Fyzabad Composite School.

At the age of 11, Jizelle visited the White Eagle Boxing Gym with a broken hand with her stepbrother Joel Eligon and started punching a punching bag where, it is said, her talent was recognized by the trainers in the gym. Jizelle thereafter got involved in the sport which she admired and then it all started, raking up a series of victories throughout Trinidad & Tobago and the islands Tortola and Anguilla, meeting along the way Joanna Alvarez and Ria Ramnarine just to name a few. Then, on October 2001 in the island of Curacao, came the moment of truth which altered her professional focus on the sport. Jizelle Salandy became the youngest human being on planet earth to win a world boxing title at the tender age of 14 years, smashing a world record. Because of the new change of the age laws in boxing that record will never be broken.

Thereafter, she could not box because the law of Trinidad and Tobago did not permit her to do so. At 17 years she returned to the ring in Chaguanas and defended her IBERO title, following which she had a stop-start career. Resuming at the age of 18, on September 23rd 2005 on a T&T versus USA boxing card, promoted by Mr. Boxu Potts, Ms. Salandy broke a second world record by becoming the youngest female in the world to win the NABC World Title. However, because of mismanagement, her career stopped again. But as "Lady Luck" had it, she came in contact with promoter Boxu Potts again in June 2006, when she fought and won on a boxing card promoted by Mr. Arthur Sanderson back in her hometown of Fyzabad. That was where their relationship was born. Boxu Potts became her official promoter and from then on, her career skyrocketed. There was no stopping her.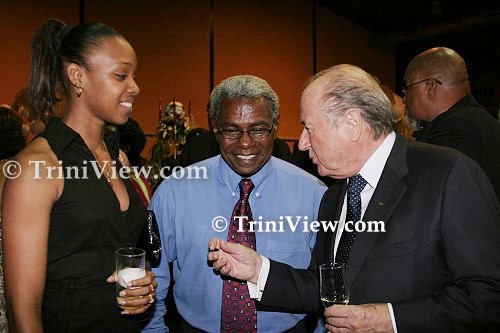 LEFT: Jizelle Salandy, her Manager Boxu Potts and President of FIFA Sepp Blatter


On September 15, 2006, Jizelle became the youngest human being in the world to unify the two most prestigious titles in the world, the WBA and WBC world titles; these titles are equivalent to that of an Olympic Gold Medal in the game of boxing. On December 09, 2006, Jizelle shattered yet another world record by being the 1st boxer in the world to win 6 belts in one fight, which are the WBA, WBC, WBE, NABC, IWBF and WIBA, a feat not even the great Mohammed Ali, Sugar Ray Leonard, George Foreman or Oscar De La Joya, just to name a few, could speak of. For these achievements Salandy was awarded by Women Boxing Archive Network (WBAN) Top History Making Fighter for the year 2006 and was also awarded First Citizens Sportswoman of the year 2006.

Jizelle had record breaking written all over her. On March 24, 2007, in Skinner Park, San Fernando, she defended all 6 world titles and was victorious yet again. With these achievements Salandy was awarded the Chaconia Gold Medal for her contribution towards the development of boxing in the region and of the world.

On November 30, 2007, at the Jean Pierre Complex she once again defeated her opponent keeping her titles right here at home in Trinidad and Tobago. She fought Dakota Stone of the USA who is rated number three in the world. This was one of her toughest and best fights in the history of boxing in this region.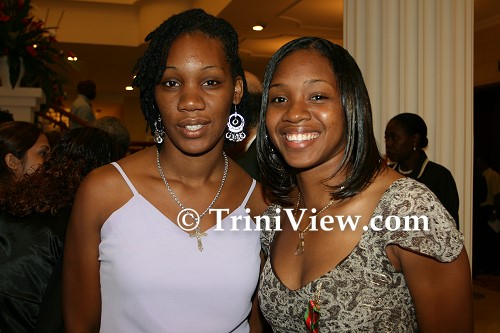 RIGHT: Jizelle Salandy and her sister Josanne Salandy


On March 15, 2008, in Magdeburg, Germany, Natascha Ragosina competed for seven titles and won, causing Salandy to lose her world record for winning multiple belts in one fight. However, on March 29, 2008, at the Centre of Excellence, only two weeks after losing her world record to Ragosina, Salandy regained it by winning eight title belts in one fight when she fought her mandatory defense against Karolina Lukasik. This fight was the biggest feat of her boxing career.

Salandy broke five world records in her illustrious boxing career, something no boxer in the world, male or female, has ever done.


History of Salandy's name changes
"Born Joenette Giselle Ifi Toby, she was the third and last child of Merrine Salandy–a social worker with the city council. She never had much of a relationship with her absent father and, after urging by her elder sister, Josanne, changed her surname to match that of her mother and siblings."

"But, within the year, there were more movements in her personal life as she returned to Fyzabad to live under the care of neighbour, Curtis Joseph, who legally adopted Salandy and became her manager.

"She changed her name to Jizelle Joseph..."

"She changed her name, for the third time, back to Salandy – 'Salandy was my franchise, no one knew Jizelle Joseph' and returned to the ring."


Boxing Champion Giselle Salandy Dies in Car Crash
Official Condolences for Jizelle Salandy
Share your views here...