Old Articles
Wednesday, November 19
·
Extrajudicial Assassinations As Official Israeli Policy
Wednesday, January 10
·
Trying to Create the Next World War
Thursday, December 14
·
Wednesday, December 06
·
Making the Connection Between Iraq and Israel
Wednesday, November 15
·
Political Blogging as Hate Crime
Monday, October 30
·
Israel Bombed Lebanon with Uranium
Thursday, October 05
·
Israelis Crank Up Volume on Total War Mantra
Friday, September 22
·
The Sabra and Shatila massacre and the dark corners of history
Saturday, August 12
·
On Israel, Lebanon and Palestine
Friday, August 11
·
Israel Has already Lost This War
Thursday, August 10
·
In the Middle East: do we have bad Nazis and good Nazis, that is, our Nazis
Monday, July 31
·
Israel's Latest Invasions and Neocon Plans for the Middle East
Wednesday, July 26
·
Israel's Criminal Accomplice
Monday, July 24
·
Dan Halutz: Target Civilians in Retribution
Thursday, July 20
·
Israelis See Their Own Nation As 'Neighborhood Bully'
Wednesday, July 19
·
Hezbollah is the Wild Card
Thursday, July 13
·
World War Four: Israel's 'Destructive Enterprise'
Tuesday, July 04
·
Corporate Media Ignores War Against Palestinians
Sunday, July 02
·
Israel's Appalling Bombing in Gaza
Monday, June 26
·
Was the Invasion of Iraq A Jewish Conspiracy?
Older Articles
Israel-Palestine: "The Israeli Dream": The Criminal Roadmap Towards Greater Israel
Monday, August 11 @ 18:56:16 UTC
Ethnic Cleansing Planned in the Middle East? History, Legality Ignored
By Felicity Arbuthnot
August 11, 2014 - globalresearch.ca
The concept of a "Greater Israel" according to the founding father of Zionism Theodore Herzl, is a Jewish State stretching "'From the Brook of Egypt to the Euphrates.'
Rabbi Fischmann, of the Jewish Agency for Palestine, stated to the UN Special Committee on 9th July 1947 that:
The Promised Land extends from the River of Egypt up to the Euphrates, it includes parts of Syria and Lebanon'", wrote Michel Chossudovsky. (1)

Thus "from the Nile to the Euphrates." Herzl's detailed thesis was written in 1904.

Quoted in the same article is Mahdi Darius Nazemroaya on The Yinon Plan (1982) "... a continuation of Britain's colonial design in the Middle East":

"(The Yinon plan) is an Israeli strategic plan to ensure Israeli regional superiority. It insists and stipulates that Israel must reconfigure its geo-political environment through the balkanization of the surrounding Arab states into smaller and weaker states.


(Read More... | 13533 bytes more | Israel-Palestine | Score: 0)
US War on Iran: What is the Difference Between Benjamin Netanyahu & Colin Powell?
Monday, October 01 @ 16:34:09 UTC
The Precautionary Principle in Action

By Franklin C. Spinney
October 01, 2012 - counterpunch.org

Who is the more sophisticated bullshitter when it comes to convincing the world of the pressing need to bomb a Muslim country before it attacks anyone — Colin Powell or Benjamin Netanyahu. The attached visual aid combined with the entymology of the word "sophisticated" and an analysis of the word before should enable you to answer to the question to your own satisfaction.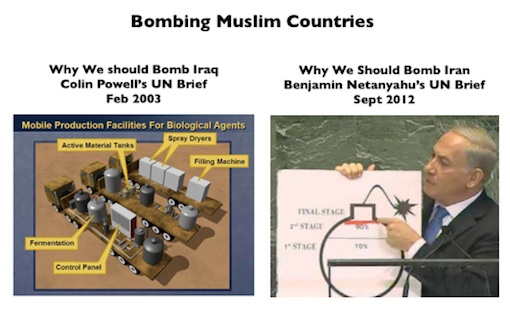 The charts speak for themselves. Now consider please the following elaboration of the preceding italicized words:


(Read More... | 9451 bytes more | US War on Iran | Score: 0)
Israel-Palestine: Illegal Settlements Bonanza: Israel Plots an Endgame
Wednesday, May 02 @ 14:28:25 UTC
By Ramzy Baroud
May 02, 2012

Israel's colonization policies are entering an alarming new phase, comparable in historic magnitude to the original plans to colonize Gaza, the West Bank and East Jerusalem following the war of 1967.

On April 24, an Israeli ministerial committee approved three settlement outposts - Bruchin and Rechelim in the northern part of the West Bank, and Sansana in the south. Although all settlement activities in the occupied West Bank and East Jerusalem are considered illegal by international law, Israeli law differentiates between sanctioned settlements and 'illegal' ones. This distinction has actually proved to be no more than a disingenuous attempt at conflating international law, which is applicable to occupied lands, and Israeli law, which is in no way relevant.


(Read More... | 7787 bytes more | Israel-Palestine | Score: 1)
Israel-Palestine: Crimes by Israel, Sanctions for Iran
Tuesday, June 15 @ 03:11:22 UTC
By Kourosh Ziabari
June 15, 2010

The Iranian nation is not unfamiliar with the double standards of the superpowers anymore. The history of Iran's relations with the western and eastern superpowers is filled with deceitfulness, dishonesty and fraudulence. The recent U.S.-proposed, Russia-backed United Nations Security Council resolution against Iran over its nuclear program is simply one example out of hundreds of instances which demonstrate that the big powers have not ever been honest and sincere with Iran.

While the international community is witness to the flagrant, ceaseless and unrelenting felonies of the illegitimate regime of Israel in the occupied territories of Gaza and West Bank, United Nations Security Council blindly voted in favor of an unfair, unilateral and unjustifiable round of sanctions against the most pacifist and peace-lover country in the region simply because it wants to progress its civilian nuclear program domestically and without foreign intervention.


(Read More... | 4312 bytes more | Israel-Palestine | Score: 5)
Israel-Palestine: Israel invites the world to revolt!
Sunday, June 06 @ 06:49:09 UTC
By Kourosh Ziabari
June 06, 2010

Over the past 60 years, the racist regime of Israel has been continually scoffing the international community under the cover of "deliberate ambiguity" to develop one of the most perilous nuclear arsenals in the world. According to the Federation of American Scientists, Israel possesses more than 200 nuclear warheads which are simply adequate to evaporate the whole world in a matter of moments.

Israel which is the only possessor of nuclear weapons in the Middle East and one of the three non-signatories to the Nuclear Non-Proliferation Treaty has blatantly rejected the appeal of the 189 signatories of the NPT, including its key ally the United States, to sign up to the treaty and put its nuclear facilities under the comprehensive safeguards of the International Atomic Energy Agency (IAEA).


(Read More... | 8087 bytes more | Israel-Palestine | Score: 0)
Israel-Palestine: Barbarism on the High Seas: America's Complicity in Evil
Tuesday, June 01 @ 19:58:02 UTC
By Paul Craig Roberts
June 01, 2010 - counterpunch.org

As I write at 5pm on Monday, May 31, all day has passed since the early morning reports of the Israeli commando attack on the unarmed ships carrying humanitarian aid to Gaza, and there has been no response from President Obama except to say that he needed to learn "all the facts about this morning's tragic events" and that Israeli prime minister Netanyahu had canceled his plans to meet with him at the White House. Thus has Obama made America complicit once again in Israel's barbaric war crimes. Just as the US Congress voted to deep-six Judge Goldstone's report on Israel's war crimes committed in Israel's January 2009 invasion of Gaza, Obama has deep-sixed Israel's latest act of barbarism by pretending that he doesn't know what has happened.

No one in the world will believe that Israel attacked ships in international waters carrying Israeli citizens, a Nobel Laureate, elected politicians, and noted humanitarians bringing medicines and building materials to Palestinians in Gaza, who have been living in the rubble of their homes without repairs or medicines since January 2009, without first clearing the crime with its American protector. Without America's protection, Israel, a totally artificial state, could not exist. No one in the world will believe that America's spy apparatus did not detect the movement of the Israeli attack force toward the aid ships in international waters in an act of piracy, killing 20, wounding 50, and kidnapping the rest. Obama's pretense at ignorance confirms his complicity.


(Read More... | 6753 bytes more | Israel-Palestine | Score: 0)
Israel-Palestine: Brave Israeli Commandos Slaughter Aid Activists at Sea
Tuesday, June 01 @ 03:34:09 UTC
By Stephen Lendman
June 01, 2010

Even America's major media can't duck a crime this grave - attacking and slaughtering up to 20 Gaza Freedom Flotilla activists and injuring dozens more.

New York Times writer Isabel Kershner headlined "At Least 10 Killed as Israel Intercepts Aid Flotilla, saying:

"The Israeli Navy raided a flotilla carrying thousands of tons of supplies for Gaza in international waters on Monday morning....The incident drew widespread international condemnation, with Israeli envoys summoned to explain their country's actions in several European countries....The killings also coincided with preparations for a planned visit to Washington on Tuesday (June 1) by Prime Minister Benjamin Netanyahu."


(Read More... | 11878 bytes more | Israel-Palestine | Score: 0)
Israel-Palestine: What if Iran had carried out the Gaza carnage?
Tuesday, June 01 @ 03:26:32 UTC
Kourosh Ziabari
June 01, 2010

It's not unjustifiable to consider Israel as the absolute incarnation of fraudulence, relentlessness and brutality. Since its establishment, the Zionist regime has carried out actions which contravene the international regulations and cancel out the human rights in a way or another. Only a brief look into the account of Israel's bloody interaction with the Palestinian people over the past years shows us that this fabricated regime does not deserve "the right of existence", as the U.S. and European officials put it periodically.


(Read More... | 7207 bytes more | Israel-Palestine | Score: 0)
Israel-Palestine: Israeli Persecution of Human Rights Activists
Friday, May 14 @ 21:51:49 UTC
By Stephen Lendman
May 14, 2010

Ameer Makhoul is an Israeli citizen, human rights activist, and head of the internationally recognized Ittijah NGO, engaged in "strengthen(ing) and empower(ing) the Palestinian people within the Green Line (1.5 million Israeli citizens by) promoting the development of Palestinian civil society and advocating for political change, economic and social development."

He's also chair of the Public Committee for the Defence of Political Freedom within the Arab Higher Monitoring Committee in Israel.


(Read More... | 13140 bytes more | Israel-Palestine | Score: 0)
Israel-Palestine: The Lobby vs. America: Netanyahu's Lies and the Spineless Politicians
Sunday, April 04 @ 01:56:40 UTC
By Ramzy Baroud
April 04, 2010

As I listened to Israeli Prime Minister Benjamin Netanyahu address an animated crowed of supporters on March 22, I felt physically sick. The man has already displayed time and again a complete lack of moral sense or ethical framework in his words and actions. In his recent arguments, he once again twisted history, manipulated facts and fabricated his own selective, self-interested and highly questionable narrative. Netanyahu, a colonialist from a faraway land, also had the audacity to convince himself and a few others that he had legal, moral and historic rights over my land. While I am the son of a Palestinian family rooted in Palestine since time immemorial, Netanyahu is the son of an immigrant from Lithuania. While he giddily robs more Palestinian land in Jerusalem, I live in exile.

Netanyahu was addressing the annual conference of the American Israel Public Affairs Committee (AIPAC). The 'powerful' lobby group encompasses a large conglomerate of rightwing Zionist politicians and lobbyists and is seen by many as the most instrumental platform that influences – and, to a large degree, controls - US foreign policy regarding Palestine, Israel and the entire Middle East.


(Read More... | 6714 bytes more | Israel-Palestine | Score: 0)
Israel-Palestine: Israel Kidnaps Peace Boat Crew
Thursday, July 02 @ 23:36:09 UTC
Pirates of the Mediterranean

By Paul Craig Roberts
July 01, 2009 - counterpunch.org

On June 30, the government of Israel committed an act of piracy when the Israeli Navy in international waters illegally boarded the "Spirit of Humanity," kidnapped its 21-person crew from 11 countries, including former US Congresswoman Cynthia McKinney and Nobel Laureate Mairead MaGuire, and confiscated the cargo of medical supplies, olive trees, reconstruction materials, and children's toys that were on the way to the Mediterranean coast of Gaza. The "Spirit of Humanity," along with the kidnapped 21 persons, is being towed to Israel as I write.

Gaza has been described as the "world's largest concentration camp." It is home to 1.5 million Palestinians who were driven by force of American-supplied Israeli arms out of their homes, off their farms, and out of their villages so that Israel could steal their land and make the Palestinian land available to Israeli settlers.


(Read More... | 9333 bytes more | Israel-Palestine | Score: 0)
World Focus: Pro-Zionism: Defending the Indefensible
Tuesday, March 31 @ 16:19:12 UTC
by Stephen Lendman
March 30th, 2009

This article responds to a March 15 Los Angeles Times Judea Pearl one headlined: "Is anti-Zionism hate?" Pearl, who teaches computer science at UCLA, is the father of slain journalist Daniel Pearl, and president of the Daniel Pearl Foundation. It was "formed... to continue Danny's mission and to address the root causes of this tragedy in the spirit" of the man it represents, including "uncompromised objectivity and integrity... and respect for people of all cultures..."


(Read More... | 13015 bytes more | World Focus | Score: 0)
US War on Iran: Israel's American Chattel
Wednesday, March 18 @ 22:21:38 UTC
By Paul Craig Roberts
March 18, 2009
Information Clearing House
"I do not believe the National Intelligence Council could function effectively while its chair was under constant attack by unscrupulous people with a passionate attachment to the views of a political faction in a foreign country.

"The tactics of the Israel Lobby plumb the depths of dishonor and indecency and include character assassination, selective misquotation, the willful distortion of the record, the fabrication of falsehoods, and an utter disregard for the truth. The aim of this Lobby is control of the policy process through the exercise of a veto over the appointment of people who dispute the wisdom of its views, the substitution of political correctness for analysis, and the exclusion of any and all options for decision by Americans and our government other than those that it favors.

"There is a special irony in having been accused of improper regard for the opinions of foreign governments and societies by a group so clearly intent on enforcing adherence to the policies of a foreign government – in this case, the government of Israel. I believe that the inability of the American public to discuss, or the government to consider, any option for US policies in the Middle East opposed by the ruling faction in Israeli politics has allowed that faction to adopt and sustain policies that ultimately threaten the existence of the state of Israel. It is not permitted for anyone in the United States to say so. This is not just a tragedy for Israelis and their neighbors in the Middle East; it is doing widening damage to the national security of the United States."

--Ambassador Charles Freeman on declining his appointment as Chairman of the National Intelligence Council, Wall Street Journal, March 10, 2009

Many conservatives take vicarious pleasure in America's superpower status. Bush's flaunting of American power is one reason conservatives took scant notice of Bush's police state measures and ill-conceived wars. Conservatives were so delighted with Bush giving the finger to the UN, the world community and especially France, a country conservatives have despised ever since Charles DeGaulle refused to follow the American line, that conservatives paid no attention to Bush's assault on civil liberty and his squandering of America's soft power.


(Read More... | 8274 bytes more | US War on Iran | Score: 0)
Israel-Palestine: Ceasefires, Israeli-Style
Wednesday, February 04 @ 12:59:05 UTC
by Stephen Lendman
February 04, 2009

Waging war while talking peace is customary Israeli practice. On January 19, Haaretz headlined: "Israel declares unilateral cease-fire. The security cabinet last night authorized a unilateral cease-fire (to take effect) at 2AM (Sunday morning), ending three weeks of intense fighting."

Declaration notwithstanding, nothing changed. Gaza remains occupied, under siege, and totally isolated. Borders are still closed. On January 28, The New York Times said "truckloads of humanitarian aid" are stuck in Egypt because of Israeli and Cairo restrictions. Little can get in, and attacks merely downshifted to a lower gear.


(Read More... | 25749 bytes more | Israel-Palestine | Score: 0)
Israel-Palestine: A Hundred Eyes for an Eye
Monday, December 29 @ 17:04:34 UTC
by Norman Solomon
December 29, 2008
CommonDreams.org

Israelis and Arabs "feel that only force can assure justice," I. F. Stone noted soon after the Six Day War in 1967. And he wrote: "A certain moral imbecility marks all ethnocentric movements. The Others are always either less than human, and thus their interests may be ignored, or more than human and therefore so dangerous that it is right to destroy them."

The closing days of 2008 have heightened the Israeli government's stature as a mighty practitioner of the moral imbecility that Stone described.


(Read More... | 4038 bytes more | Israel-Palestine | Score: 0)
Facebook & Twitter
Big Story of Today
There isn't a Biggest Story for Today, yet.