Manning: Why I Fired Rowley
TrinidadandTobagoNews.com Reporters
April 25, 2008
News Update Below: April 26, 2008
| | |
| --- | --- |
| Dr. Keith Rowley and PM Patrick Manning | |
At yesterday's post-cabinet news conference, Prime Minister Patrick Manning appeared alone to explain why he fired Rowley. Manning said that he fired Dr. Keith Rowley because of unacceptable 'hooligan behaviour' at a meeting of the Finance and General Purposes Committee of cabinet, and not because of his corruption allegation.

Rowley stated that he was fired because he raised concerns about a lack of cabinet supervision over UDeCOTT's mega billion dollar projects.

Manning said that Rowley's alleged temper tantrum fiasco began two weeks ago at a meeting of the Finance and General Purposes Committee of cabinet where UDeCOTT's chairman Calder Hart, proposed a sixty room hotel to be part of the US $100 million Academy of the Performing Arts. Dr. Rowley objected to this proposal, as he himself has admitted, but the Prime Minister alleges that Rowley did so in an unacceptable manner saying that it was worse than opposition leader Basdeo Panday's behaviour in parliament during the laptop controversy. Manning said that he was absent from that meeting and was told of it when he returned. He said that he raised the matter at last week's cabinet meeting and promised to investigate the complaints. He then met with Rowley yesterday to tell him about the accusations which Rowley strongly denied. Manning said he then did a random poll with five out of the eight cabinet ministers who were present at the meeting, and four felt Rowley was out of line. Manning said that he would not reveal the names of the ministers who felt that Rowley's conduct was unacceptable to protect them. Manning said that he gave Rowley the option to resign and when he refused, he fired him.

Manning denies that he was being vindictive towards Rowley given their history of rivalry over leadership of the PNM.

The Prime Minister further rejected Rowley's claim of questionable financial dealings at UDeCOTT and said that the state-owned company is being run quite efficiently. Manning said that cabinet had knowledge of this hotel since last year. He proceeded to show a plan and point out the area on it for the hotel of sixty rooms. Manning said the hotel was not put in surreptitiously by anybody; it was always part of the design. Manning further said that they had articulated to the public at some time that the Academy of the Performing Arts in Port of Spain had comprised a sixty room hotel.

TV6 later showed an official document that showed the hotel was not part of the plan for the Academy of the Performing Arts. Former NAR government minister Eden Shand showed documents that contradicted what Manning said. Shand said, "Last night I heard the news about a sixty room hotel, and I know the process in this country through which you can do that. The process was town and country planning approval; you can check with them if you have that, and certificate of environmental clearance. I went this morning to see whether in fact the sixty room hotel was part of the clearance. It is not."

TV6 once again showed an original plan where the design did not show plans for a hotel. The TV6 reporter asked Mr. Shand if a redesign of the center could have been made at a later time and could have included the hotel and, therefore, could have been an oversight.

Mr. Shand said there were no new applications on record that he saw for clearance for a new design. Shand said that the centre is being constructed illegally.

Share your views here...

Also Read:


Manning Fires Rowley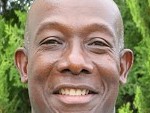 Dr. Keith Rowley is no longer the Trade and Industry Minister. He was fired by Prime Minister Patrick Manning who, according to reports, felt that he was an obstructionist. Dr. Lenny Saith has been appointed to lead the Trade and Industry Ministry.
Read more...

Articles About Calder Hart
Say 'no' to yes men
Hart's appointment as chairman of NIB and Nipdec is disconcerting because, in my view, it will give him too much power. He will be chairman of the Urban Development Corporation of T&T (Udecott), chairman of TT Mortgage Finance, chairman of the National Insurance Board, chairman of Nipdec and chief executive of the Home Mortgage Bank.

Man with many hats...
"You should be on the same wavelength as the leader. I'm a team player. It's more of a can-do attitude about executing for the Government that which it wishes to be implemented."

Hart goes on the defence over award of contracts
The clamour for transparency in the award of public contracts is continuing, but the official in the eye of the storm is insisting there is no wrongdoing. There is now a spirited public debate on the government's procurement practice with respect to multi-million-dollar public contracts.

Related News: April 26, 2008
PM Manning Unconvincing
Unconvincing! The conclusion must certainly be that Prime Minister Patrick Manning failed in his attempt to persuade the national community about the strength of his case to fire senior Minister Dr Keith Rowley by his statements and attitudes displayed at Thursday's news conference.

Enill not one of PM's 5

Rowley needs Shop Steward

More questions than answers
The public has reacted sceptically to Prime Minister Patrick Manning's explanation of his firing of Diego Martin West MP Keith Rowley. Indeed, Mr Manning has raised more questions than he has answered, ranging from how he runs his Cabinet to how Udecott is spending taxpayers' money.

Rowley: There are elements against me
Diego Martin West MP Dr Keith Rowley says there were "elements" in the Government and the Urban Development Corporation of Trinidad and Tobago (UDeCoTT) that sought his removal from the Parliament "in handcuffs" long before his dismissal from the Cabinet on Wednesday.

The Hart of Manning
Rowley behaved worse than Panday in Parliament, Manning continues. The public cannot know that, for the simple reason that Panday was shouting at the Speaker, in full public view and for the nation to hear, whereas Rowley was speaking, however passionately, to a few colleagues behind closed doors. How can you sensibly compare the two scenarios? In any case, do you normally fire someone for making frank remarks to colleagues in private? Or is it that Manning thought he saw a good opportunity to rid himself at last of the turbulent Tobagonian?

'UdeCott projects must be probed'
Political Leader of the Congress of the People (COP) has called for a forensic investigation into all projects undertaken by UdeCott.

Kamla's out 'to expose' UDeCoTT
SIPARIA MP Kamla Persad-Bissessar says the Opposition UNC-A will use all its powers in and outside of the Parliament to get answers and expose the rampant corruption surrounding UDeCoTT.

Eudine joins call for Udecott probe

Come clean about Rowley, says Lucky
Dr Keith Rowley is not the type of man to make strong allegations without a basis, says former MP Gillian Lucky.

London fears PNM crack in THA polls
Chief Secretary of the Tobago House of Assembly (THA) Orville London is not ruling out negative political implications within PNM at the upcoming THA elections...

Sister island rallies around fired Rowley

Donaldson ducks comments
PRIME MINISTER Patrick Manning said at the post-Cabinet news briefing on Thursday that he did not expect negative repercussions within the PNM from Dr Keith Rowley's dismissal from the Cabinet...

Bharath: Rowley must tell all to police, DPP

Rowley's salary slashed
Former Trade and Industry Minister Dr Keith Rowley's monthly salary will be slashed from $33,000 to $14,000 after Prime Minister Patrick Manning fired him from the Cabinet on Wednesday.

Related News: April 25, 2008
...Call for UDeCOTT enquiry

Finding the truth
"I acted to prevent corruption," said Diego Martin West MP and now former Government Minister Keith Rowley on Wednesday evening, explaining why he has been fired from the Cabinet of Prime Minister Patrick Manning.

Row opens up spending debate

PM: Nothing personal
Diego Martin West MP Keith Rowley was fired because of atrocious, "wajang" behaviour in a five-minute "tirade" which he displayed at a recent government meeting, Prime Minister Patrick Manning said yesterday...

He is a Hooligan
PM: Rowley fired on basis of ministers' claims
Diego Martin West MP Dr Keith Rowley behaved like a "wajang" and a "hooligan" in a Cabinet sub-committee meeting according to two of his former Cabinet colleagues.

Wajang, hooligan

Rowley: It's all lies

Rowley concerned about his character
Former minister of trade and industry Keith Rowley says he spent $350,000 to defend himself from allegations of misconduct before the Integrity Commission, stemming from the Landate affair...

Rowley: I had issues with Udecott

'We ain't taking that'
"We ain't taking that so!" was the outraged declaration of constituents of Member of Parliament for Diego Martin West, Dr Keith Rowley responding to his firing as Minister of Trade and Industry on Wednesday.

Manning rejects suggestion of vindictiveness
Prime Minister Patrick Manning says he has never been vindictive against Diego Martin West MP Dr Keith Rowley...

More facts surround sacking–analysts
Political Analyst Derek Ramsamooj believes there is still much more un-revealed facts surrounding the sacking of former Trade and Industry Minister Keith Rowley...

Analyst: PM must come clean
Prime Minister Patrick Manning must disclose to the nation the names of the five ministers whom he called to come to the conclusion that Dr Keith Rowley's behaviour was "atrocious" at a meeting.

Manning mum on 'informers'
Five of the 20-plus government members who are in Finance and General Purposes Committee (FGPC) were interviewed by Prime Minister Patrick Manning before he fired Trade Minister Dr Keith Rowley...

PM: Everybody knew about 60-room hotel

Colonial courts cleared for hotel

PM: Govt in dialogue with Udecott

EMA in dark about Princes Building hotel

PM insists hotel always on card
PRIME MINISTER Patrick Manning says the 60-room hotel to be constructed on the Princes Building Grounds "was not put in surreptitiously by anybody."

Shand: No hotel in CEC

'Let them say it in the open'
Sacked PNM minister Dr Keith Rowley challenged yesterday the government ministers who said he behaved "atrociously" to say so it in the open...

Rowley calls on accusers: Speak the truth

Tobago: All is not well in the PNM

Humpty Dumpty is falling