Manning Fires Rowley
TrinidadandTobagoNews.com Reporters
April 23, 2008
| | |
| --- | --- |
| Dr. Keith Rowley | |
Dr. Keith Rowley's appointment as Trade and Industry Minister was revoked with immediate effect on Wednesday 23rd April, 2008, by President George Maxwell Richards acting on the advice of Prime Minister Patrick Manning. This dismissal comes six months into the term of the Patrick Manning administration and has impassioned many supporters of Rowley.

Dr. Rowley has been replaced by Dr. Lenny Saith and Mr. Manning's office states that the new arrangement will ensure the government's programme continues without interruption. Their explanation about the appointment of Dr. Saith is that he has been chairing a number of Cabinet committees, and with his vast experience, continuity will be assured.

Rowley, speaking with CNC3 News, said that he was fired because he objected to a plan by the Urban Development Corporation Of Trinidad And Tobago Limited (UDeCOTT) to construct a 60 room hotel at the Princess Building ground, (a piece of land formerly used by the people for recreation on which the Performing Arts Center is being built). Rowley said: "I was informed of a further development at the Princess Building grounds... and discovered that UDeCOTT had presented development plans to the Cabinet for the construction of a 60 room hotel on that site." It was something, he said, he could not tolerate. He further stated, "As a member of the Cabinet, it was news to me and my colleagues. I took strong objection to it, questioning the jurisdiction of UDeCOTT. Even as a member of the Cabinet, it appears, I am not entitled to voice my objections. For voicing my objections I have been fired." He was informed of the revocation of his ministerial appointment at White Hall. Rowley said that he was not surprised at what seemed to be his sudden dismissal.

After meeting with his Diego Martin constituents, Dr. Rowley spoke with the media. Here is an abstract of what he shared:


ROWLEY: As to my relationship with the constituents of Diego Martin West, I am [still the] Member of Parliament for Diego Martin West. I was elected to represent the people of Diego Martin West in Parliament and I shall continue to do that to the best of my ability for the duration of this parliamentary term. The other question which was the one about my relationship with the Prime Minister, as far as I am aware, I have had an extremely good working relationship with the Prime Minister...

Speaking on the matter of his dismal, Dr. Rowley said:

ROWLEY: This issue about the revocation of my appointment today, the specific issue on this is my objection to certain activities of a state company; that state company being UDeCOTT. As you may know, I have been the Minister for UDeCOTT when I was Minister of Planning and Development. We had issues there. I have been the subject of an integrity commission action which I have taken to the court and we had issues there, and the issue ...of last week has to do with a project of which UDeCOTT is involved, and my reaction to it is reacting to the surprise that such a development could be taking place without appropriate Cabinet oversight. My concern had to do with a demand for Cabinet oversight of UDeCOTT's activities where billions of dollars of state funds are being expended on projects which are quite necessary; I am not in any debate about the projects. My concern has to do with the procurement processes and the nature of the activities which [took place without] Cabinet oversight and I raise that and I claim it offended certain people.

REPORTER: Dr. Rowley, they spoke about the sixty room hotel.

ROWLEY: Yes. The sub-commission of the Cabinet was made aware of UDeCOTT's construction of a sixty room hotel on the Princess Building grounds site as part of the Performing Arts Center. As you know, we are building a performing arts academy on the Princess Building grounds. We discovered recently as part of that [project] under construction is a sixty room hotel and as a member of a PNM Cabinet I had to ask the relevant questions and I had to take certain positions which I did which resulted in my dismissal.

REPORTER: What were your positions about this project?

ROWLEY: Well, for a start, it is my view that if I'm a part of the Cabinet and such a project is taking place and being funded by the state, that I would be aware of it and that some element of oversight should be [forthcoming]. I was taken by complete surprise as well as my colleagues. This could only have happened because UDeCOTT business is being conducted in such a way that such a development can take place to the surprise of Cabinet members.

REPORTER: Dr. Rowley, the fact that at one time you sought the leadership of the PNM, given what now transpired, would you at any time consider another bid for leadership of the Party?

ROWLEY: I have no commitment to make to that except that I have always maintained that I am a team player and I represent the PNM to the best of my ability.

REPORTER: Dr. Rowley, are you concerned that there is an intolerance of decent in the Cabinet?

ROWLEY: Yes I am.

REPORTER: Dr., the Prime Minister accuses you of misconduct in connection with this project you spoke about earlier.

ROWLEY: It has to do with a meeting with the sub-committee ...I have been accused of misconduct and I sought to find out what were the elements of this misconduct, and I could not find out what it was. What I was aware of, that I did, was to express my disagreement with the way UDeCOTT was allowed to conduct government business without adequate cabinet oversight. I didn't use unparliamentary language, I didn't shout at anybody, I didn't use obscene language, I didn't bang on the desk, I didn't identify any person who could have been responsible for this. I took a position of principle requesting that the cabinet be in charge of the [public's] affairs and they can only do that if they have proper procedures in place. And I did it against a background of my own involvement with UDeCOTT, where I was the Minister for UDeCOTT, and I had some difficulties with them. I did it against the background of elements and persons in UDeCOTT seeking to conspire with others in the integrity commission to have me charged with criminal conduct; and against a background of UDeCOTT's involvement in the housing programme.

When I was Minister of Housing, I took steps to ensure that cabinet prevented UDeCOTT from getting involved in the housing programme. So, against that background, my position last Monday can be seen as a position of my dissatisfaction with UDeCOTT's existence and presence in the public sector and how it is being allowed to function. And against a background where, as you all should know, recently I had a look at volumes of documents made available to me in parliament - documents of my speeches during the seven year period when the UNC was in the opposition, and I must say, I was quite stunned at the number of hours I spoke in the parliament - most of it having to do with misconduct on the part of the UNC cabinet. And with that track record, and where I was thrown out the parliament by the UNC for demanding proper procedures, I find it difficult to swallow that as a member of the PNM cabinet, and UDeCOTT's problem as I know them, has to be glossed over by me because if I raise objections I would offend certain individuals. Clearly I have offended people in the UDeCOTT...

I was aware that the Prime Minister had concerns but I was summoned this morning and confronted with a position that the Prime Minister had received a report that I had misconducted myself. Now I don't know what this thing is about. If I did something, ladies and gentlemen, I am quite prepared to stand the consequences. What I have difficulties with is being accused of things I didn't do. I am in court; I have to pay 350,000 dollars to have the integrity commission say that I didn't do anything. Now my own Prime Minister is telling me he got a report from somebody unnamed saying that I did something, and I am asking what did I do? I can't be told what I did, but you are to be fired for what you did, and I am saying, tell me what I did. I cannot be told what I did, but I must be disciplined for what I did. I find that to be a very strange development in a PNM cabinet in Trinidad and Tobago. I am not here seeking to get my job back. I am simply saying this country's business, if this is how the country's business is being conducted, then something is radically wrong. And as a PNM person, I am saying that the party should take cognizance of how it is conducting the country's affairs. That is all I am saying.

Share your views here...
Manning: Why I Fired Rowley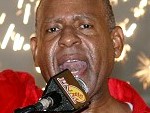 Prime Minister Patrick Manning explains why he fired Dr. Keith Rowley. Manning said that he fired Rowley because of unacceptable 'hooligan behaviour' at a meeting of the Finance and General Purposes Committee of cabinet, and not because of his corruption allegation. Read more...

Related News: