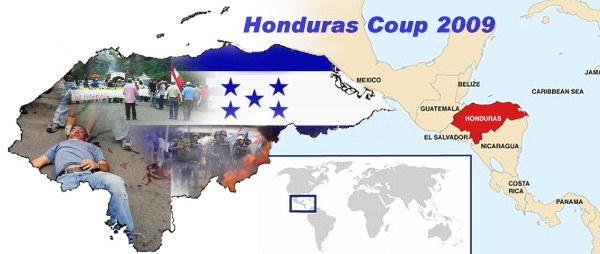 Honduras Coup Homepage | News Continued
Special Reports
'The coup turned Honduras into hell': President Manuel Zelaya on 10th anniversary of overthrow by US
The Grayzone - YouTube- Published on Jul 1, 2019
The Grayzone's Anya Parampil sat down for an exclusive interview with Honduran President Manuel Zelaya, on the 10th anniversary of the US-backed right-wing military coup that overthrew him. We discussed the extreme violence, drug trafficking, economic depression, migration crisis, Juan Orlando Hernández (JOH), WikiLeaks, Venezuela, and more.


---
Smedley Butler was a Major General in the U.S. Marine Corps and, at the time of his death, the most decorated Marine in U.S. history. In his 1935 book, War Is a Racket, Butler presented an exposé and trenchant condemnation of the profit motive behind warfare. His views on the subject are well summarized in one of Butler's most widely quoted statements from a 1935 issue of the magazine, Common Sense: (thezeitgeistmovement.com)
I spent 33 years and four months in active military service and during that period I spent most of my time as a high class muscle man for Big Business, for Wall Street and the bankers. In short, I was a racketeer, a gangster for capitalism. I helped make Mexico and especially Tampico safe for American oil interests in 1914. I helped make Haiti and Cuba a decent place for the National City Bank boys to collect revenues in. I helped in the raping of half a dozen Central American republics for the benefit of Wall Street. I helped purify Nicaragua for the International Banking House of Brown Brothers in 1902-1912. I brought light to the Dominican Republic for the American sugar interests in 1916. I helped make Honduras right for the American fruit companies in 1903. In China in 1927 I helped see to it that Standard Oil went on its way unmolested. Looking back on it, I might have given Al Capone a few hints. The best he could do was to operate his racket in three districts. I operated on three continents.

—Smedley Butler, Common Sense, 1935.

Trinicenter.com reserves the right to publish your email responses in whole or part. If you are responding to a particular article, include the title and link to the article. If you would like your name withheld from publication, state this in your submission and supply a nom de plume.
Also check out: The Chávez Code | Venezuela Analysis | Narco News Bulletin
Upside Down World | Americas Mexico Blog | Honduras Coup 2009 Blog
The Embassy of Honduras | Radio Feminista | Honduras Oye!