The legacy of Terrence Clarke
By Dr Selwyn R. Cudjoe
May 10, 2021
Terrence Clarke was on the cusp of achieving the goal to which he had aspired for the 19 years of his life: a career in the National Basketball Association (NBA).
In 2021, he was regarded as one of the best shooting guards in US colleges and universities (Kentucky Wildcats Basketball). All the major professional basketball teams wanted him to be a part of their programmes, but he wanted to play for the Boston Celtics. Terrence idolised Rajon Rondo, a member of the Boston Celtics from 2006 to 2014, and an elite member of the NBA.
As a child, he wore a green headband and wristband (green is the Celtics' colour) daily as he walked around his house with a basketball tucked under his left arm. He was determined, as he said, to become "one of the greatest ball players of all time".
It was on the final leg of this storied journey that Terrence met his untimely death. On April 21, he signed a contract with the Klutch Sports Group which represents several prominent NBA players, including LeBron James and Anthony Davis. The next day, he was killed in a motor vehicle accident in Los Angeles after he left a workout with BJ Boston, his former Kentucky teammate.
After his death, Rich Paul, founder of Klutch Sports, lamented: "We are saddened and devastated by the tragic loss of Terrence Clarke. He was an incredible, hard-working young man. He was excited for what was ahead of him and ready to fulfil his dreams."
Terrence's father, Adrian Briggs, was born in Fyzabad. His mother, Osmine Clarke, was born in Guyana. Terrence visited Trinidad many times during his formative years and was nurtured by his Trinidadian family who lived in Mattapan. His aunts and uncles who lived in close proximity to one another cultivated his discipline and strong commitment to excellence.
I didn't know Terrence, but I am acquainted with his immediate family. I know David Martin, Terrence's uncle, who is married to Marilyn Briggs, the aunt of Adrian Briggs, the father of Terrence Clarke. Terrence was born in Boston and the Briggs family was instrumental in his upbringing. Their example played a big role in his development.
I attended Terrence's home-going service on Friday morning, which took place at the Jubilee Christian Church in Boston.
Representative Liz Miranda, a member of the Massachusetts State Legislature and former student of Wellesley College, read a proclamation from her legislative body that acknowledged Terrence's love of his profession, his contribution to and the impact his short life had on his community.
Terrence attended Roxbury Prep, Smith Davis Leadership Academy, the Rivers School, and Brewster Academy which had the most impact on his formal education.
After spending one year at the University of Kentucky, he decided to join the NBA. In 2020 he was selected for the McDonald's All-American Game. Over the years he cultivated a network of NBA players, coaches and mentors to increase his knowledge of the game. He was expected to be a first-round pick at the NBA draft.
Terrence's service to his community and his impact on Boston, particularly the youngsters, was evidenced by the presence of Kim Janey, the first black mayor of Boston, at the public viewing of his body last Thursday evening. When she heard of his death, she spoke of his "inspiration on so many other young people on and off the court".
Terrence's major interests were basketball and education. He developed a tremendous work ethic and studied the game closely. He began playing basketball at the Vine Community Centre. He always visited the centre when he returned to Boston to encourage the youngsters who were trying to emulate him and learn from his example.
I was glad that I attended Terrence's homegoing. I wanted to honour his memory and give thanks for his achievements. I was persuaded that the various academic and athletic programmes that were available to him and the downtrodden in his community made a big difference in his life.
It also made me think of the enormous talents that we leave unattended in our land. T&T athletes can reach the top of their game and achieve world-class status if our sports programmes are purposefully managed and organised.
Jamaicans have won 15 of the 24 medals in the 100 and 200 metre events in the last Olympic Games, including five of the six gold medals that were awarded. Three of the world's fastest men ever are Jamaicans.
Brian Harry has argued: "Jamaican prowess in track and field is a confluence of several influences. Their cultural affinity with the sport started with Dr Arthur Wint, who won gold and silver medals in the 1948 and 1952 Olympics.
"The pride they took in track and field inspired many grassroots enthusiasts, coaches and organisations, feeding a visionary fire in small villages, towns and hamlets. The Boys and Girls Champs that takes place annually highlight the best talent and potential across the country in one week of high-pressure competition."
Terrence may have been talented, but if the facilities, encouragement and individual determination were not present, he would be just another beautiful brother who achieved little in his short life.
If Terrence lived in T&T, I wonder if he would have achieved as much as he did in America.
Terrence's passing forces us to ask if T&T possesses the philosophy and wisdom to use sports as a pillar of youth development so that our Terrences achieve as much as Terrence Clarke did.
It also forces us to remember, as Pastor Matthew K Thompson reminded us in his eulogy: "It's not how long one lives, but what one does with the time one has at one's disposal."
Prof. Cudjoe's email address is scudjoe@wellesley.edu. He can be reached @ProfessorCudjoe.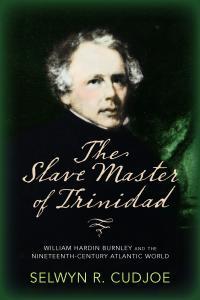 The Slave Master of Trinidad by Dr. Selwyn R. Cudjoe
---