Reframing the Bone
By Dr Selwyn R. Cudjoe
November 23, 2020
It's about 10 pm on Wednesday evening and I am lying down in my room at New England Baptist Hospital in Boston, Massachusetts, famous for its orthopedic surgery. This is one of the leading orthopedic hospitals in the United States and has gained an enormous reputation for performing surgeries on knees, backs and hips. Although my left knee was not completely gone, I needed surgery if I wanted to walk pain-free again.
This was not my first encounter with orthopedic surgery. In Trinidad, at the age of 12, I was playing soccer at the Tacarigua Children's Home when I was kicked on my shin. Like so many mishaps, I didn't take it seriously and there weren't that many medical facilities around to treat it at the time. If there were any around, we couldn't afford them anyway.
My mother first took me to the Tunapuna Health Office to try out an Indian masseur. She then took me to the Tacarigua Hospital that was located in Tunapuna. The hospital was named after the Ward of Tacarigua. The Tacarigua Hospital was of no help. My leg was becoming blood poisoned, my eyes had turned (that is what the older people said) and I was at a point of exiting this world. Dr. Harold Littlepage, one of the doctors at Tacarigua Hospital, placed a bandage around my chest saying my mother had beaten me and broken one of my ribs.
When I was on the brink of leaving this world, I was rushed to the Port of Spain General Hospital. As fate would have it, Dr. Watson (an Australian), one of the two orthopedic surgeons in the country (Dr. Richardson, a Trinidadian, was the other), was on duty at the Port of Spain General Hospital that evening. Without him, I would have been a goner.
Dr. Watson immediately ordered an X-ray of my leg and diagnosed my condition. I was suffering from osteomyelitis (bone poisoning) in my left tibia and fibula. He immediately performed an emergency operation boring six holes in bone so that he could drain the poison from my leg. The next morning, for the first time in many weeks, I was able to suck an orange. My Tante Pope was overjoyed.
Dr. Watson's operation held up well for close to 63 years. He advised me to discontinue playing soccer but the problem was this: how do you tell a 13-year-old to stop playing his favorite sport. So I continued playing football in one form or another until I was about fifty years old. My disregard for Dr. Watson's advice was to have serious consequences for my left knee. It began to give me trouble which is why I ended up at New England Baptist.
Six months at the Port of Spain General Hospital made me terribly afraid of hospitals. I got tired of being riddled with antibiotic injections in my buttocks several times a day, which is why I was so scared of having to undergo a total knee replacement which I had heard was a painful procedure. My sister had her two knees done but she did not seem to mind the pain. I, on the other hand, was filled with apprehension.
Knowing that a knee replacement was inevitable, I began to look for a doctor who was well known in his field and someone with whom I felt comfortable. I learned a long time ago that medicine was as much about relationships as it was about the possession of skills. Fate threw me into the path of Dr. James Phillips who works at Harvard Vanguard Associates but also operates at New England Baptist. I could relate to the brother's warmth and empathy. After he calmed my fears I allowed him to operate.
On Wednesday, the date of my surgery, I went into the operating room at about 11 am and came out around 2 pm. Surprisingly, after I came out of the anesthesia, I felt no pain at all until I left the hospital on Friday afternoon.
My anesthesian Dr. Phillips gave me a spinal anesthesia that blocked the pain. The plan was to administer enough pain medicine so that when the pain arrived as presumably it would, I would be prepared for it. Dr. Phillips then shaved down my tibia and femur (the very ones that Dr. Watson operated on) as well as the patella (kneecap) and then put in prosthesis. He then placed a polyethylene liner between the metal (titanium) just to be sure that I had a knee to walk on again.
After two days at New England Baptist, I returned to my residence on my amended knee, using my crutches. I was astounded at the speed of the operation and how little pain accompanied the procedure. I wanted to go to a rehabilitation center but the possibility of my being exposed to coronavirus prevented my doctors from sending me there. Six weeks of painful recuperation await me as I prepare this new journey of my life.
On Friday, I couldn't help but think that a journey that began with a kick to the shin some 63 years ago had sent me to New England Baptist to reframe my old knee for new services. Sometimes there could also be artistry in surgery.
I want to thank Dr. Watson for saving my life in those dismal days of yore and Dr. Phillips for utilizing the wonders of modern medicine to make me well again.
My Trinidad operation did not cost my mother a cent. The Colonial government picked up the cost. My Boston surgery cost me (actually, my insurance) about $250,000 (TT) for my two-day procedure.
The old days may still contain some advantages.
Prof. Cudjoe's email is scudjoe@wellesley.edu. He can be reached @ProfessorCudjoe.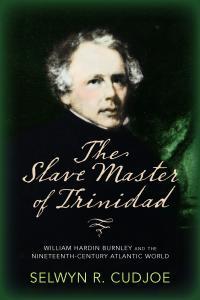 The Slave Master of Trinidad by Dr. Selwyn R. Cudjoe
---