Do Black Lives Matter in Trinidad?
By Dr Selwyn R. Cudjoe
July 06, 2020
While the world has been impacted by the Black Lives Matter movement, none of the political parties of T&T has issued a statement on its relevance to black people of this country. Nor, for that matter, have they told us how they will deal with the impoverishment, unemployment, alienation and miseducation of our black youths.
Necessarily, black youths from these under resourced communities have reminded us that black lives matter and that there must be an accounting for past wrongs and present grievances. Predictably, there will be more clashes between the police and the youths of these deprived communities if things continue as they are going.
It is not accidental that simultaneous disturbances occurred in Morvant, Belmont, Port of Spain, Laventille, Barataria, Arima and Maloney. Given the deep sense of alienation among black youths, future clashes between the police and these citizens will be more intense, better organized and just as sophisticated as scenarios we see in the favelas of Brazil.
Minister Stuart Young says that these youths were recruited and paid by criminal elements. He described them as "gangsters" who were recruited "to perform orchestrated acts, including blocking roads, confronting police officers and even shooting at them" (Express, July 1). The Prime Minister added to this simplistic formulation on Thursday.
Minister Young also said theirs "was a well-orchestrated plot by certain gang leaders" who hoped "to get national support, when they commenced their plan to cause mayhem, fear, and destruction throughout the country." He assured us that TTPS has the full support of the Defense Force "and they will not hesitate to do all that is in their power to keep the peace." In this rendering, the execution of Allen Mosely, the accidental killing of Ornella Greaves, and the shooting of Joel Jacob, Noel Diamond and Israel Clinton had nothing to do with the disturbances.
Eric Williams, the leader of the PNM, represented the underprivileged communities of John John and "Behind the Bridge." De Wilton Rogers, PNM's first education secretary, reminded us of PNM's close association with these "criminal" communities.
At the party's inaugural meeting at the University of Woodford Square in 1956, Williams outlined the party's fundamental principles to thousands of its supporters. He told them that the PNM "begins its life on earth by listing [he might have said 'listening' to] the needs of the community….
"To stimulate and promote the growing feeling of nationalism, racial consciousness, religious zeal, all members of the various sub-cultures essayed to meet on common ground" (Rogers, The Rise of the People's National Movement).
The members of the community trusted the party leaders and vice versa. The party leaders grounded with community members who reciprocated by protecting them. I wonder if Young, Faris Al-Rawi, Colmn Imbert, Rohan Sinanan, Franklin Khan, Terrence Deyalsingh, or Kazim Hosein showed (or could have shown) their faces in the affected communities during the crisis.
I am not sure if those in the leadership of the government have read or studied the original objectives of their party or took time to find out about the national and international struggles of black people. It was not for nothing that Williams wrote The Negro in the Caribbean and Capitalism and Slavery. At Howard University, he worked with E. Franklin Frazer (author of The Negro Family in the United States), Alain Locke (author of The New Negro), and Ralph Bunche, the first African American to be awarded the Nobel Peace Prize.
The sanctity of black lives was close to Williams's heart.
Sometimes I wonder if the people who lead the PNM know anything about the evolution of black people in T&T or empathize with the challenges that black youths face. Although Williams was not always successful, he strove to understand the behavior of those he chose to serve.
Although PNM does not bear the full blame for the deteriorating conditions among our black youth, the entrenchment of brown and white power at the helm of business and government grows inversely to the suffering of black people. Moreover, the government's abnegation of its responsibility to its major constituents has only added bitterness and gall to their social isolation.
Black people have been, and continue to be, shortchanged in this country. When young black men and women rise up in righteous indignation, they do so because those in power refuse to see them and/or hear what they say.
Any organization that forgets its original mission is likely to become a caricature of itself. The US Republican Party, under the leadership of Abraham Lincoln, led black people out of slavery. Today, the Republican Party is a symbol of reaction and its leader is one of the most racist leaders the US has ever seen.
Black youths shall continue to confront the police verbally and militarily. If things do not change, they will make more coordinated attacks against the police which will cause greater mayhem. They will see that their problem is not so much about the police but an unresponsive and uncaring political and economic system. If PNM is not careful, it can turn into its antithesis as money, rather than ideas and principles, control its actions.
The selection of seven people to address the problems of "at-risk communities" is nothing but a plaster on a deep wound. The manifestos of both parties must outline a well-laid out program, as a part of their national development plans, to deal with the problems of black people. Black development must not be seen as incidental but central to our larger economic and social goal. It's neither a psychiatric nor a psychological problem.
Black lives will continue to deteriorate unless each political party presents and implement a national plan that addresses their condition. The sanctity of black lives must matter particularly in a black country.
Prof. Cudjoe's email address is scudjoe@wellesley.edu. He can be reached @ProfessorCudjoe.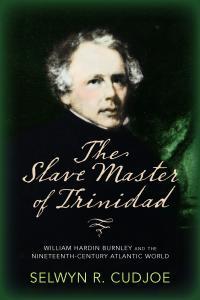 The Slave Master of Trinidad by Dr. Selwyn R. Cudjoe
---