A Caribbean Hero
By Dr Selwyn R. Cudjoe
January 01, 2019
"Me think he do something for the people. Me think he think back and he see the cries of the people them and he do that."

—Mona, East Canje, Berbice, Stabroek News
It was an ordinary political moment. The Opposition People's Progressive Party (PPP) of Guyana moved a routine non-confidence motion against David Granger-led A Partnership for National Unity (APNU+AFC) when back-bencher Charrandas Persaud (AFC) surprised every member of Guyana's National Assembly by supporting the motion.
Panic struck when Persaud announced his vote. Jermaine Figueira, Persaud's colleague, lashed out in outrage: "What the f–k you doing?" Raw animal emotions trumped parliamentary dignity robbing the Assembly of "the protective layer of civility which makes political discourse possible" (Robert Darnton, New York Times, December 27). A moment of truth had arrived in the chamber.
Persuad was resolute in his refusal to support a government in which he had lost confidence. Ignoring Figueira's insult and shouts by other members of the coalition, Persaud "calmly sipping from a glass of water, softly said, 'Yes,'" (Newsday, December 25) thereby reiterating his support for the PPP's motion.
Although he was a faithful member of the coalition government, the other members ignored him for much of his time in parliament. He was uncomfortable with the actions of a government that came into power asserting that it would fight rigorously against corruption but did not.
At the beginning of its term, the government raised the salary of its members twofold. Later, it displaced seven thousand sugarcane workers who it had promised to protect. Many of these displaced workers were Persaud's constituents.
While his vote surprised his government colleagues, his constituents welcomed his political stance. Trilock Naresh, an East Canje Berbice resident supports Persaud's action. He explained: "For what was going on in the past three and a half years, I feel good that he (Persaud) do something about it. This government was pressuring the people, the working class people, especially the sugar workers and I think he come to realize [this] because he living in an area where people are suffering" (Stabroek News, December 25).
Persaud remained unapologetic about how he voted. After casting his vote on Friday 21 December, he told the media that he was at peace with what he had done. He said: "If I die now because people may not be happy with what I have done I will die a happy person. I have a clear conscience."
The ruling coalition felt betrayed by Persaud's vote. Last Sunday, APNU supporters met at the Paradise Primary School to lick their wounds. Attorney General and Legal Affairs Minister Basil Williams did not have kind words for Persuad's action. He said: "Our government did not fall or collapse, our government was betrayed! But Judas' betrayal of Christ did not destroy Christ's work; rather, it enforced his disciples and followers to continue his teachings, making Christianity one, if not the world's biggest religion" (Guyana Chronicle, December 24.)
These words wounded Persuad deeply. He said: "They called me a traitor. A sellout. [They say] You should die. I heard that. Well, I will die. It is not my ambition to live forever. I am a Hindu. I believe in Karma" (Stabroek News).
Members of each party turned to their religious beliefs for comfort. Persaud explained that his belief in karma (or reincarnation) dictated his action. In following his conscience, he was sure that even if he were killed for his actions (and the threats against his life were real), he would return to this earth in a higher form of life.
Genevieve Allen, chairman of Region Four, also interpreted events from her Christian perspective. She said: "When it happened, I'll tell you what comforted me. I went to the Bible with Joseph's story after he was stoned by his brothers where he was dumped into a pit; where he was dumped into prison and out of that prison he became a prince. When his brothers came to him and they begged forgiveness, he said: 'Man meant it for evil but God meant it for good."
In the end, what began as a political matter ended up as a religious matter, an epic struggle between two different belief systems. Members of each party believed that s/he was acting out of deep religious principles that guided their political practices.
Dr. Karen Cummings, Minister with the Ministry of Public Health, also took comfort in her religious beliefs. She affirmed: "Though we cannot understand because our minds are finite, we give way to infinite wisdom above. So, it might be a blessing in disguise. For some who were complacent, maybe it's a wake-up call. But aluta continua, the struggle continues!" (Guyana Chronicle).
Fate is a fickle thing. We may use extravagant philosophizing and political science discourses to explain what led to Persaud's vote. To this observer there is a simple explanation. A woman who sells chickens a few house lots away from Persaud's residence provided a partial answer when she said: "It really makes me feel that he think back for he people. We proud of he."
Persaud must be respected for the action he took. He listened to his conscience and his constituents and shook up the political world around him. That, to me, is the true measure of a statesman.
Professor Cudjoe's email address is scudjoe@wellesley.edu. He can be reached @ProfessorCudjoe.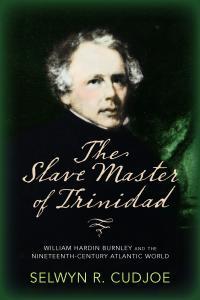 The Slave Master of Trinidad by Dr. Selwyn R. Cudjoe
---