The Web We Weave
By Dr. Selwyn R. Cudjoe
February 05, 2017
Part 1 — Part 2
[This is an excerpt of a eulogy of my cousin, Sherma Batson, delivered at St. Hugh and St. John's Church, Stevenage, England, on Friday, February 3, 2017. I tried to capture how the lives of families—in this case, my family—starting from humble beginnings, expanded in regions and ways which their ancestors could never have known or understood.]
It was one of those long, lonely journeys the Portuguese took at the beginning of the nineteenth century as they wove their way to the Caribbean to work on the sugar estates of Trinidad. The parents of Mary Gomes, the great grandmother of Sherma Batson, were among those immigrants who sought refuge in Trinidad, West Indies. When she came of age, Mary married James Bell, a black man from Barbados, much to the chagrin of her parents. Therein began the lineage of one side of Sherma's family in Trinidad and Tobago.
Six children came out of the union of James Bell and Mary Gomes: Tantie May (Lopez), Aunt Laura (Lewis, who I knew best of all), Tantie Lulu (Williams), Rose, Uncle George, and Uncle James. They started their lives on Joggie Road, San Juan.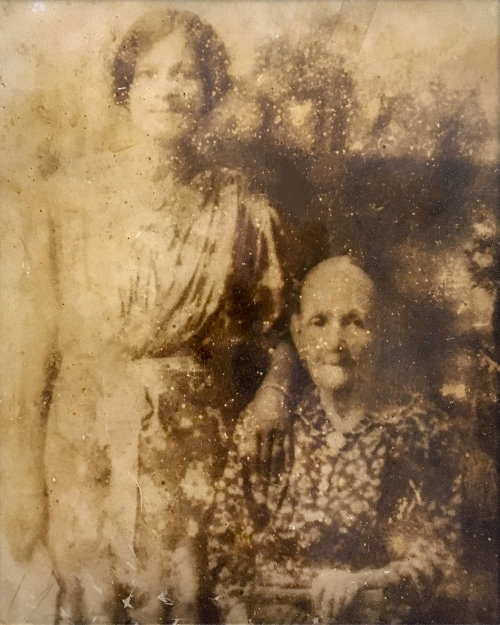 Photo of my great grandmother, Mary Bell (sitting) and my grandmother, Rose Batson (standing), daughter of Mary Bell.
Rose Bell, Sherma's great–grandmother, married George Batson, who also came from Barbados. Their union produced eight children: Carmen Cudjoe, my mother, who was the eldest of the children; George, the eldest boy, who was named after his father; Ivan who died at a very young age; Gladys (Small); James and Sylvia whose husband died at a young age. She later married Neville Gomez. I will not get into their progeny.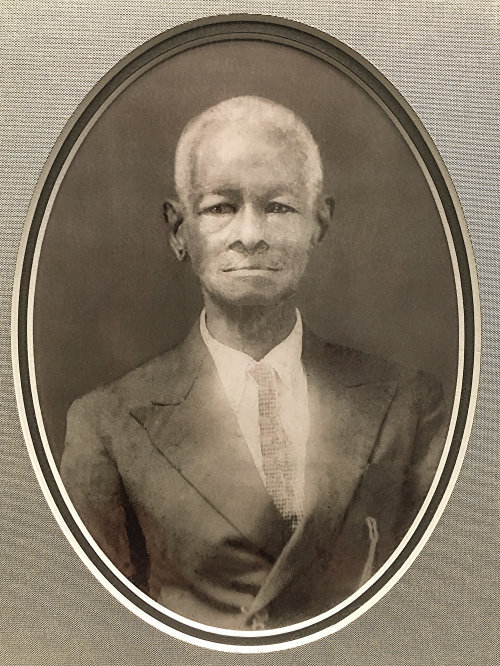 My great grandfather, James Bell
George Batson, Sherma's grandfather, married Iris James. Out of that union came one son: Edwin Batson, the father of Sherma, the woman whose life we celebrate today.
The Windrush of the 1950s was a powerful force in moving people from the Caribbean to the United Kingdom. It brought many West Indians to work in the factories, the underground, and the hospitals of London. Both Edwin Batson and Yvonne Thompson took advantage of that tremendous migratory wave. They arrived in London in 1955. One year later, they got married. In 1961, they moved their young family to Stevenage.
Three children came out of the union of Edwin and Yvonne: Sherma, Jennifer, and Edwin. Jennifer went on to explore opportunities in the United States, while Edwin stayed in England to cultivate his own family.
But Sherma is the subject of our commiseration today. She was born on April 3, 1957. She attended Camps Hall and the Stevenage Girls' Grammar School. She married Allan Springer. Out of that union came Ahisha (Ferguson) and a grandson, Malakai.
Sherma moved to London for a short while where she cofounded Munirah, an African Women's Theatre Company, that explored aspects of Black culture through their choreopoems. In London, she worked for Kingston Communications Company. In the 1980s she moved back to Stevenage and married Howard Rookie who remained a loving husband and a devoted friend; she was the sun around whom his world revolved.
She started her service to Stevenage in an inconspicuous way. She expanded the Stevenage Furniture Recycling Scheme in which she collected old furniture from people to provide for those who were negatively impacted by the economic recession and who needed such assistance.
Gradually, Sherma became a part of everything that took place in Stevenage. She became a ward councilor in Roebuck, an executive member for Communities and Equalities on Stevenage Borough Council, a member of the Police and Crime Commission, and Hertfordshire Police Authority.
It was in the political arena that Sherma's work came to the attention of most people. In 2006, she was the Labor candidate for European Union Elections. She was not successful. Later on, she was invited to become a member of the Council of Europe and a member of the European Commission of the Regions. Of all of her political work, she felt most honored and perhaps most satisfied in serving as the mayor of Stevenage from 2014 to 2015. In this capacity, she had the honor of being the first black female mayor of Stevenage and that was an honor indeed. It gave her the opportunity to serve many more people and demonstrated just how much her town had taken her to heart.
Many honors came Sherma's way. In 2007, she became the deputy lieutenant of the Hertfordshire County Council. However, her biggest honors came in 2008 when she was awarded a MBE (Member of the British Empire) by Her Majesty the Queen for her service to the community and to the Empire. One got a distinct feeling that she treasured this national honor for the contributions she made to the communities she served.
I began by stating that Sherma's lineage, certainly on her paternal side, began in Portugal and Trinidad, West Indies. When Mary Gomes' parents left Madeira, they could have had no idea that among their descendants a woman would arise to serve the same Europe that they had left in search of work in the Caribbean almost two centuries ago.
Professor Cudjoe's email address is scudjoe@wellesley.edu. He can be reached @ProfessorCudjoe.
---