July 2003
Latest News
Posted: Thursday, July 31, 2003

¤ The Gang That Couldn't Talk Straight
¤ Iraqi Scientists Still Deny Iraqi Arms Programs
¤ The Prostitution of Intelligence
¤ True Lies
¤ U.S. Bartering Arms for Soldiers for Iraq War
¤ Playing Make-Believe for War: Not the First Time
¤ Terrorism: There's No Futures in It
¤ Sidestepping on Iraq
¤ Dying in Iraq
¤ Poindexter to Quit Pentagon Post Amid Controversy
¤ Rice cites 'personal responsibility' over disputed uranium claim
¤ Finding Waldo is easier than finding Iraq's WMDs
¤ Deceit, Danger Mark U.S. Pursuit of WMD
¤ The War On Truth
¤ 2 U.S. soldiers killed; 5 wounded
¤ As soldiers die, Bush-Blair-Cheney lie
¤ Payments for Perle
¤ Anger against Israel grows in Palestinian town walled in
¤ U.S. investigates claim of reporter in Iraq being roughed up
¤ U.S. secretly negotiating with Iran
¤ Pentagon goes to Congress as war costs mount
¤ Oil smuggling goes on full steam in Iraq
¤ America Increasing Pressure on Al-Jazeera TV
¤ Bush Babbles At Press Conference Before Fleeing To Month's Vacation
¤ US army admits Iraq suicides
¤ Our Secret Government Whose Security?
¤ Operation Iranian Freedom
¤ Bush just doesn't get it
¤ Answerable to no one
¤ Mob Rules Civilization wounded in the crossfire
¤ Still crazy
¤ US scraps nuclear weapons watchdog
¤ Gunmen Kill Afghan Religious Official
¤ Now we pay the warlords to tyrannise the Afghan people
¤ Khamenei says US regime 'more ferocious' than Saddam's
¤ Sons' killings change little in Iraq
¤ N. Korea, U.S. Trade Harsh Criticism
¤ Don't mention the whatever-it-is
¤ Anti-US cleric rallies recruits for Islamic army
¤ US turns its sights back on Syria
¤ The Saudi Contradiction
¤ Pentagon flutters
¤ Uranium that never was
¤ Why the US fears Cuba
¤ Britain's worst polluters
¤ Fighting rages for Liberian capital
¤ No troops for Iraq
¤ Mideast road map hits impasse
¤ Two sides as far apart as ever
¤ Treating the symptoms instead of the cause
¤ New terror warning to Australia
> The Australian Government said yesterday the new information did
> not warrant upgrading threat and security levels
¤ Army sold us guns, say rebels
¤ Blair rules out war decision inquiry
¤ Victim of U.S. bomb test breaks silence
¤ Sierra Leone rebel leader Sankoh dies
¤ The usual mangled speech but Bush is let off the hook
¥ Again....
¤ The new United States ... not so much a nation as a 'religion'

Latest News
Posted: Wednesday, July 30, 2003

¤ Still crazy
¤ Iraq Could Become U.S. Greatest Blunder
¤ Virus writers turn to spam
¤ Saudi Foreign Minister fights allegations
¤ MURDER is the correct word
¤ Bush takes responsibility for Niger claim
¤ Bush News Conference on Iraq
¤ Bush May Start Another War in 2004 To Win The Election
¤ Israel Tells U.S. That Iran Is Growing Threat
¤ Bush Backs Sharon, Angers Palestinians
¤ DeLay: 'Israel's Fight Is Our Fight'
¤ Blair's Lack of Courage
¤ Blair: People unconvinced on Iraq
¤ Blair rules out war decision inquiry
¤ Blair Dodges Dr Kelly Questions
¤ I'm working for the FBI, claims accused hacker
¤ Why Iraq and Afghanistan?
¤ Murky Intelligence, Murky Wars
¤ Jessica Lynch and the Lies of the State
¤ The Bush administration's Top 40 Lies about war and terrorism
¤ 9/11 report raises serious questions about White House statements
Flashback: Powell's Feb.5th Presentation to the UN
¤ Iraqis protest after US raid kills civilians
¤ Senators Slam Shifting Iraq War Justification
¤ The Hidden Cost of the Iraq War
¤ Killing Mustafa Hussein Death of a Child, Birth of a Legend?
¤ Gambling on Terror
¤ Wagers on Terror? Dumb
¤ The Lunatic Fringe of Capitalism
¤ Double Standard on Globalization
¤ Tight tie may increase the risk of blindness
¤ Blanket of Dread
¤ Forget corpse photos: What has nation buried?
¤ Bush's ricochet romance with black voters
¤ American preparation to utilize nuclear weapons is disturbing
¤ More than 600 troops from Guard called up
¤ Top General Tells Legislators U.S. Will Probably Need a Larger Army
¤ Russia Finds No Corner Is Safe From Chechnya's War
¤ US killed Uday, Qusay to cover up past dealings
¤ Top U.S. military visits Afghanistan
¤ Flip-flop on air marshal schedules
¤ Iraqi Embassy Robbed of $3 Million in Cash
¤ Armitage Suggests Killing Saddam, If Capture Too Dangerous
¤ With Sharon at White House, unrest brews
¤ US terrorism warning mistaken: Govt
¤ Warning of more suicide hijackings
¤ Pentagon scraps terrorism betting scheme
¤ Sharon pushes on with security barrier
¤ Cut off for un-American activities
¤ US seeks Pak troops for Iraq
¤ Afghan policy muddle
¤ Afghans fire shells as joint team surveys border
¤ Three Afghan Soldiers Die in Ambush
¤ Looking beyond the myths
¤ Anti-US resistance spreads through Iraq
¤ US prepares to open door to flood of North Korean refugees
¤ US to investigate Iraqi civilian death claims
¤ Iraq counts its own dead
¤ Bush, the rainforest and a gas pipeline to enrich his friends
¤ The kingdom of America

Latest News
Posted: Tuesday, July 29, 2003

¤ Doubts mount on Powell's evidence to UN
¤ Unfree Liberia
¤ Raid nets Saddam loyalists
¤ Iraqi Village Keeps Past From Repeating Itself
¤ Myers says central Iraq a 'war zone'
¤ Troops near collapse in Iraq heat
¤ Defence sales 'hit by curbs on Israel'
¤ Israel's wall threatens to wipe Palestinian village off the map
¤ Israel Will Keep Building Security Fence
¤ Afghan government accused of criminal acts
¤ Senators Assail Bush Aides for Lack of Data on Iraq's Future
¤ War-driven energy prices push BP profits up 42 percent
¤ We Keep Asking Ourselves Who's Next
¤ Regime Change With A Little Democracy Thrown In
¤ Bush's Vietnam-sized Credibility Gap
¤ Liar, Liar, Pants On Fire
¤ Unveiling Bush's Mass Deceptions
¤ Bush jumps the shark
¤ You say tomato
¤ Is Bush Afraid of Israel?
¤ U.S. Holds Two Iranian Journalists in Iraq
¤ US Nobel laureate slams Bush gov't as "worst" in American history
¤ Sharon's advisor calls demonstrators «Quislings»
¤ Insiders suggest Condoleezza Rice could leave
¤ The wrath of the conquered
¤ The poodle's core
¤ Afghan government accused of criminal acts
¤ 16 Words and 28 Pages
¤ The Secret History of the Aqaba Pipeline
¤ The Buck Never Stops
¤ Bush's Biotech Shock and Awe Campaign
¤ Bush Warriors Sign Off on War Crimes
¤ A Tiny Insight into the Real US Democracy
¤ Silly Signing and Fake Democracy
¤ Not Baker Again! Back To Iraq?
¤ Burma angry at US sanctions
¤ Bush's Obsession With Saddam
¤ Turks, Kurds and the US-Turkish relationship
¤ America is a religion
¤ A voice of sanity amid Iraq's chaos
¤ Behind the scenes of Iran-Canada rift
¤ Chronicling horrors in Aceh
¤ More US casualties as raids miss Saddam by 'hours'
¤ Three US soldiers killed as Iraqi council meets
¤ Record number behind bars in U.S
¤ Six Afghan soldiers shot dead
¤ US Senate pipes down Pipes' nomination
¤ Our poor public diplomacy
¤ Pak-US relations
¤ A black man is found hanged in Florida: suicide or lynching?
¤ Greeks accuse Blair of war crimes in Iraq
¤ Every prime minister must have an Alastair Campbell
¤ Africa suffering worst effects of global warming
¤ Walter Mosley: Ignorance is not bliss
¤ I like a good conspiracy
¤ Unknown masked Iraqi group threatens holy war with US
¤ With Sharon at White House, unrest brews
¤ UK troops reveal their new ordeal in 120F Iraq
¤ White House Used Info from Iraqi Exiles in Bush's Speech

Latest News
Posted: Monday, July 28, 2003


¤ Rice Faces Credibility Issue in Report
¤ Global Warming is Now a Weapon of Mass Destruction
¤ Corporate Crime Without Shame
¤ Can't People See the Emperor's Pants on Fire?
¤ For the Children's Sake
¤ Desperation Amidst Plenty
¤ Bloody U.S. Raid in Baghdad Leaves Iraqis Furious
¤ Fresh attack on US forces in Baghdad
¤ US troops in Iraq 'are terrorist magnet'
¤ US Troops Turn Botched Saddam Raid Into A Massacre
¤ Sideshow
¤ Wolfowitz: Iraq Key To War on Terrorism
¤ U.S. links Iraq war to 9/11 terror strike
Flashback Bush Flatly Declares No Connection Between Saddam and al Qaeda
¤ Six Afghan police killed in suspected Taleban ambush
¤ Cleric Risks a Backlash With Anti-U.S. Rhetoric
¤ Shootout in Saudi Arabia Kills Eight
¤ Israeli Troops Shoot to Stop 'Fence' Protest
¤ Palestinian boy was shot dead by an Israeli soldier
¤ Lawyers sue Blair over war
¤ Another day, another dead US soldier
¤ Spinmeisters in need of fodder
¤ Terrorism and oil
¤ Population growing three times faster in settlements than Israel
¤ Huge deficit in states drags down US economy
¤ Domination and Empathy
¤ Shaking Hands with Saddam: The U.S. Tilts toward Iraq, 1980-1984
¤ A tale of two leaders
¤ Iraqis kill five more US soldiers
¤ Soldier killed as Iraq war of attrition grinds on
¤ Burmese sue US oil company
¤ U.S. Bids Liberian Rebels to Allow Aid
¤ Liberian rebels reject US appeal
¤ Castro Proving He's Still a Risk Taker
¤ Short blames government 'abuse of power' for David Kelly's death
¤ Spin is not just Campbell's creation: 'It is Tony's way of doing it'
¤ Rice under fire over Niger claims
¤ US forces kill six Iraqis
¤ A breather for Bush
¤ Was Poppy Right After All?
¤ From Athens to Basra
¤ U.S. Accuses Arab TV Stations of Bias
Flashback US media bias
¤ A Guide to Responsible News Watching!
¤ Astute PM knows lie of the land
¤ Neo-conservative dream of world domination is over
¤ Senseless Criminality of Human Affairs

Latest News
Posted: Sunday, July 27, 2003

¤ Lies, Oaths, and High Crimes
¤ Military Women Prevented from Abortions Overseas
¤ North Korea Has Not Forgotten the War
¤ Bush boys blow it again in post-war Iraq
¤ Terms of engagement
¤ A One-Sided 'Gunfight'
¤ Hunting season is now open on US enemies
¤ Like father like son
¤ Are Neocons cooking their own goose?
¤ Wolfowitz Says U.S. Must Act Even on 'Murky' Data
¤ Iraq signs deals to sell oil to foreign companies
¥ TRANSLATION: U.S. signs deals to sell oil to foreign companies
¤ Blood on their hands
¤ Bush Doctrine Will Not Rest in Peace
¤ Lessons From the Killing of Uday and Qusay
¤ America will pay the price if it ignores Iraqi nationalism
¤ If Saddam Hussein Himself Were to Die or Be Killed...
¤ Trouble mounts for Bush as lethal Iraqi resistance claims more lives
¤ Relentless Miscalculation of Iraq by American Officials
¤ US troops die in grenade attack
¤ Marine dies in grenade attack
¤ Four more US soldiers killed: toll now 48
¤ Kelly told church of dossier fears
¤ Bit by bit, the real Dr Kelly emerges from the shadows
¤ The Death Of Dr David Kelly
¤ Whistling in the wind
¤ It's lies that kill, not the truth
¤ Castro Blasts EU As Trojan Horse for U.S.
¤ Face to face with death
¤ Diego Garcia islanders await call to go home
¤ Critical point in war on terror
¤ Ministers accused of threatening BBC chiefs
¤ BBC chairman mounts savage attack on the Government
¤ Ghost of al-Qaeda left out of story
¤ Bush faces domestic revolt over Patriot Act 'sneaks'
¤ Future Iraqi leader spurns US
¤ Pyongyang demands US leaders atone for war crimes
¤ Overkill in the Solomons
¤ Breaking a Blood Line
¤ The façade of Israel's reality

Latest News
Posted: Saturday, July 26, 2003

¤ Can't they do anything right?
¤ Who profits from erasing Iraq's debt?
¤ Bush's script leaves Americans helpless
¤ Though the heavens fall
¤ Cataloging the wretched reporting of Judith Miller
¤ Looking for death in all the wrong places
¤ Shafting, Not 'Supporting' The Troops
Flashback Bush Nominee for Navy Sec. May Have Killed Self
¤ Troops Accused of Mosul Killing
¤ Crusader isolated as round table crumbles
¤ Billionaire challenges case for war
¤ Blair seeks life without spin
¤ Show Is Over For King Of Spin
¤ Armed Men Seize Manila Commercial Center
¤ New faces at No 10 as old team is whittled down
¤ Gruesome pictures divide opinion Dilemma over fate of bodies
¤ Reversals of fortune
¤ Three US soldiers killed
Flashback Pics not enough - Iraqis
¤ Uday, Qusay now martyrs
¤ Shiite Leader Urges Large Gathering to Drive U.S. From Holy City
¤ 31 killed in Baghdad
¤ Troops Accused of Killing in Mosul
¤ Villagers feared US wrath
¤ Egypt Says Dissolving Iraqi Army Was a Mistake
¤ Seeing is believing
¤ Here's the truth. But it depends on where you are
¤ Why we are so disengaged
¤ In the quicksand of Iraq
¤ On the streets, life is still dire
¤ Hunt for arms 'is being hampered by lack of experienced inspectors'
¤ Pictures of dictator's sons stir the sceptics
¤ Disgraced reporter gets new job
¤ Bush Campaign Manager Warns of Drop
¤ US military say capture of bodyguards brings them ever closer to Saddam
¤ Bush Considers New Overhaul of Postwar Iraq Administration
¤ Mission impossible for the Afghan army
¤ Going beyond Saddam Hussein
¤ Swimming against the mainstream
¤ White House urged to reveal Saudi links with al-Qa'ida
¤ Details of Saudi links to al-Qaeda suppressed
¤ Syria in a dilemma over US' Middle East policy
¤ Pyongyang puts US in the dock
¤ US slaps sanctions on North Korea for missile sales
¤ Downing Street terms BBC report as gossip
¤ Sooner or later, Campbell was going to lose it
¤ Silence no way out for minister on mole's death
¤ How the truth killed Dr Kelly
¤ Living on others' fortunes
¤ West still shies away from violent images of war
¤ Bush criticises Israel security wall
¤ Information and knowledge
¤ Blair's fixer tipped to quit

Latest News
Posted: Friday, July 25, 2003

¤ Lies on Top With evidence of no evidence, where's the rage?
¤ Bread, Circuses, Uday and Qusay
¤ U.S. Shows Hussein Brothers' Bodies
¤ US sends warships to Liberia
Flashback Israeli diamond cutters to expand direct imports of raw diamonds
¤ Woman Banned From Bookstore For Bush Joke
¤ Watching BushCo Crumble
¤ Britain: Was whistleblower Kelly's death suicide?
¤ Blair's popularity plunges
¤ Child shot dead by Israeli soldier
¤ Primordial Illogic
¤ There are three kinds of lies: lies, damned lies and statistics
¤ New Merle Haggard Tune Blasts US Media Coverage of Iraq War
¤ Even with Weapons, Hussein Was No Threat
¤ Iraqis See More Violence After Death of Saddam Sons
¤ 15 Questions The People Demand Answers
¤ The Famous Victory: The Killing of Saddam's Sons
¤ Showing pictures could turn sons into martyrs
¤ Are they proof, or are they pornography?
¤ Uday and Qusay's deaths will not stop the guerrilla war.
> Why Iraq could be worse than Vietnam
¤ Noble Act or Political Assassination?
¤ Let's Cut our Losses in Iraq
¤ Corpses at Our Doorstep
¤ Six Dumb Questions About The Crisis In Liberia
¤ Two US soldiers wounded in Bahgdad
¤ Furious Saudis reject US 9/11 claims
¤ U.S. tried to kill bin Laden, report says
¤ Whitehall plotted to 'neutralise' leader in Iraq - 63 years ago
¤ Here's the evidence, says US
¤ Dick Cheney and his lies
¤ Spying and Speeches
¤ Resistance has its roots in the present
¤ Celebration of Death Is Wrong
¤ Death of Uday and Qusay won't end resistance
¤ Public's trust in Blair hit by Kelly affair
¤ Ambush kills three soldiers from unit that attacked Saddam sons
¤ Coca-Cola in India accused of leaving farms parched and land poisoned
¤ Iraqis spilt on identities of corpses
¤ US releases photos of Uday, Qusay's bodies
¤ The killing of Saddam's sons
¤ Warning as Saddam loyalists vow revenge
¤ Rumsfeld defends release of corpse pictures
¤ Pictures of dead spark moral debate
¤ No need to publish them here, says Crean
¤ Villepin's no to American call for troops in Iraq
¤ CIA Probe Finds Secret Pentagon Group Manipulated Intel on Iraqi Threat
¤ Cheney says the threat could not be ignored
¤ Pentagon Leaders Warn of Dangers for U.S. in Liberia
¤ Japan Opposition Parties Try to Block Bill to Send Troops to Iraq
¤ Saddam almost in net, says US
¤ Missteps in the US march

Latest News
Posted: Thursday, July 24, 2003

¤ 'No proof' Saddam had nukes program
¤ White House Claims Add to Contradictions
¤ The War Against Ourselves
¤ Hans Blix vs the US: 'I was undermined'
¤ 9/11 report: No Iraq link to al-Qaida
¤ Chronology of a cover-up
¤ Why Commander in Chief Is Losing the War of the 16 Words
¤ Cooking the books
¤ The President is not a fact-checker
¤ Bush needs a 12-step program
¤ Kelly Widow Tells Hoon: Explain Yourself
¤ Beating up the Cheerleader
¤ A blurry picture from Iraq
¤ Guilty until proved guilty, or taken out by US tanks
¤ A Nation of Assassins
¤ Photos of Saddam sons released
¤ Photos of Saddam sons releasedBBC
¤ Iraqis suspicious despite photos
¤ The killing of Hussein's sons:
¤ Amid Allied jubilation, a child lies in agony, clothes soaked in blood
¤ US Did 'Stupid Things'In Iraq - Wolfowitz
¤ Dumb and Dumber in Iraq
¤ Better Alive Than Dead
¤ What David Kelly Knew
¤ Killing Saddam & His Family It Won't Stop Killing of US Troops
¤ Ambush Kills 3 US Soldiers from Division That Killed Saddam Sons
¤ Bush Highlights Iraq Successes
¤ W. House Nuke Defense Shifting
¤ Wolfowitz Concedes Iraq Errors
¤ Climate of fear
¤ Cross-border terrorism: a mess made by the West
¤ Israeli settler numbers rise to record high
¤ National Guard units to relieve troops in Iraq
¤ Bali bombing trials leave key questions unanswered
¤ Iraqi resistance takes on a new face
¤ Trade Bank of Iraq established
¤ Inquiry Into Attack Fuels the Frustration of Some Soldiers' Kin
¤ IDF soldiers will not face charges by the International Criminal Court
¤ When time-honored ties become a short leash
¤ Bush hails end of regime
¤ Upbeat Bush says successful attack marks turning point
¤ Signs of new momentum in Iraq
¤ Three American Soldiers Killed in Iraq
¤ US to release photos of Saddam's dead sons 'soon'
¤ Army Is Reluctant to Flaunt Photos of Hussein's Sons
¤ Body double needs to see proof that Uday is dead
¤ BP and Shell to resume shipments from Iraq
¤ Phony Justifications for War
¤ Niger blunder blamed on memory lapse
¤ Time to quit Iraq
¤ Once dominated by a single face, Iraq now reveals a multitude
¤ Bumper year for Afghan poppies
¤ Not negotiating is not a solution
¤ Troops accused of torture
¤ There is no defence for Guantanamo
¤ Two die in shooting inside New York City Hall
¤ Frankenstein foiled
¤ Letter to a trusted (CENSORED) friend

Latest News
Posted: Wednesday, July 23, 2003

¤ Bush Chases Saddam, Ignores Real Threats
¤ Screwed And They Still Don't Get It
¤ Not All Americans In Tune With Ashcroft's Blood Lust
¤ Operation Oily Immunity
¤ Now That the War's Over, Deaths Raise the Question: What For?
¤ Won't Get Fooled Again
¤ Like father, like son?
¤ The 16 Words Weren't Just a Data Point
¤ Amnesty: Iraqis Complain of Torture by U.S. Forces
¤ U.S. troops fear more violence in Iraq
¤ Iraq's Missing WMD Scientists
¤ A unilateral journey to nowhere
¤ All the President's Lies
¤ A Few What Ifs
¤ Weimar Republic
¤ Winning the war on credibility
¤ 'Liberation of the unwilling: Why Bush won't help Liberia'
¤ Is Saddam winning the war?
¤ Israeli army accused of cruelty
¤ Crisis grows in Liberia as US debates decision to send troops
¥ Should they go in and save the Diamonds or Rubber? Decisions, decisions...
¤ "We entered the war in Iraq..."
¤ Bush Adviser Apologizes Over Iraq Claim
¥ How many others are willing to sacrificed?
¤ Bush Aides Disclose Warnings From CIA
¤ Quagmires of history
¤ It Matters!
¤ Murdoch papers step up war of words with BBC
¤ Coalition curbs wild Iraqi press
¤ BBC says it has a tape of Dr Kelly criticising Number 10
¤ Baha'i burial likely for Kelly
¤ Minister's role in UK suicide probed
¤ US plays old games again
¤ Saddam's sons killed in U.S. raid
¤ Death of Saddam's sons will help Iraqis: Downer
¤ His sons are dead but Saddam lives
¤ Iran, India to reopen talks on gas pipeline
¤ Leave Iraq to the Iraqis
¤ Syria, Iran Reject Bush's Accusations
¤ Syria, Iran rebuked over stalled road map
¥ So it's their fault now...
¤ Bush rebuke suggests patience running out for Syria, Iran
¤ North Korea to have eight nukes soon
¤ US ponders deal with Pyongyang
¤ Heroine or not, Lynch comes home to more hype
¤ Happy ending to the tale that wagged the dog
Flashback When spin starts to kill it's time to kill spin
¤ Don't devalue this honourable cause
¥ Read it and weep

Latest News
Posted: Tuesday, July 22, 2003

¤ Saddam: Bodies too 'shot up' to ID
¤ 400,000 Letters to Congress Seek War Evidence Probe
¤ The Worst Possible News Yet
¤ Tyranny and the Tyrants: lessons unlearned
¤ Freedom Suite
> I simply have not found a single person outside of the
> U.S. who can find anything good about American actions in Iraq.
¤ Perle: Finding Iraqi WMD may take 200 years
¤ Wolfowitz: Iraq Weapons Not a Priority
Flashback Wolfowitz Warns Iraq's Neighbors Not to Interfere
¤ Nuclear double standard
¤ US harbours terrorists - not us, says Iran
¤ Syria dismisses Bush accusations on terrorism
¤ Syria brushes off Bush "terrorism" charges
¤ Torture testimony 'acceptable'
¤ When control freaks lose control, things can get really ugly
¤ Defence Secretary ordered outing of Kelly
¤ Yet Another Bizarre Twist
¤ Rule by the Blind
¤ US authorities shut down Iraqi newspaper for "incitement to murder"
¤ War Forces; Peace Frees
¤ Bremer faces opposition in plea for more funding
¤ Deputy defense secretary says weapons issue is now secondary in Iraq
¤ Bush the Believer
¤ The disappearing President
¤ Bush's statement on weapons fits pattern of willful deception
¤ A Simple Prayer: Please Make Bush, Cheney, Rice, Rove, Rumsfeld Retire
¤ Who's Unpatriotic Now?
¤ Plugging Iraq into Globalization
¤ Smile, You're on Federal Camera
¤ Bush's Nose is Growing; Nobody Cares
¤ Blair Loses Credibility in Well of Congress
¤ Key Allies are Casualties of U.S. War on Court
¤ Bush Aide Hadley Takes Blame for Iraq-Uranium Claim
¤ Graham has big stake in Thursday's 9/11 report
¤ Ex-ambassador who criticized Iraq arms claim charges he's White House target
¤ Bush administration unmasks CIA Iraq operative to Robert Novak
¤ Protesters disrupt UN meeting hearing Iraq council
¤ Hunt for Saddam risks creating new enemies
¤ Antiwar Groups Say Public Ire Over Iraq Claims Is Increasing
¤ U.S. Soldier Killed Near Baghdad; Gun Battle in North
¤ Like father, like son
¤ Bush's statement on weapons fits pattern of willful deception
¤ Was the war necessary?
¥ No, but they needed the OIL
¤ One Soldier Killed, 1 Wounded In Rpg Attack
¤ President Bush's "Bring Them On" Picture Album
¤ If You're Not Paranoid, You're Not Paying Attention
¤ U.S. Rejects N. Korea Nonaggression Vow
¤ Anti-Muslim rage hits others in U.S
¤ US Leads World In Execution Of Child Offenders
¤ The ugly truth of America's Camp Cropper, a story to shame us all
¤ Iraq War Lies
¤ In Lynch Country, a Puzzled Kind of Pride
¤ No 10 overruled defence chiefs in leaking Kelly's name to Press
¤ Blair tries to rein in Kelly judge over scope of inquiry
¤ Furor over British expert's death
¤ Bush Administration Deception on Iraq: Only the Tip of the Iceberg
¤ Bush wants to 'move on,' but his problem persists
¤ Cheney had Iraq in sights two years ago
¤ In Search for Baath Loyalists, U.S. Finds Itself in Gray Area
¤ US resumes hunt for al-Qaeda in Iraq
¤ US assembles new Iraqi army
¤ U.S. Prepares Troops for Liberia; Rebels Vow to Take Capital
¤ New visa rules for entry to US
¤ Bush Looks to Italy in Pacifying Europe
¤ Bush at Risk?

¤ Bush in new threat to Iran and Syria
¥ The invasion continues...
¤ Syria denies sending message to Israel
¤ Saddam Believed To Be Operating From Syria

¤ Earthquake Kills at Least 11 in China
¤ Marines Evacuate Civilians in Liberia
¤ Venezuela's Fired Oilmen Fight Eviction
¤ A defrost in US-UN relations on Iraq?

Latest News
Posted: Tuesday, July 22, 2003

¤ No 10 overruled defence chiefs in leaking Kelly's name to Press
¤ Blair tries to rein in Kelly judge over scope of inquiry
¤ Furor over British expert's death
¤ Bush Administration Deception on Iraq: Only the Tip of the Iceberg
¤ Bush wants to 'move on,' but his problem persists
¤ Cheney had Iraq in sights two years ago
¤ In Search for Baath Loyalists, U.S. Finds Itself in Gray Area
¤ US resumes hunt for al-Qaeda in Iraq
¤ US assembles new Iraqi army
¤ U.S. Prepares Troops for Liberia; Rebels Vow to Take Capital
¤ New visa rules for entry to US
¤ Bush Looks to Italy in Pacifying Europe
¤ Bush at Risk?

¤ Bush in new threat to Iran and Syria
¥ The invasion continues...
¤ Syria denies sending message to Israel
¤ Saddam Believed To Be Operating From Syria

¤ Earthquake Kills at Least 11 in China
¤ Marines Evacuate Civilians in Liberia
¤ Venezuela's Fired Oilmen Fight Eviction
¤ A defrost in US-UN relations on Iraq?

Latest News
Posted: Monday, July 21, 2003

¤ Coalition Of Deceit
¤ U.S. news media should have been tougher before the war
¤ No new evidence on Iraq since 1998 UN inspections
¤ Pre-war intelligence viewed Saddam attack as unlikely
¤ Entering Bushworld
¤ Who can beat President Doofus?
¤ The Crime and the Cover-Up
¤ Blair poll rating plummets
¤ Voters pile blame on Blair
¤ Perfidious Albion and the Lying American
¤ Bring 'em on? No, bring 'em back
¤ Lost in Iraq (and Washington): U.S. Troops
¤ Machiavellian Bush
¤ Leave No Millionaire Behind
¤ Opening a can of worms
¤ Where is Iraq War Instigator, Richard Perle?
¤ Hoon Threw Kelly To The Wolves
¤ Dr Kelly's Final Hours Did Not Indicate Suicide
¤ The Kelly Suicide? Naming The Elephant
¤ 4,500 U.S. Troops Might Head to Liberia
¤ A new 'bright shining lie'
¤ Johnny Ain't Never Marching Home
¤ US troops voice anger at Pentagon
¤ US troops at airport north of Baghdad come under sustained mortar fire
¤ Three U.S. Soldiers Reportedly Killed In Iraq
¤ Our Enemies They Are Not
¤ Sinking in the mire of a messy peace
¤ France insists Saddam has never bought uranium
¤ Prime Minister says dossier was genuine and WMD 'programmes' will be found
¤ Blair accepts military trial for Britons
¤ Blair prepares ground for trials in Guantanamo
¤ Voters pile blame on Blair
¤ Obfuscation? The truth is more alarming
¤ BBC chairman under fire after admitting Kelly was key source
¤ Screws turn on Blair after suicide
¤ Blair refuses to quit in suicide row
¤ Intelligence quagmire: How to gauge the new IQ
¤ Why America now wants help in Iraq
¤ US set to plead for UN backing on Iraq troops
¤ Wolfowitz visit sparks Iraqi fury
¤ US-led forces kill 24 fighters in Afghanistan
¤ Iraqi driver dies in attack on UN vehicles
¤ President George W.
¤ Headlines question the PM's leadership
¤ Israel: Saddam's WMD hidden in Iraq or Syria

Latest News
Posted: Sunday, July 20, 2003

¤ 'David and I laughed about 45-minute claim'
¤ Iran's ballistic missile represents threat to whole region: Israel
Flashback: The thirty-six lies that launched a war
¤ Dead British arms expert was not misquoted in Iraq row: BBC
¤ Tempers flare in Baghdad as Iraqis seethe over US seige on cleric's home
¤ Another Guantanamo Detainee Attempts Suicide
¤ U.S. struggling to find replacement troops
¤ Blast Wounds Three Coalition Troops in Afghanistan
¤ For One-Dimensional Bush, Principle and Justice Are Blind
¤ North Korea warns US of equivalent retaliation
¤ Guantanamo detainees
¤ Sixteen little words, my as*terisk
¤ Let's blame Canada
¤ Tough Options
¤ Moving From Unilateralism to Isolation
¤ Two U.S. Soldiers Killed, Shiites Rally Against Occupation
¤ Iraq's Governing Council Fails to Choose President
¤ Kelly Source Of Controversial Iraq Report: BBC
¤ Iraqi Shi'ite Faction Warns U.S. of 'Uprising'
¤ Rumsfeld will take hope of Iran regime change to hell
¤ Empire On A Shoestring
¤ White House Didn't Gain CIA Nod for Claim On Iraqi Strikes
¤ U.S. Attacked Iraqi Defenses Starting in 2002
¤ Bush read only part of report on Iraq
¤ 'God, I hate these people,' says the sergeant.
¤ African nation says: we never sold uranium to Saddam
¤ Envoy pours scorn on Niger intelligence
¤ Death deals devastating blow to Iraq arms hunt
¤ Iraq Nuke Evidence Was Thin, Experts Say
¤ Who will take the blame?
¤ Weapons inspector's death rattles Blair
¤ Mandelson blames 'obsessed' BBC for Kelly suicide
¤ Blair on brink as Kelly family point finger
¤ Desperate Blair blames Hoon
¤ From the hunt for WMD, to the hunt for the mole, to the death of a civil servant.
¤ How did it get to this?
¤ How Blair hit turbulence and landed in a storm
¤ A haunted man
¤ Two U.S. Soldiers Killed in Northern Iraq
¤ The Pharmaceutical "Business with Disease"
¤ Iraq row over fate of seized scientists
> Red Cross urges US to clarify status of three dozen prisoners
> held in unknown conditions near Baghdad
¤ New evidence fails to resolve the mystery of Bush's SOTU misstep on Iraq
¤ Spinning a web to catch Bush
Flashback: Behind the Iraq Dossier Hoax: Intelligence Was Cooked in Israel
¤ Enter the dragon
¤ MI5 under fire in spy muddle
¤ Don't sell out to Uncle Sam
¤ Rush to judgement
¤ The lonely end of a 'loving, private, dignified man'
¤ Bush ready to wreck ozone layer treaty
¤ Evidence suggests second N Korea nuclear site
¤ Rush order for 30 new villages inside Green Line
¤ Britain Tried First. Iraq Was No Picnic Then.

The Real U.S. Policy for Africa
Posted: Saturday, July 19, 2003

www.blackcommentator.com

"Our policy with respect to the continent of Africa at best has been a policy that is inconsistent and incoherent," said NAACP Executive Director Kweisi Mfume, in Miami Beach last weekend for the organization's annual convention. "We've looked away in many instances because Africa was not politically correct or politically cute."

Mr. Mfume is wrong. United States policy towards sub-Saharan Africa has been consistent since August of 1960, when President Eisenhower ordered his national security team to arrange the assassination of Congolese leader Patrice Lumumba. Congo had been nominally independent from Belgium for only two months, yet Eisenhower, far from looking away from Africa during his last months in office, was already embarked on a relentless policy of continental destabilization, one that has been fundamentally adhered to by every U.S. President that followed.

U.S. policy in Africa is anything but "incoherent." Rather, too many of us have "looked away" from the clear pattern of U.S. behavior and intent – a ferocious, bipartisan determination to arrest African development at every opportunity and by all possible means – including the death of millions.

War on African civil society

Belgians murdered Prime Minister Lumumba on January 17, 1961, no doubt with the collaboration of Eisenhower's men. Lumumba presented a danger to European and American domination of post-colonial Africa precisely because he was not a tribal figure, but a thoroughly Congolese politician, a man who sought to harness power through popular structures. As such, Lumumba personified the threat of an awakened African civil society – the prerequisite for true independence and social development.

A popular and long held belief among Africans and African Americans is that the prospect of continental (or even global) African "unity" is what terrifies Washington, London and Paris. We wish that were true. However, the neocolonial powers know they have nothing to worry about on that score, having begun the era of "independence" with a clear understanding among themselves that conditions for meaningful unity would not be allowed to develop. African civil society itself would be stunted, hounded, impoverished – rendered so fundamentally insecure that, even should "leaders" of African countries band together under banners of "unity," few could speak with the voice of the people. Only leaders of intact civil societies can unite with one another to any meaningful effect – all else is bombast, and frightens no one.

Tribalism is, indeed, a problem in Africa. For Americans and Europeans, it is an obsession – the game they have played since the Portuguese planted their first outposts at the mouths of African rivers in the 1400s. However, there are limits to the effectiveness of tribal manipulation. Many "tribes" are very large – nations, actually. Setting one tribal group against the other, while suppressing the social development of each, is a tricky business. The colonizer must not to allow the "favored" group to accrue, through privilege, sufficient social space to aspire to nationhood. In that event, the formerly favored group must be crushed by the colonizer's own military force – a brutish and costly business.

These are generalities, and Africa is a big place. Numerous colonial powers at different times employed the full mix of coercion, manipulation, favoritism, and raw (including genocidal) force.

After World War Two, and for a host of reasons, the colonial arrangement had become untenable. Europeans would continue to engage in tribal manipulation in the new political environment, while the U.S. preferred bullets and bribes as it assumed overlord status among the imperialists. However, it was clear to the old masters – and especially to Washington – that the formal structures of independence would inevitably lead to the growth of dynamic civil societies that could impede the operations of multinational extraction corporations and agribusiness. Civil societies can become quite raucous and demanding, even in countries in which there are tribal divisions. Therefore, the process of African civil development had to be interrupted, not only in those new states that were economically valuable to Europe and the U.S., but in all of Africa, so that no healthy civil model might emerge. If this could be achieved, there would be no need to fear the actions of assembled heads of African states – an irrelevant gaggle of uniforms and suits, standing in for nations, but representing no coherent social force.

Assignment: crush the people

To thwart the growth of civil society in newly independent Africa, the imperialists turned to the Strong Men. It is probably more accurate to say that the imperialists invented the African Strong Man. Although both the neocolonial masters and the Strong Men themselves make a great fuss about indigenousness – albeit for somewhat different reasons – these characters arise from the twisted structures of colonialism. Their function is to smother civil society, to render the people helpless.

Joseph Desire Mobutu is the model of the African Strong Man. He was an American invention whose career is the purest expression of U.S. policy in Africa. With all due respect to the NAACP's Kweisi Mfume, there was nothing "inconsistent and incoherent" about Mobutu's nearly four decades of service to the United States. From the day in August, 1960 when Eisenhower ordered the death of Lumumba (Mobutu, Lumumba's treasonous chief of the army, deposed his Prime Minister the next month and collaborated directly in the murder) to his death from cancer in 1997, U.S. African policy was inextricably bound to the billionaire thief. It can be reasonably said that Mobutuism is U.S. African policy.

Mobutu and nine U.S. Presidents (Eisenhower through Clinton) utterly and mercilessly poisoned Africa, sending crippling convulsions through the continent, from which Africa may never recover. With borders on Angola, Zambia, Tanzania, Burundi, Rwanda, Uganda, Sudan, the Central African Republic, and Congo (Brazzaville), and a land mass as large as the U.S. east of the Mississippi, Mobutu's Zaire was an incubator of never ending war, subversion, disease, corruption and, ultimately, social disruption so horrific as to challenge the Arab and European slave trade in destructive intensity.

Mobutu's reign began in the heyday of European soldiers of fortune, allies of his like "Mad Mike" Hoare. By the time of his death, more than 100 mercenary outfits operated in sub-Saharan Africa, safeguarding multinational corporations from the chaos that Mobutu and his American handlers labored so mightily to foment. So integral have mercenaries become to Africa, a number of Black governments depend on them for their own security, forsaking any real claim to national sovereignty. This, too, is the legacy of U.S. African policy. (American mercenary corporations garner an ever-increasing share of the business.)

Millions died in Zaire-Congo and neighboring states as a direct or indirect result of policies hatched in Washington and executed by Mobutu – and this, before the genocidal explosion in Rwanda in 1994, leading to an "African World War" fought on Congolese soil that has so far claimed at least 3 million more lives, belated victims of the policies dutifully carried out by America's African Strong Man.

Bush cultivates more Mobutus

For 43 years U.S. governments have empowered Strong Men to do their bidding in Africa. The geography and riches of Congo-Zaire allowed Mobutu to wreak continent-wide havoc on Washington's behalf, while growing fabulously rich. However, many lesser clients have been nurtured by successive U.S. governments, their names and crimes too numerous for this essay. They and Mobutu's outrages are the logical product of the neocolonialist program. The actors come and go, but the underlying design remains the same: to prevent the emergence of strong civil societies in Black Africa.

The Strong Man's job is to create weak civil societies. Weak and demoralized societies, supporting fragile states hitched to the fortunes of the Strong Man and his circle of pecking persons, pose little threat to foreign capital.

The African Strong Man model suits the purposes of European imperialists and the United States, perfectly. Their overarching concern– especially since the collapse of the Soviet Union – is for the multinational mineral and petroleum-extracting corporations – what Europeans and Americans are actually referring to when they speak of their "national interests" on the continent. Representing himself and a small base of supporters/dependents, the Strong Man can be counted on to bully civil society into steadily narrowing spaces, snuffing out all independent social formations, while at the same time stripping the society of the means to protect itself outside of his own, capricious machinery. The nation itself atrophies, or is stillborn, as in Congo. Where nations have not had the chance to take full root or have been deliberately stunted, the Strong Man wraps the thin reeds of sovereignty around himself, denying the people their means of connectedness to one another, except through him. The state is a private apparatus and – from the standpoint of civil society – there appears to be no nation, at all. The people act, accordingly – that is, they do not act as citizens of a nation.

Thus, the Strong Man's most valuable service to the foreign master is to retard and negate nationhood through constant assaults on civil society.

What is commonly described as American "neglect" of Africa is nothing of the kind. Over the course of the decades since the end of formal colonialism, the governments of the corporate headquarters countries have arrived at a consensus that a chaotic Africa, barely governed at all, in which civil societies are perpetually insecure, incapable of defending themselves much less the nation, is the least troublesome environment for Western purposes. The extraction corporations in Africa feel most secure when the people of Africa are insecure.

In Congo and Liberia-Sierra Leone, this unspoken but operative policy has plunged whole populations into Hell on Earth. African Americans typically criticize the U.S. for failing to treat Black lives as valuable – in other words, Washington is accused of neglecting the carnage in Central and West Africa because of racism. The reality is far worse than that. American policy is designed to place Africans at the extremes of insecurity, in order to foreclose the possibility of civil societies taking root. This policy has always resulted in mass death. Moreover, the U.S. did not simply sit idly by while genocide swept Rwanda and "World War" wracked Congo. Instead, the American government initially thwarted a world response to the Rwandan holocaust, and has prolonged the carnage in Congo through its two client states, Uganda and Rwanda, which have methodically looted the wealth of the northeastern Congo while claiming – falsely, according to a report to the UN Security Council – to be protecting their own borders. Uganda's list of "proxy" Congolese ethnic armies reaches into every corner of Ituri province, where "combatants…have slaughtered some five thousand civilians in the last year because of their ethnic affiliation," according to a Human Rights Watch report. "But the combatants are armed and often directed by the governments of the DRC [Democratic Republic of Congo], Rwanda and Uganda." ("Ituri: Bloodiest Corner of the Congo," July 8.)

Zimbabwean officers have also plundered the country, but have been involved in far less killing in their role as protectors of the Democratic Republic of Congo (DRC) government. Angola and Namibia also went to the Kinshasa regime's aid. The United Nations and African countries labored for five years to untangle the mix of belligerents – with only the most pro forma cooperation of the United States.

Prolonging "Africa's World War"

Had the U.S. wanted to end or at least scale down "Africa's World War," there is no doubt that Washington could have reined in Rwanda and Uganda, who received a steady stream of American military and economic assistance during the conflict. The Congolese (DRC) government, on the other hand, has suffered under severe sanctions from both the U.S. and the European Union.

It would have cost Washington far less than a billion dollars in bribes to quarantine "Africa's World War" – slush money for a super-power, and a fraction of the bribes Washington was willing to pay for favorable votes on Iraq at the UN. Instead, the U.S. provided aid to key combatants. That's not a lack of policy, nor is it indifference. In the larger scheme of things, Washington believed that prolonging a war that weakened and debased Africa was in its "national interest."

Uganda and Rwanda have reciprocated, shamelessly. "Recently Uganda publicly backed the U.S.-led attack on Iraq, defying the African position to endorse a UN-sanctioned war," reads the current message of the official State House website of President Yoweri Kaguta Museveni's government, in Kampala.

Rwanda's Ambassador to the U.S., Zac Nsenga, was even more obsequious when presenting his credentials at the U.S. State Department, May 8:

"The Rwandan Government reaffirms its commitment to join forces with the United States and the free world to combat acts of terrorism wherever it rears its ugly head. The events of the 1994 Genocide and September 11th has taught us that we have to stand together as Nations to defeat these evil acts against humanity. For this very reason President Kagame stood firmly in support of the U.S. led attack on Iraq, not only to root out a terrorist dictator but also to free the people of Iraq."

Three million dead in Congo mean nothing when compared to two eager clients in the heart of Africa, who are more than willing to both defy "the African position" on Iraq and help keep Central Africa chaotic – Mobutu's old job.

As for Charles Taylor, the Liberian Strong Man responsible for the death, dismemberment and displacement of hundreds of thousands in his own country and neighboring Sierra Leone – at the time of this writing, Bush was still playing games over whether Taylor should leave for Nigerian exile before or after an African peace keeping force arrives to secure the capital, Monrovia.

Concerned American progressives debate what their positions should be if Bush sends significant U.S. forces to help pacify the country. He will not. If history is any judge, U.S. involvement on the ground in Liberia will be token, if any, and brief – just enough to show the flag. Had Washington desired stability for Liberia and its neighbors Sierra Leone, Guinea and the Ivory Coast, it would have eliminated Taylor years ago. He was allowed to live because he served U.S. policy, whether he knew that or not. Eternal warfare is the most effective way to smother civil society.

Americans may also one day learn this horrible lesson.

Reproduced from:
http://www.blackcommentator.com/50/50_cover_africa_pf.html

Latest News
Posted: Saturday, July 19, 2003

¤ An honest front page? Dream on...
¤ Why I quit the Reconstruction and Development Council
¤ It's All About Oil!
¤ How California's energy scam was inextricably linked to a war for oil scheme
¤ Cheney Was Bush's Triggerman in Escalating Intelligence Catfight
¤ US used uranium link despite 'dubious' report
¤ Kelly took own life: police
¤ Blast in Afghan Capital Kills One, Wounds Another
¤ US believes no plan could have stopped Iraqi chaos
¤ Moral blackmail will not do
¤ The Consequences of Believing Your Own Propaganda
¤ The Real U.S. Policy for Africa
¤ Tony Blair - Prisoner Of War
¤ Blood on the hands of spin machine?
¤ Is The US Lying About Al-Qaida Captures Too?
¤ Blair mum on quitting over Kelly's death
¤ Gentle man with core of steel
¤ Blair's crisis, Bush's crisis
¤ US won't take India's 'No' for an answer
¤ The Truth About Iraq's Destruction
¤ Pattern of Corruption
¤ Death Adds Twist to British Intel Saga
¤ U.S. Soldier Killed Guarding Baghdad Bank
¤ Two American Soldiers Killed in Iraq
¤ Iraq sliding into chaos, team warns
¤ GIs want to go home, and they want to go now
¤ Fingering the trigger
¤ Iraq war to haunt Bush, Blair: Pak expert
¤ Reshaping Iraq: A lonely business
¤ Oil-rich town at the heart of a war within a war
¤ US war system reaps $2bn for BAE Systems
¤ Iraq row scientist's death 'terrible', says Blair
¤ The bitterest betrayal
¤ CIA shifts Niger claim blame
¤ Sex Here, Sex There, Sex Everywhere!
¤ Bush used UK claim despite State Dept doubts
¤ Bush is wrong: Read his lips, then the numbers
¤ Bush's Mis-State-Ment Of The Union Fiasco
¤ White House meddled with Iraq speech: senator
¤ Bush aids Blair by halting trial of Britons in Guantanamo Bay
¤ Blair and Campbell on the line
¤ British whistleblower found dead
¤ Kelly didn't stand a chance against the frenzy of No 10
> Blair has decided his own reputation must be defended, whatever the cost
¤ Kelly inquiry crucial to Blair's survival
¤ Chronology of British Weapons Dispute
¤ Mystery of the eight missing hours before the body was found
¤ Palestinians 'reduced to begging'
¤ U.S.: Israel not doing enough on prisoner release
¤ Six killed in held Kashmir violence
¤ Will the UN bail out Bush?
¤ North Korea on missile path, says Beijing
¤ Bad blood lingers after strange days in Kurdistan
¤ Love for US turns sour in Liberia's 'Deep South'
¤ Eight Afghan soldiers die in mine blast
¤ 'Iranian regime strengthened by US'
¤ IAEA chief denies report on enriched uranium findings in Iran
¤ Enriched Uranium Traces Found in Iran

Latest News
Posted: Friday, July 18, 2003

¤ Burning Bush
¤ Cheney Task Force Had Eyes on Iraq Oil
¤ Cheney Energy Task Force Documents Feature Map Of Iraqi Oilfields
¤ Do you agree with British P.M. Blair that history 'will forgive' the war in Iraq
¤ Lying -- a Bush Family Value
¤ Experts believed no Iraqi WMDs in 2001
¤ 'This brings now into question regime of spin and manipulation'
¤ Body 'matches' Iraq expert
¤ MoD to hold inquiry into Kelly death
¤ Timeline: Dr David Kelly
¤ Bush and Hitler...Compare and Contrast
¤ Blair faces grilling in Japan over death of "mole"
¤ Britain's Iraq dossier row heats up after body of suspected "mole" found
¤ Scrutiny of Bush address intensifies
¤ Forging The Case For War
¤ White House Releases Documents on Iraq Flap
¤ New Warning Was Put Off on Weapons Syria Plans
¤ Iraq casualties keep Landstuhl full
¤ Faked documents used to justify Iraq war were not checked closely
¤ More troops have now died in combat in Iraq than during Gulf War
¤ Sailor Dies From Non-Hostile Gunshot Wound
¤ 'Time running out' to secure Iraq
¤ Iraqi Mayor's Killing Reinforces Fear
¤ Experience Says Iraq will Resist U.S.-Imposed Democracy
¤ Is Tony Blair a 'stranger to the truth'?
¤ Drowning in Deep Doo-Doo
¤ Deceit Runs Deep
¤ The Bush-Musharraf Conclave
¤ Look Who's Rewriting History Now
¤ Preparing for War, Stumbling to Peace
¤ Passing It Along
¤ No Question: The Media Is Right
¤ The rat is out of the bag
¤ Blood in the water has enemies circling
¤ What to do about George?
¤ Blair Under Fire as Speech 'Undermines Legal Case for War'

¤ Blair: 'History will forgive us'
¥ The last time I checked history it says that you LIED.

Flashback: Blair: I have secret proof of weapons
How Bush, Howard and Blair lied about WMD
Official believes U.S. has WMD proof
Blair: WMD reports 'accurate'
Howard, Blair accuse Iraq over missiles
Blair accused over Iraq WMD threat
Blair denies intelligence report was exaggerated to justify war
Blair, his aides missinformed citizens , the world, to justify Iraq war

¤ Full text of Tony Blair's speech
¤ Occupying Iraq: The lessons of history
¤ Iraq: a misuse of military might
¤ Youth find more truth in Eminem than Bush
¤ New Details Emerge on Uranium Claim
¤ US confused by Iraq's quiet war
¤ Attacks point to US vulnerability in Iraq
¤ Top US General in Iraq to Soldiers: Shut Up!
¤ U.S. Soldiers Blow Up Saddam Statue
¤ Real war, virtual weapons
¤ Bush launches magazine to teach young Arabs to love America
¤ The US needs allies - but is too proud to pay the price
¥ No they need to clean up their mess themselves.
¤ Don't worry tony... Cartoon
¤ Brown's supporters launch revenge attack and label Blair a 'psychopath'
¤ Wolfowitz taking pulse of Iraq
¤ Bush says Guantanamo detainees 'bad people'
¤ The visit comes at a testing time for the 'special relationship'
¤ Controversies take shine off Blair's US trip
¤ China fears NKorea has enough plutonium for bomb
¤ Delusions on Korea
¤ Who Is Robert Joseph?
¤ Bush Quells House Hearing On Syrian WMD
¤ Yellowcake Rising
¤ 'Saddam tape' blasts Bush and Blair
¤ NATO chief warns of tough mission
¤ Music world mourns Cruz, the flamboyant queen of salsa
¤ Body found after MoD 'mole' reported missing
¤ Why too much water may prove fatal for exhausted athletes
¤ US bill proposes presidential certification before aid money
¤ The Quetta carnage
¤ Lessons to be learnt

Latest News
Posted: Thursday, July 17, 2003

¤ Bush needs no proof - he's got the faith
¤ Sometimes Even the President of the United States Has to Stand Naked
¤ Bush, Lies, and Impeachment The Boy Who Cried Wolf.
¤ Senate rejects independent probe of Bush claims to justify Iraq war
¤ The Adulation and Venom of Ignorance
¤ Criminalizing the Palestinian Solidarity Movement
¤ The lies about Gulf War II are coming home to roost
¤ President's intelligence a step below excellent
¤ Waiting for the tooth fairy
¤ U.S. high horse now riderless
¤ Liar in Chief The Case for impeachment
¤ Aftermath of war: The next West Bank?
¤ Israel Continues Raids, Detentions in West Bank in Violation of Truce
¤ Blair defends U.S.-led war in Iraq
¤ Blair spokesman dismisses 'psychopath' tag
¤ Mr. Blair goes to Washington
¤ Media Underplays U.S. Death Toll in Iraq
¤ Careful: The FB-eye may be watching
¤ Powell discusses new UN resolution on Iraq
¤ The spies who pushed for war
¤ Crude Niger forgeries surface in Italian paper
¤ UN attacks Britain for withholding evidence
¤ 'It could be worse than Watergate'
¤ Tell it like it is time
¤ Beating around the Bush
¤ Hearing delayed as CIA revolts over claims on Syrian threat
¤ Snow shrugs off U.S.$455bn deficit
¤ Dire States
¤ Guerrilla war engulfs US in Iraq
¤ Leaders face growing pressure for answers over Iraq
¤ Insurgents try to down US plane in Iraq
¤ US presidential candidate calls for end to Iraq occupation
¤ Britain has lost its sovereignty to the United States
¤ Britain must hold the line over Iran
¤ Blair has broken our marriage vow to the US
¤ Intelligence committee grills Blair and Straw in private
¤ Sky suspends journalists over bogus story
¤ Cost of occupation to Britian: £5m a day - human cost extra
¤ Insurgents Escalate Attacks in Iraq
¤ Operation Iraq captivity
¤ Resistance to Aids virus is growing, say scientists
¤ 100 killed as heavy rain lashes Simla
¤ Soldier among nine killed in held Kashmir
¤ Japan warns Australia: softly, softly on Korea
¤ Australian analyst joins US push for weapons inquiry
¤ Film about the military comes under fire

Latest News
Posted: Wednesday, July 16, 2003

¤ America wanted war
¤ Bush Lies About Iraq Are Only The Symptom, Not The Disease
¤ If His Words Are His Bond, We're in a Bind
¤ Is Bush lying if he's only reading what people tell him to read?
¤ Nothing Left To Lie About
¤ It's Far From Over, Mr. Bush
¤ Ignorance is no excuse
¤ 16 Words - And What Do You Get?
> "Another Damn Lie and We're Deeper in Debt"
¤ Sixteen Dishonest Words
¤ Grenade Kills U.S. Soldier, Iraqi Child
¤ Soldiers learn they'll be in Baghdad longer than expected
¤ U.S. Soldiers Complain of Low Morale in Iraq
¤ Mortar Attacks on U.S. Bases Growing
¤ US heads for $1.9 trillion deficit as Iraq war costs $48bn
¤ Whole Units Of US Soldiers In Iraq On Suicide Watch
¤ Missile Fired at U.S. Plane in Iraq
¤ 'Bush is an idiot and a dog'
¤ Tipping point
¤ The press gives Bush a free ride on his lies
¤ The Educational System Was Designed to Keep Us Uneducated and Docile
¤ Wolfowitz Committee Instructed White House To Use Iraq/Uranium Ref
¤ The matter of Iraqi weapons is not closed
¤ The blame game begins
¤ To show loyalty, Rice lies for Bush
¤ Enter the FBI
¤ Clock runs out on mendacity at the Bush White House
¤ Documentation and Diagrams of the Atomic Bomb
¤ Bush and Blair are starting to hurt
¤ Defining Terrorism from the Top Down
¤ Rumsfeld's personal spy ring
¤ How they lie: journalism and the art of fiction
¤ 'The Road to Hell Is Paved With Good Intentions'
¤ Intelligent community
¤ Stuck here forever
¤ Faulty Connection
¤ Better rations and TV to boost morale
¤ It's tough trying to be Mr Nice Guy
¤ Bush hits back as war doubt grows
¤ A Tenet of resilience at the CIA
¤ Insecurity Driving Women Indoors
¤ Ashcroft Could Face Reckoning on Detainee Mistreatment
¤ Cheney under pressure to quit over false war evidence
¤ Anger at scrapping of war crimes law
¤ Storms Batter Western France, Killing 4
¤ Dozens Feared Dead in Indian Flash Floods
¤ Bomb Kills U.S. Soldier, Hurts 2 in Iraq
¤ Iran's nuclear quest 'irreversible in 18 months'
¤ US warned of 'imminent' nuclear peril
¤ North Korea warns US: we can produce six atom bombs
¥ Here is a country that is saying it has WMD, what the US response...
¤ U.S. Unsure if N. Korea Bluffing on Nukes
¥ What does Iran have the North Korea does not have?
Flashback: Iran makes massive oil find - reports
¤ Sharon calls on Britain to back militant arrests
¤ Israel arrests protesters as 'security risk'
¤ Mosquito plague kills 110 in India
¤ World's poor to get search engine
¤ China's Yangtze River rises as death toll mounts
¤ W.Va. County Ready for Lynch, Not Media
¤ Retail Cameras Don't Stop Crimes
¤ Health warning: doctors kill

Latest News
Posted: Tuesday, July 15, 2003

¤ President Bush rewrites portions of the address Jan. 23, 2003.
¤ White House Sees Record Deficit of $455B
¤ Occupation Of Iraq Is Taking A Costly Toll In Lives And Money
¤ Truth camouflaged by word games
¤ Another Scenario Emerges in Death of Army Reservist
¤ Digging Deeper Holes
¤ Anti-war cards flying off shelves
¤ TV coverage similar to WWII propaganda
¤ The dirty route to war
¤ Britons heap scorn on Blair's new badge
¤ Trickle Down Lying
¤ U.S. downplays India's choice of not sending troops to Iraq
¤ Iraqis Celebrate, Defying a Holiday Ban
¤ Military won't be overextended, says Bush, but some troops beg to differ
¤ America is playing a dangerous game with the Turks
¤ What's 'darn good' about it?
> If this is President's Bush' idea of "darn good" intelligence,
> I would hate to see what his idea of "pretty lousy" intelligence is.
¤ America's Unintelligence Community
¤ The CIA made me lie
¤ 'The Devil's Dictionary' Revisited
¤ The Iraq War, or America Betrayed
¤ Pattern of corruption
¤ Public Doubt Growing Quickly As Bush's War Stories Unravel
¤ Words Matter When They Lead To Suffering
¤ Unexplained Leaps
¤ World leaders reject Blair's move over military action
¤ Iran, Japan defy U.S., close in on huge oil deal
¤ US justice department defies court on al-Qaida
¤ Israeli ploy on Arafat backfires
¤ Britain rejects Ariel Sharon's formal request to cut ties with Yasser Arafat
¤ Sri Lankan officials in Israel for $20 million arms deal
¤ Israel, Egypt Continue To Receive Most U.S. Aid
¤ Disparate voices of Iraq emerge from silence
¤ Suspected Taliban Kill 5 Afghan Policemen
¤ Washington's Afghan plan unravels
¤ New editor for troubled New York Times
¤ Resentment bubbles as British troops try to restore order in Basra
¤ For George from Tony; not a million dollar oil painting, just a toilet bag
¤ Bush's spokesman quits post
¥ And not a moment to soon

Rumsfeld:
¤ Rumsfeld corrects testimony - twice
¥ Oh what a tangle web we weave......
¤ 'Hot, deadly' summer for US troops in Iraq
¥ It was the lies the U.S. government told that got them there.
¤ Rumsfeld paints gloomy picture
¤ Rumsfeld warns of more attacks in Iraq
¤ US appeals to anti-war nations to rebuild Iraq
¥ WHAT!!!!!!

Bush:
¤ Bush defends invasion of Iraq
> Says intelligence he got 'darn good'
¤ U.S. invasion right decision, president says
> High school teacher Kathy Eder of San Jose, Calif.,
> designed Bush-inspired playing cards dubbed
> "Operation Hidden Agenda."
¤ Bush: U.S. Working Hard to Find Iraq WMD
¥ Working hard at finding the time and place to plant some

¤ WMD spin shows what leaders will do to take people to war
¤ Urgent and wrong
¤ US, British claims on Saddam's WMDs crumbling
¤ Niger uranium claim came from third country
¥ Trying to pass the buck
¤ Niger: Straw accused of 'new deception'
¤ Straw: The most dangerous home secretary we have ever had
¤ Democrats attack Bush's credibility over Niger uranium claims
¤ Intelligence doubts dog Australian PM
¤ Iraqi governing council seeks UNSC recognition
¤ Political death
¤ Fearful symmetry: Washington and Pyongyang
¤ Conflict on Iraq-Syria Border Feeds Rage Against the U.S.
¤ Missing in France: The 12-year-old girl who ran off with the US Marine
¤ North Korea Says It Has Made Fuel for Atom Bombs
¤ 21 killed as violence flares in held Kashmir
¤ U.S. is open to a limited Liberia role

Latest News
Posted: Monday, July 14, 2003

¤ Bush Speech in Africa
¤ Bogus From The Beginning
¤ Liar! Liar! Speech on Fire!
¤ The pretend Captain
¤ Bring 'em on...to someone else
¤ UN questions British Iraq nuclear proof
¤ The Dubious Suicide of George Tenet
¤ A day of lies
¤ A little defensive today?
¤ US is sliding into major energy crisis
¤ Iran makes massive oil find - reports
¤ Germany not prepared to send troops to Iraq
¤ What do you think about the "bring them on" challenge Bush issued
¤ Private Lynch, symbol of a fictitious war
¤ US row casts shadow over Blair
¤ Britain rejected request to drop the uranium allegation
¤ Agencies hit by row over Iraq weapons
¤ Democrats step up pressure on uranium claims
¤ Bush's uranium statement was accurate, claims administration
> The story changes yet again
¤ Uranium phrase 'technically correct'
¥ No they were 'technically' LYING...
¤ Blame Tenet? He's just trying to please his boss
¤ Will Bush be Gorbachev for Pax-Americana?
¤ Bush's popularity on the skids
¤ Schwarzenegger wants to be a US governor
> As an inarticulate sex-pest and ex-druggie, he's perfectly qualified
¤ Stay Out Of Liberia
¤ U.S. soldier killed in Iraq
¤ 14 Afghan and US soldiers killed in two attacks
¤ Sharon set to rebuff UK demands
¤ Israel points the finger as peace plan stumbles
¤ Palestinian Boss Demands Arafat's Freedom
¤ Colourful characters and kingmaking Kurds
¤ Crying wolf
¤ Al-Qaeda claims responsibility for Iraq attacks
Flashback: U.S. intelligence plays down al Qaeda claim
¤ Iraqi governing council announced
¤ Killing of American soldier mars first governing council meeting
¤ S. Korea: No Proof North Took Nuke Step
¤ 15 killed in held Kashmir
¤ Blair 'will back policy of armed invasion'
¤ Blair's Churchillian gamble
¤ Soldiers kill 29 rebels over two days
¤ Wish you weren't here
> America just loves immigration
> it's immigrants who aren't popular.
> As Muslims are now finding out
¤ The enemy of our friend, the US, is not necessarily our enemy
¤ India says 'no' to sending troops to Iraq

The Democratic Republic of Congo (DRC)
Posted: Monday, July 14, 2003

Report by YellowTimes.org

Background: Democratic Republic of Congo

BACKGROUND REPORT (NFTF.org) -- Updated July 14, 2003 -- The Democratic Republic of Congo (DRC) is the current incarnation of a nation that has been known to history by various names although most of us will have known it as Belgian Congo or Zaire. It is still known in some circles as Congo-Kinshasa to distinguish it from its neighbor, Republic of Congo, or Congo-Brazzaville. Much of its western border is comprised of the Congo River which it shares with Republic of Congo in an undefined way; no specific agreements have been reached on the division of the river, its islands, or its resources.

This nation of approximately 55 million is in Central Africa surrounded by Republic of Congo, Central African Republic, Sudan, Uganda, Rwanda and Burundi, Tanzania, Zambia, and Angola. There are over 200 ethnic groups in DRC but about 45% of its population consists of three groups who are Bantu, and a fourth that is Hamitic. Author Joseph Conrad referred to this area as the "Heart of Darkness" and it is this area that is known to many as "darkest Africa."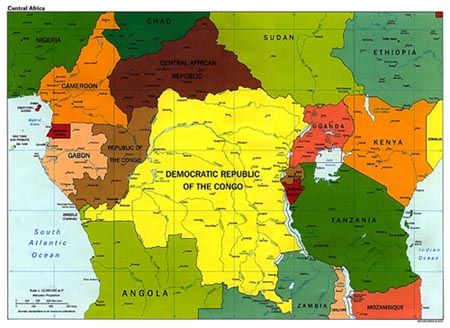 DRC is a nation endowed with vast potential wealth (gold, diamonds, rubber, copper, cobalt, oil, timber, and coltan along with a wide variety of agricultural produce) but its economy has declined significantly since the mid-1980's due a variety of unsuccessful government measures, the residue of colonial rule, and the financial imperialism of new masters. It has been estimated that DRC may comprise the most mineral-rich chunk of land on the globe but its recent history has been one of internal conflict. Much of this arose as the nation absorbed large numbers of refugees from the fighting in Rwanda and Burundi in 1994. But the conflicts in the whole region of central Africa really date back as far as the fifteenth century and are today, as they always have been, conflicts of imperialism.

Many of the countries in this area achieved independence from colonial masters in the 1950's and 1960's and quickly degenerated into fighting within and without their borders, much of it spurred by the "financial colonialists" who stepped into the gap left by the old monarchies. The history of these nations since the fifteenth century has been one of European colonialism, resistance, independence, followed by neocolonialism, and prolonged resistance yet again. The primary beneficiary of the new order in this region was the United States who allegedly maneuvered the assassination of Congo's first president, Patrice Lamumba, in 1960. The country's history has been troubled ever since.

President Joseph Mobutu ruled for over 30 years after coming to power in a CIA-aided coup. He is said to have turned over and again to policies and practices that would favor United States government and business interests over the needs and interests of his people. But rebel groups arose to challenge Mobutu's rule and in 1997, power was seized by Laurent Kabila, a former Marxist who led the Alliance of Democratic Forces. During most of Mobutu's rule the country had been known as Zaire but in May 1997 Kabila formally changed its name to Democratic Republic of the Congo.

On assumption of power, Kabila inherited a country already involved in massive tribal infighting, partly arising because of the influx of refugees in 1994. His rule was quickly challenged by a Rwanda and Uganda backed rebellion in August 1998. Finally, troops from Zimbabwe, Chad, Angola, Namibia, and Sudan intervened to support Kabila's government. Even though a cease-fire was reached in July 1999 between DRC, Zimbabwe, Angola, Uganda, Namibia, Rwanda and the Congolese rebels, sporadic fighting continued unabated. Kabila was assassinated January 16, 2001, again with alleged CIA intervention, and rule of the country fell to his son, Joseph.

Joseph Kabila was successful in negotiating a withdrawal of the Rwandan forces from Congo in October 2002, and early in 2003 all combatant parties finally came to the table and agreed to cease the fighting. They agreed to set up a government of national unity as a caretaker until democratic elections can be held in 2005. These will be the first democratic votes cast in this country in over forty years.

Since the departure of the last of the foreign forces from DRC at the end of April 2003, there has been a steady increase in ethnic violence in areas where it is alleged Rwanda and Uganda deliberately incited longstanding ethnic hatred. The violence became so acute that the United Nations finally decided to intervene and has sanctioned a small international peacekeeping force under the direction of France. Local people and area governments appear united in their complaints that the force is too small, that its mandate is too limited and of too short a duration; much criticism has been leveled at the U.N. for its shortsightedness and many people point to this region as having the potential for any genocidal nightmare like that in Rwanda in 1994.

As of this writing, the peace agreement reached in April is generally holding and the government is beginning its drive toward restoring the infrastructure and social systems of DRC. The nation lost between 3.3 and 4.7 million people (apparently a difficult number to quantify in these remote conditions) as a result of the past five years of fighting. At this point, they are anxious to get back on their feet, without the shackles of colonialism.


More history:
The People and Their History

Venezuela is NOT a fictitious place
Posted: Sunday, July 13, 2003

Venezuela is NOT a fictitious place, even though some have no idea where it is

The last several days have been intriguing. The endless deluge of computer virus attacks (because some people are continuously trying to stop me from writing) finally sent my computer into a coma. These acts of vandalism also left me with the temporary incapacity of doing quick research on the web, thus limiting my writing.

So, while the computer is out for a full diagnosis and overhaul, I have dedicated myself to doing slow research on an old slow computer and to watching more TV news and documentaries. This TV watching led to some interesting discoveries, including the discovery of "General Hospital," a very famous USA soap opera (broadcast by/managed by ABC - American Broadcasting Corporation) that has apparently been in existence since 1963.

There is a character on "General Hospital," whose name is Alcazar. He's a drug mafia type, looks Latino and is involved in some kidnapping scheme. Someone has kidnapped Sonny's wife. Sonny also seems to be a not-so-straight type of mafia person. All this may not seem too surprising for a soap opera.

However, there are some additional interesting details: Alcazar has a private plane and has operations, partners and "people" in Venezuela. Alcazar also invented some "evidence" to convince Sonny that his wife is in Venezuela, kidnapped by some people who apparently have some drug interests in Venezuela.

Recently, Alcazar has told Sonny that he may know where his wife is and that he can possibly find out if Sonny allows him (Alcazar) to bring in a drug shipment from Venezuela through Sonny's "territory."

Since I have only recently discovered "General Hospital", I do not know when Alcazar became part of the show or where he came from. I did a slow not-very-exhaustive search on the ABC website that contains summaries of past episodes dating back years. It appears to me that Alcazar is a relatively recent character.

What struck me about this show (and about the Alcazar character) is that it subliminally depicts Venezuela as the major Latin American drug cultivator and drug runner into the USA. The astounding realization is that millions upon millions of people (mostly USAPS and Canadians, I suspect) watch this series on a daily basis (5 days/week).

For some twisted reason, Alcazar is not involved in Colombia. For some bizarre reason, the name "Venezuela" is being used to brainwash USAPS (and others) into believing that Venezuela is the country that harbors, cultivates and distributes the drugs that the USAPS consume so diligently.

The "Hollywood" focus on drugs seems to have shifted from Colombia to Venezuela, yet Colombia is ... according to most reports ... still the largest cultivator and supplier of drugs to the USA.

Is ABC affiliated in some way with Washington or the USA government or with PNAC (Project for The New American Century)?

Note: This project is signed by Donald Rumsfeld, Jed Bush, Dan Quayle, Dick Cheney, Paul Wolfowitz, Steve Forbes and others, and is a project dedicated to promoting the take-over of the world by the USA through economic dominance and military intervention.

Is ABC assisting the USA government is subtly distributing lies and propaganda to slowly increase the USAPS' "awareness" that Venezuela is a terrorist state?

Note: that the USA is apparently attempting to "categorize" the FARC as a terrorist group in order to justify more military intervention in Colombia in the USA's supposed "war on drugs."

Why is "General Hospital" using Venezuela as a reference point for "evil" drug cartels rather than using Colombia as a reference point?

Is it perhaps because the present Colombian president is on side with the USA and because Chavez is perhaps not?

Because Chavez is a USA (paranoid) communist threat to the USA-led supposed "free-world/free-trade" concept?

If Alcazar is a recent character, is it a coincidence that one of the most-watched USA soap operas suddenly creates a character such as Alcazar within the same timeframe of the USA's growing dislike for Chavez and the fact that the USA is becoming more and more weary about Chavez' relationship with Cuba?

One of the reasons that I bring up such questions is because a few days ago I also watched a TV documentary of an interview with Norman Mailer, a well-known and apparently controversial USA writer. One of his comments was about a visit he made to the USSR in the 1980's and how, upon his return to the USA he was so mad at his own country (the USA) for having led the USAPS to believe that the USSR was an evil enemy that had intentions to attack the USA (during the so called Cold War).

Norman Mailer, upon his visit to the USSR, saw a chronically and profoundly depressed people, completely uninterested in engaging in war.

Other reasons that I have brought up the subject about "General Hospital" with respect to Venezuela (which unfortunately, some USAPS have no qualms about dragging down while Chavez is in power) are:

1) I watched an interview with a journalist, Sarah Cox, who was reporting (for Oxfam) about how the typical small-time coffee growers throughout the world (including Venezuela) are suffering tremendously because of the "free-trade" concept introduced by the USA in their refusal (in 1989) to continue to abide by and OPEC-style agreement between coffee-growing interests that guaranteed the growers a minimum price that allowed them to live with some dignity. She reported that the USA media is doing nothing to let the USAPS know about this issue while they keep expanding and exporting their coffee addiction (e.g.-Starbuck's) to the rest of the world (and making good profits since prices have not gone down for the end-user) while some of the growers receive the equivalent to one-quarter of what they received forty years ago. According to Sarah Cox, the USA is pushing the "free-trade" concept with no consideration for "just-trade" ... which reminds me of the "free-trade" concept that the USA used "against" Canada in the softwood lumber business that forced hundreds of small family businesses into bankruptcy, later to be bought out by several large USA multinationals.

2) I watched another documentary about how Joe McCarthy and the USA media propagated complete lies (McCarthy's list) to the degree that most USAPS actually believed (and were scared) that the USA was being infiltrated by "evil" communists at all levels of the US Federal government.

3) While I was in Kuwait (during the first Gulf War in 1991), CNN was the only TV channel that we were able to get and what was being reported by CNN had a strong pro-USA-hero penchant that was not representative of the real situation in Kuwait at the time.

4) The USA is exporting, through the "Hollywood" media, movies upon movies about how the USA is "always" victorious in war, espionage, etc. (Luckily for the rest of the world, well-made "Hollywood" comedies are still profitable to produce!)

Now, what about slander and defamation?

Don't people sometimes sue the media for defamation?

Maybe the Venezuelan government can consider suing ABC for defamation. Why not?

Venezuela is not a fictitious place, even though some USAPS probably have no idea where Venezuela is. (I remember the times when movies and TV programs would use fake names to depict "evil states.")

I am sure that the USA government would find it very offensive if Venezuelan soap operas depicted the USA as a country that is comprised primarily of drug addicts and gun-wielding white yahoos that arbitrarily murder all blacks and Latinos ... and I think that the greatest insult to the USAPS in this scenario would be that whilst the Venezuelan media propagates such information (to make Venezuelans more aware of the "evil" USA) the USA economy would begin to suffer, reducing the USA's capacity to maintain economic power.

So now, one can perhaps wonder why the Venezuelan tourist industry is suffering so severely. If so many USAPS are watching "General Hospital" and spreading the word to others, why would a USAP take his/her vacation in a country full of drug warlords, drug mafia and kidnappers?

... unless the prospective USAP visitor is a drug user. Then, he/she might surely visit Venezuela in order to do drugs (cheaper and better quality). Perhaps he/she would stay in Venezuela for a lengthy period of time. This would be very convenient to the US government ... send all the USAP drug addicts to Venezuela to help destroy Venezuela further. It is also cheaper (more profitable) to let them go to Venezuela than to put them in jail in the USA.

Perhaps the Venezuelan government is not aware of "General Hospital" ... perhaps Shapiro can advise the US government to advise ABC to treat Venezuela with more respect ... Venezuela is not fiction.

Oscar Heck
oscar@vheadline.com

Latest News
Posted: Sunday, July 13, 2003

¤ Al Qaeda claims exaggerated: analysts
¤ Bush's sea of troubles
¤ When frontier justice becomes foreign policy
¤ War mongers or just lazy?
¤ Betting everything on a hoax about Iraq
¤ Why did the Administration endorse a forgery about Iraq's nuclear program?
¤ Outrage at US plan to mortgage Iraqi oil
¤ Avoiding the truth about Iraq
¤ Tony Blair vs. the BBC
¤ Angry MPs set Blair a deadline to find weapons
¤ Bush and Blair on the ropes
¤ Let's play pass the buck, George
¤ Iran May Be Top Threat to Israel, Mideast Peace, Sharon Says
¤ CIA Got Uranium Reference Cut in Oct.
¤ Bush Declares His Faith in Tenet and C.I.A.
¤ Bush shielded as CIA takes nuclear claims fallout
¤ 20 Lies About the War
¤ Blair made a fundamental mistake over '45 minutes to deploy' claim
¤ Tony Blair's troubles won't fly away
¤ Blair rethink on weapons inquiry
¤ Niger and Iraq: the war's biggest lie?
¤ Straw defends UK intelligence in row over Saddam's uranium
¤ Blair entering dangerous political territory
¤ Blair ignored CIA weapons warning
¤ The Niger connection
¤ Former Exiles Given Majority on Iraqi Council
¤ Bush Vows to Fight Terror in Africa
¤ The war that just won't end: the hunt goes on in Afghanistan
¤ Africa gets a new best friend
¤ Bush bullish on Aids and trade, but resists appeal from Liberia
¤ Even in Africa, Bush can't avoid Iraq
¤ I've seen the real America, and it's weird
¤ Bid to break anti-US tensions
¤ Overseer Adjusts Strategy as Turmoil Grows in Iraq
¤ U.S. Kills Four in New Iraq Operation
¤ UK tanks roll on Indonesian rebels
¤ Gung-ho Howard lets spooks take the rap
¤ Ho hum...just another credibility gap
¤ Howard ignores call to resign
¤ What Tony Blair must say in Washington
¤ Blair seeks new powers to attack rogue states
¤ Sharon faces protests as he flies in for London talks
¤ Rules for Terror Tribunals May Deter Some Defense Lawyers
¤ Israel threatens Arafat with expulsion
¤ Twins were duped claims grieving dad

Latest News
Posted: Saturday, July 12, 2003

¤ Waist-Deep In Iraq Quagmire, Bush Presses On
¤ CIA Takes the Fall for Bush
¤ Bush Knew Iraq Info Was False
¤ Howard apologises over Iraq claim
¤ The State Of The Union speech Bush wanted to give
¤ 'The fear'
¤ Pentagon "Sexing up" casualty reports?
¤ The news points to this: There were never any WMD
¤ Blair Must Resign If No Wmds Are Found
¤ Zing 'em on!
¤ Sausage attack: Faulty intelligence or none at all
¤ A 'Concession' That's No Concession At All
¤ Israel could consider deporting Arafat, Sharon aide says
¤ Sharon and the media
¤ Canadians vote Bush least-liked president
¤ Washington and London governments embroiled in lies over Iraq
¤ Straw defends dossier uranium claims
¤ Three attacks on US forces in Afghanistan
¤ As ambushes continue in Iraq, some soldiers rethink strategy
¤ Afghan, Pakistan Forces Trade Fire on Border

¥ Operation protect the U.S President at all cost
¤ CIA chief takes rap for Bush's false war claim
¤ CIA Admits It Allowed Error in Bush Speech
¤ CIA head takes blame for Bush's Iraq claim
¤ Bush, Rice say CIA cleared State of the Union speech

¤ PM sorry for relying on Iraq lies
¤ Should be a lovely war
¤ Heads should roll, but they won't - Wilkie
¤ Intelligence mystery on Iraq war continues
¤ US firms seek future oil revenues for reconstruction
¤ Three attacks on US forces in Afghanistan
¤ Europe Undermining Mideast Peace
¤ US and Europe on brink of trade war
¤ Trading on fear
¤ Where US promises proved hollow
> Nigerian villagers have learnt from recent history
> to treat the visit of an American president with scepticism
¤ Mandela praises anti-apartheid comrades
¤ Revealed: first dossier also dodgy
¤ Did CIA warn UK to drop Niger claim?
¤ Blair to challenge Bush over Britons held at Camp Delta
¤ Blair told to refuse his US honour
¤ Blair told to ditch Arafat and save road map
¤ Eight on Texas air base test negative for SARS
¤ We've Been Neo-Conned
¤ Help wanted: but only the young, hip and blue-eyed need apply
¤ US peacekeepers for Liberia
¤ Eight killed in held Kashmir violence
¤ Did they do the right thing?
¤ When lawyers abandon justice for Howard

Chavez Speaks With Greg Palast
Posted: Friday, July 11, 2003

Hugo Chavez is Crazy!
For five centuries, Venezuela has been run by a minority of very white people, pure-blood descendants of the Spanish conquistadors. To most of the 80 percent of Venezuelans who are brown, Hugo Chavez is their Nelson Mandela, the man who will smash the economic and social apartheid that has kept the dark-skinned millions stacked in cardboard houses in the hills above Caracas while the whites live in high-rise splendor in the city center. Chavez, as one white Caracas reporter told me with a sneer, gives them bricks and milk, and so they vote for him.

Hugo Chavez Speaks With Greg Palast
Palast: When you were seized during the coup, and you were put on a helicopter to Orchilla, did you think that that might be your last helicopter ride, that you would never see Rosinez or your other children again? Did you ever think, this is it - they're taking me up in the air and I may not make it to the island, they could just throw me out of the helicopter?

Latest News
Posted: Friday, July 11, 2003

¤ Blame America for Conflict in Liberia, Too
¤ Why Did The Bush Administration Really Decide To Invade Iraq?
¤ 'If It Feels Good, Do It' The Bush 'Preemptive' Doctrine
¤ The Reason Why Governments Fail No Consent = Forced Assent
¤ Transcript of Drilling and Killing Documentary
¤ Chatting with the Almighty About Bush
¤ Give Rumsfeld and Wolfowitz the Boot
¤ Africans weary of Americans bearing gifts
¤ The Two Faces of Bush in Africa
¤ Angry Mandela Attacks Warmonger Blair
¤ An Iraq War & Occupation Glossary
¤ Anatomy of a Quack-Mire
¤ Not A Vietnam-like Quagmire
¤ Where is the Apology for Slavery?
¤ If it looks like a guerilla and walks like a guerilla
¤ Have you no sense of decency, sir?
¤ Barge Poles
¤ What the Hell is going on with CBS?!
¤ Blair should quit, warns Short
¤ Boiling Mad Over Bush
¤ Mr. Bush, You Are A Liar
¤ Dossier of lies
¤ CIA Doubted Uranium Report
¤ Rice: CIA Approved Bush Remark on Iraq
¤ Look at Nixon. He was dishonest too
¤ George W. on the Defensive
¤ From the September dossier to yesterday's backtrack
> A truth-spotter's guide to how official language has changed
¤ The Art of the Re-Spin
¤ U.S. Soldiers Withdraw From Iraq Station
¤ Row over conflict's legality as British PM retreats
¤ Howard: I Didn't Mislead Australia on Iraq
¤ Australian Officials knew of dodgy Iraq file
¤ Bush tries to placate waverers at home
¤ Intelligence 'story' reeks of dishonesty: Wilkie
¤ UK leaders say finding Iraqi arms is unlikely
¤ Digging for dirt
¤ Blair's case for war 'absurd', says ex minister

¤ Powell: Niger evidence too weak for UN presentation
¥ However Powell still went to the UN using 'evidence' that was refuted

Flashback: Inspector refutes US claims
> Two satellite images the American Secretary of State showed
> the council 10 days ago did not prove Iraq was
> clearing a site of forbidden munitions, Blix said.
The case against Powell's case for war
"I'm not reading this. This is bullshit,"
Transcript of Powell's U.N. presentation

¤ Mini-War Against Iraq Prior to 9-11 May Explain Why U.S. Targeted Them
¤ Bush acknowledges Iraq 'security issue'
¤ Iraq's other looting
¤ Iraq Analogous To Vietnam
¤ Bush rouses the ghosts of the Vietnam War
¤ Goverment 'must come clean' on intelligence: ALP
¤ Bush vows to join Africa's war on Aids
¤ Why the US is desperate for Middle East peace
¤ Sharon shuns BBC over documentary
¤ Seven killed in held Kashmir
¤ Freed prisoner demands $10.4m from US
¤ US officials search 18 firms in Iran arms case
¤ Cost of partnership with US
¤ Aid groups in Iraq also under attack
¤ Should we recognise Israel?
¤ Truth spoils a good war story
¤ US admits lack of support for troops in Iraq
¤ Risks to Bush of foreign focus

Latest News
Posted: Thursday, July 10, 2003

¤ U.S. changes reason for invading Iraq
¤ Downer 'moving Iraq goal posts'
¤ Was war based on a lie? Ask Cheney
¤ All spin all the time
¤ Franks: U.S. May Stay in Iraq for Years
¤ Insurgents Attack U.S. Forces North and West of Baghdad
¤ Chaos in Iraq gives US a pretext to stay for ever
¤ War-weary troops long for home
¤ Franks: 10-25 Attacks a Day on U.S. Troops in Iraq
¤ Pentagon: 1,000 troops wounded in Iraq war
¤ What's the exit strategy?
¤ An entire town detained: On Goree Island, Bush visit sparks anger
¤ Who Outted Bush in Afrika?
Flashback: How important is African oil?
¤ US Leaves Injured Iraqis Untreated
¤ Our Gift to Iraq: Depleted Uranium
¤ In the Transatlantic Food Fight, Europe Tells US "Bring 'Em On"
¤ Negligence in Afghanistan
¤ America's Iraq
¤ Criticism grows as Iraq's postwar costs escalate
¤ US warned over Iraq law enforcement
¤ Court Affirms Bush's Power to Detain Citizen as Enemy
¤ False nuclear report dogs Bush
¤ M-16s Jammed During Ambush in Iraq
¤ The war is far from over, claims British officer
¤ Confused commander led convoy into ambush
¤ Army 'error' led to Lynch capture
¤ BBC was most pro-war of British networks
¤ Ambushes Kill Two U.S. Soldiers in Iraq
¤ White House 'lied about Saddam threat'
¤ Bush ducks queries on flawed Iraq intelligence
¤ UK 'backflips' on weapons of mass destruction
¤ BBC accuses No 10 of manipulation as it names source of dossier claim
¤ Duncan Smith rejects Blair's account of sharing intelligence with Tories
¤ The Niger connection:
> What we know, what we don't know, and what we may never be told
¤ Row over weapons allegations threatens to turn the Iraq conflict into liability
¥ Both for Bush and the American Pockets
¤ Rumsfeld Doubles Estimate for Cost of Troops in Iraq
¤ Rumsfeld welcomes UN and NATO help
¥ The US refused the UN advice before the invasion now wants their help
¤ White man's burden
¤ EU officials 'siphoned millions'
¤ Keep to the law, Blair tells Bush
¤ Minister pressures BBC to reveal source
¤ The power of silence
¤ Private Jessica 'saved by her Iraqi captors' says official report
¤ We're ready for war or talk, says North Korea
¤ Nuclear fears grow after N Korea tests
¤ Iran refuses tougher N-inspections
¤ Dark side of 'peacekeeping'
¤ Congo president for all-African peacekeeping force
¤ Bush backs Mbeki on Zimbabwe
¤ The war on the web
¤ Vote Fraud And The Bankruptcy Of The United States
¤ Prostitutes Required" ... for the White House.
¥ Powell, Rice, Rumsfeild, Ari and the mainsteam media need not apply.
¤ Alcohol ad's mixed message
> A coming television commercial for Smirnoff vodka will
> advise drinkers not to drink too much of it.
¤ Over 500 feared dead in Bangladesh boat tragedy
¤ Rampage speaks volumes for Karzai's helplessness
¤ US and its shortsighted policy in Afghanistan
¤ Back to square one?
¤ US president says he and Mbeki were 'absolutely of one mind' about Zimbabwe
¤ Parliamentary whitewash of PM's lies on Iraq falls flat

Latest News
Posted: Wednesday, July 9, 2003

¤ Bush administration stonewalls on 9/11
¤ Blair a likely casualty of Bush's war
¤ Hold Bush Accountable If He Lied About Iraq
¤ Mosaic Of Lies
¤ Ten Myths About Nuclear Weapons
¤ Is the Media Finally Turning on Bush?
¤ Iraq war not about new arms evidence: Rumsfeld
¤ US withheld uranium intelligence from UN
¤ I did not have relations with that Dossier
¤ Faked papers thicken fog around Iraq war
¤ Bush dealt double setback over Iraq
¤ U.S. might ask NATO to take over control of Iraq occupation
¥ Hey you should clean up your own mess.
¤ Court denies Cheney attempt to keep energy group secret
¤ Bush: 'The Wrong Man?'
¤ Handouts from the slavemaster
¤ U.S. Army Baits Ambushers With Own Troops
¤ If Iraq Isn't a Vietnam-like Quagmire, It Is a Pretty Close Imitation
¤ Bush Defends Use of Prewar Intel on Iraq
¤ Bush Recantation Of Iraq Claim Stirs Calls for Probes
¤ Blair on the offensive over missing WMD
Flashback: Not very intelligent
¤ The U.S. could use Blair if Britain gets rid of him
¤ Is Niger the smoking gun?
¤ In Iraq, 'v' doesn't stand for victory
¤ Making oil transparent
¤ Of aspiring emperors and EU hypocrisy
¤ Key US partners clash while Taliban regroups
¤ Guantanamo move puts US on trial
¤ North Korea steps up nuclear programme
¤ Seven US soldiers hurt in Iraq
¤ Eden's Long Gone
¤ Out of Africa
¤ The other battle: coming home
¤ Six die in Miss. factory shooting
¤ 600 feared dead in Bangladesh ferry disaster
¤ Bush Pledges Role in Liberia Crisis
¤ Secret aid poured into Colombian drug war
¤ Part 1: The race toward barbarism
¤ Iran may give way on inspections
¤ Crash victim wakes up after 20 years in a coma
¤ Conjoined twins die during surgery to separate them
¤ 116 perish in Sudanese plane crash
¤ Rights of Arabs & Israelis
¤ A travesty of religion
¤ Weapons of Mass Deception?

Latest News
Posted: Tuesday, July 8, 2003

¤ Words Of Mass Deception
¤ Bush 'warned over uranium claim'
¤ 'More evidence Bush misled nation'
¤ A diplomat's undiplomatic truth: They lied
¤ Palestinian bombing threatens fragile ceasefire
¤ Warning system like 'boy who cried wolf'?
¤ The Insiders Are Coming Out
¤ Lessons of History in Iraq
¤ It Was The Politicians Who Took Us Into War
¤ U.S. Toll in Iraq Nears '91 War Deaths
¤ Iraq Attacks Wound Seven U.S. Soldiers
¤ To Hell With the Lot of Them
¤ Cop, Prosecutor, Defense Lawyer, Judge, Jury & Hangman: All in One
¤ A Nation That Closes Its Eyes Is Sure To Stumble Sometime
¤ Bring what on?
¤ Bring Reality On
¤ Occupation's ordeals ravage Iraqi psyche
¤ Pakistan closes embassy in Afghanistan in protest at mob rampage
¤ Afghan President Apologizes to Pakistan
¤ Liberian Forces Block U.S. Military Mission
¤ Liberian Says U.S. Backs His Enemies
¤ Iraq-Turkey Oil Pipeline Hit by Sabotage
¤ And in conclusion, we have not come to a conclusion
> The Commons foreign affairs committee yesterday "cleared"
> Alastair Campbell of sexing-up intelligence information about Iraq
> -by five votes to five- with Mr Campbell winning
> through the casting ballot of the chairman.
¤ Britain is fast becoming Bush's doormat
¤ MPs' fury at secret US trials of 'terror' Britons
¥ Would There Be Fury If There Were No Britons?
¤ The phoney war
¤ 'Easter egg hunt' for WMD is abandoned
¤ What the U.S. envoy who went to Niger didn't find
¤ Stalemate between BBC and Downing Street
¤ Blair Defends Iraq Intelligence Handling
¤ Blair has run out of steam - it's time for him to quit
¤ White House Acknowledges Error in Speech
> The White House is acknowledging that President Bush was
> incorrect when he said in his State of the Union address
> that Iraq recently had sought significant quantities of
> uranium in Africa.
¤ Iraqi resistance starts killing lone targets
¤ U.S. grapples with delays in restoring basic services to Iraq
¤ As Goodwill Fades, Attacks Rise in Iraq
¤ Cotton farmers' poverty laid at door of US
¤ An administration struggling with adult ADD
¤ Israelis Call Bombing a Terror Attack

Venezuela's President challenges U.S. hegemony
Posted: Monday, July 7, 2003

By Chris Kerr, http://www.vheadline.com

Green Left Weekly's Chris Kerr writes: The Bolivarian revolution in Venezuela is not just a national phenomenon, it is impacted upon greatly by international developments, particularly the US-led campaign against it.

In 2002, the US government stepped up its intervention into Venezuelan affairs, energetically assisting the April 11 coup against President Hugo Chavez. Washington provided finances and advice to the alliance of business leaders, military generals and corrupt trade-union leaders that attempted to depose Chavez.

The military coup, which dissolved the constitution, the parliament and the courts and presided over more deaths from political violence in one day than in Chavez's entire presidency, was rejected by almost every Latin American government. Washington was one of the very few governments to endorse the coup ... and was left isolated when the attempt was foiled within 48 hours by a popular uprising.

In December, Washington supported the shutdown of Venezuela's oil industry, in another attempt to topple Chavez. Although some military and corporate figures called for a coup at the time, the crisis fizzled after two months (however, it left massive economic damage behind).

Although Washington didn't openly support calls for another military coup, it did openly support the unconstitutional demand for new presidential elections. This turned into an embarrassing blunder, however, when the proposal became the first major US initiative to be rejected by the Organization of American States (OAS).

'Friends' of Venezuela

Another Washington attack on the Bolivarian revolution came through the "Friends of Venezuela" group. Initially suggested by Chavez as a way to strengthen international support for his government, the idea was picked up by Brazilian president "Lula" da Silva, who, in January, formed a group made up more of enemies than friends.

The US decided to support the new "friends", which included the powers which have historically exploited Latin America (and which supported the April 11 coup): Spain, Portugal and the US. Da Silva also included some of the most unfriendly governments in the region, including the Chilean government, a product of a bloody coup against a leftist president.

Although Washington attempted to use this group to force a "negotiated solution" on Chavez, the results reflected the balance of forces in Venezuela more than the lopsided international pressure the "friends" represented.

Thus, the original demands of the opposition, which included the resignation of the president, the rehiring of the managers who were fired for sabotaging the country's oil industry, the disarming of the pro-Chavez population and the disbanding of the Bolivarian Circles, were abandoned in favour of two agreements: the opposition and government not to use provocative language when referring to each other (which was violated by both sides within 48 hours); and adherence to the constitution in referendums for elected positions. The latter had been Chavez's position since his election.

Colombia

The Venezuelan government has also had to deal with confrontation with Colombia's ultra-right government, led by President Alvaro Uribe Velez. Venezuela's largest oil-producing province, Zulia, shares its western border with Colombia. Landlord and business oligarchies are powerful there, and peasant leaders are assassinated by their agents with impunity. Just next door, the war on the Armed Revolutionary Forces of Colombia-People's Army (FARC) by Colombian military and right-wing paramilitaries is escalating. The whole region is therefore becoming increasingly militarized, adding to tensions between the governments.

On March 31, Chavez ordered the air force to bomb Colombian government-backed paramilitaries that had intruded into Venezuelan territory. In response, the Colombian government accused the Venezuelan government of actively supporting FARC military actions in Colombia, an accusation which the Venezuelan Vice-President Jose Vicente Rangel described as a "grotesque lie" designed to discredit Chavez.

The Colombian government had already accused Venezuela of protecting FARC members, and supporting the organization.

While some analysts believe that the Colombian government is attempting to deflect the blame for its inability to contain the FARC, others, such as Hector Mondragon, fear it will lay the stage for the US to attack Venezuela in the future. In an article, Mondragon agues that the US could justify such an attack as necessary to "guarantee Colombia's security" and as part of the "war on drugs."

Venezuela is also in conflict with the US over Chavez's proposal for an economic integration program for Latin America, an alternative to the US-led Free Trade Area of the Americas. The FTAA is the latest project seeking to force neoliberal economic policy down the throat of Latin America. Washington's adherence to such policies, and Chavez's opposition to them, has been a major source of conflict.

According to US sociologist James Petras, neoliberalism has already allowed multinational corporations to remit US$1 trillion in profits, interest repayments and debt repayments from Latin America between 1990-2002. In the same period, US and European banks bought over 4000 ex-public banks, telecommunications, transportation, oil and mining, retail and other companies throughout Latin America.

Mercosur

Venezuela has pursued an independent economic strategy. It, along with Colombia, Ecuador, Peru and Bolivia, is a member of the Community of Andean Nations (CAN). It also gives the Caribbean nations cheaper access to oil and gas, and has applied to become a full member of Mercosur, an economic bloc that includes Brazil, Argentina, Uruguay and Paraguay.

Chavez believes Mercosur could further the economic integration of the entire Latin American continent. "We need to create a large union of Latin American republics to be able to negotiate in conditions of equality... we propose the necessity for Mercosur to be expanded, not only on the economic front, but also a political Mercosur", Chavez said at a news conference in Buenos Aires, after meeting with Argentina's President Nestor Kirchner, according to the May 26 Bloomberg website.

Cuba

Venezuela is also in conflict with the US over its policy towards Cuba. Since the Cuban revolution in 1959, Washington has successfully isolated Cuba from the rest of the continent, including securing its expulsion from the OAS. US agitation against left-wing governments in the region during the last two decades has helped to undermine the allies Cuba has had.

Since the presidency of Chavez, Venezuela has become Cuba's largest trading partner, and the island nation's political isolation has been reduced.

Cuban President Fidel Castro was invited to da Silva's and Kirchner's inaugurations. This is particularly important given Washington's recently renewed drive to isolate Cuba from European nations. The US government could not get the most recent OAS meeting, held in Chile, to condemn Cuba's jailing of paid agents of the US government. Venezuelan and Brazilian delegates led the campaign to ensure the motion would be blocked.

OPEC

It is likely that the Venezuelan government will also confront US imperialist interests in the Organization of Petroleum Exporting Countries. Many OPEC nations are uneasy about US President George Bush's attacks on the governments of Venezuela, Iraq and Iran, all important members of OPEC. According to the June 17 Business Report, one delegate anonymously told Reuters: "The US can't continue to invent wars. We want to deal with the world powers - we will supply oil and gas, but you can't invade my country. After Iraq, who is next?"

Venezuela raised the question of national sovereignty at the recently revived, long-term strategy meeting. "We need to emphasize that the world has left behind the colonial era, when one power could take by force another country's resources", Venezuelan energy minister Rafael Ramirez told reporters after the June 11 OPEC ministerial meeting in Doha, Qatar.

Venezuela's proposal, which may be tabled at the next OPEC heads of state meeting in 2005, would link the security of oil supply to the preservation of OPEC nations' national sovereignty, and has been welcomed by Iran and Libya but rejected by Saudi Arabia. It could complicate plans to invade and overthrow more OPEC governments and gain control over their oil resources.

A June 13 Reuters report commented: "The idea of tightening OPEC's grip over two-thirds of the world's oil reserves, and seeking to avoid military attack, has awakened interest from other [OPEC] members. 'Of course it is a serious concern that OPEC members with big oil reserves will become occupied by foreign powers', said a delegate from another of the 11-member group ... Some delegates believe that unless OPEC rediscovers its ideological roots - asserting sovereignty over its natural resources - the cartel could be destroyed by a resurgent US foreign policy, combined with the financial power of four 'super-major' oil companies."

It is thus no surprise that the Venezuelan government is under pressure from Washington. The June 12 Wall Street Journal reports "Washington, which initially dismissed Mr. Chavez as a harmless big talker, now fears Venezuela's increasingly radical stance could hurt regional stability and hobble US initiatives ranging from free trade to the war on drugs. Some US officials say Venezuela has become Washington's biggest Latin American headache after the old standby, Cuba."

This article is scheduled to appear in the July 9, 2003 issue of Australia's Green Left Weekly

Latest News
Posted: Monday, July 7, 2003

¤ The Madness Of King George
¤ Wrestling with the 'Q-word' in Iraq
¤ US decided on Iraq war before finding justifications
¤ Iraq war veteran killed in Highway 11 wreck
> Speer was a member of a unit that helped 'rescue' Jessica Lynch
¤ U.S. Military Trials Displease British
¤ 2004 America: Have Your Passport Ready
¤ WMD report: conclusions
¤ Explained: the WMD report
¤ One stark truth: Blair was wrong and must admit it now
¤ Defiant BBC stands by its war story
¤ Blair Govt. Blasted on Iraq Intelligence
¤ Like Iraq, CIA Also Exaggerated Soviet Nuclear Threat During Cold War
¤ Playgrounds More Like Battlegrounds for Iraqi Children
¤ Diplomat: U.S. knew uranium report was false
¤ Paved With Good Intentions
¤ Venezuela's President Hugo Chavez Frias challenges U.S hegemony
¤ Bush's Africa fan club is hard to find
¤ The World according to Halliburton
¤ Britain: Parliamentary probe exposes lies on Iraqi weapons
¤ US complains about brothel called The White House
¤ Embarrassing facts
¤ Israeli arms makers worried by huge drop in IDF purchasing
¤ Revolt appears to spread
¤ Why the US is losing a man a day
¤ Will Bush ratings follow slumping economy?
¤ Red, white and worried
¤ Fresh attacks kill three US soldiers in Iraq
¤ 3 G.I.'s Killed in Iraq Capital, One at Campus
¤ Shootings of three US soldiers mark escalation of resistance
¤ U.S. Raids Offend Iraqi Sensibilities
¤ Grisly death enrages anti-U.S. town in Iraq
¤ Fatigued, US troops yearn for home
¤ Troop morale in Iraq hits 'rock bottom'
¤ Experts grow more sceptical about extent of threat posed by Saddam
¤ Grounding Planes the Wrong Way
> Coalition troops looted and vandalized the Iraqi airport
> that now must be rebuilt
¤ Australian PM told of doubts on Iraqi arms: US official
¤ Briton killed in Baghdad wanted to be a war reporter
¤ Bush begins his African odyssey today,
> but is he there to plunder or provide?
¤ Oil and terrorism drive the presidential tour
¤ U.S. Military Experts on Way to Liberia
¤ MPs clear Campbell of doctoring dossier
¤ It's a charade and we all know it
¤ Strip Blair of power to appoint his 'cronies' to top jobs, MPs demand
¤ Six killed in held Kashmir
¤ Israel wants full EU membership
¤ White House refuses to treat allies as equals
¤ Liberia's Taylor to accept exile offer
¤ 'Increasingly likely' Saddam is alive
¤ Missing plane turns up in Guinea
¤ Solomons intervention not like in Iraq

Latest News
Posted: Sunday, July 6, 2003

¤ Saddam 'destroyed weapons in 1990s'
¤ Iran, Syria deplore US unconditional support for Zionist regime
¤ PA rejects Israeli criteria for prisoner release
¤ Barbarians battering the gates
¤ News media abandon historic role -- and public suffers
¤ News About Release Of Turkish Soldiers Are Not True
¤ Blix: 45-minute weapons of mass destruction 'unlikely'
¥ The Question remains why didn't Blix reveal this while at the U.N.
¤ US company wins $48 million contract to train new Iraqi army
¤ The battle on terrorism is an excuse to make fighting permanent
¤ Question authority
¤ American soldier critically wounded in Baghdad, two Iraqis shot dead
¤ India's women seek a whiter shade of pale
¤ New blow to Blair over Iraq
¤ Israeli minister suggests to "drown Palestinian prisoners in Dead Sea"
¤ Venezuela refuses to sign agreement with US over ICC
¤ Leading Senators Clash on Iraq Probe
¤ Further setback for Iraqi oil exports
¤ Pakistan opposition opposes Israel recognition, troops for Iraq
¤ Iraqis raise rebel action against US
¤ US forces bedevilled by sneak attacks
¤ 'We've been been shot at almost every day since March'
¤ US soldier shot at Baghdad University
¤ Blast kills recruits in payback for working with US
¤ Macho U.S. runs into Arab male pride
¤ MI6 chief briefed BBC over Iraq arms fears
¤ B.B.C Biased Broadcasting Corporation
¤ Blair: BBC must pay for its attack on my integrity
¤ Army admits units were starved of kit during Iraq war
¤ BBC is sticking to its guns on Campbell and WMD
¤ Britain can no longer tolerate America's abuse of human rights
¤ Confess or die, US tells jailed Britons
¤ Intelligence chief accuses Blair of 'credibility gap' over WMD
¤ U.S. Envoy Says Bush 'Twisted' Iraq Intelligence
¤ Five more years
¤ U.S. falling into bin Laden's trap
¤ Battle station
¤ Bush Sends Experts to Assess Liberia
¤ Using one war to distract from another
¤ US ready to send troops to Liberia
¤ Turkey Protests U.S. Arrest of Forces
¤ U.S. raid: angry Turkey closes border with Iraq
¤ US TV stirs up Iran's young rebels
¤ Iraq: Any direction?
¤ Iraq: the human toll
¤ Explosion Kills 7 Iraqi Police Recruits
¤ Latest Bombing Is Aimed at Iraqis Working With U.S.
¤ Female Suicide Bombers Kill 16 in Moscow
¤ Alastair, God and the Devil
¤ The truth will be as elusive as Saddam
¤ America is a harsher place
¤ CIA's secret war is revealed as Laos jails European journalists
¤ The day suicide bombers came to a Moscow rock concert
¤ Quetta death toll rises to 53
¤ Ghosts of Somalia haunt Bush
¤ The Price On Bush's Head
¤ UN food body calls for strict new rules on GM crops

Latest News
Posted: Saturday, July 5, 2003

¤ British Journalist Dead in Baghdad - U.S. Military
¤ Iraqis wait for US troops to leave
¤ Syria says no peace in Mideast until Israel gets rid of WMD's
¤ Justifying Occupation
¤ Turkey may retaliate unless US releases Turkish soldiers
¤ Foreign Ministry Reacts Strongly to US Detention of Turkish Officers
¤ Turkish fury at US Iraq 'arrests'
¤ Iran, Turkey stress expansion of trade ties
¤ Is There a Road Map Out of Iraq?
¤ Thousands protest near dedication of center
¤ George W. Bush crimes against humanity
¤ Guantanamo Bay: Isolated, strictly supervised and deprived of rights
¤ Sorry, Fresh Out of Weapons... Would You Like Another Vietnam Instead?
¤ Bush: "Bloodsucking vampire"
¤ Peace protesters back at air base
¤ Britain's Blair under fire from his own party
¤ Mad As Hell
¤ Greg Dyke, the BBC's director general summoned to BBC crisis meeting
¤ Thanks for your oil, Iraq. Have a cookie!
¤ Dead on the Fourth of July: One US soldier and eleven Iraqis
¤ US still at war in Iraq, says general
¤ It may be a very rough ride if we go all the way with Bush
¤ Concern as Britons face US tribunal
¤ Officers cast doubt on tale of mosque as bomb factory
Flashback: 'Bomb-making caused Iraq mosque blast'
Flashback: US blames bomb-making class for mosque blast
¤ Wives clamour for US troops return
¤ Suicide bombers at Moscow concert kill 20
¤ Looming dangers on the Iraqi horizon
¤ Explosion Kills 7 Iraqi Police, Recruits
¤ US army kills 11 Iraqis, 18 troops hurt in ambush
¤ Mosque massacre in Pakistan
¤ 44 killed in Quetta Imambargah attack
¤ Public services at risk as US states face financial crisis
¤ Our boys, their rapists? We need a public inquiry
¤ Campbell's fake air of fury... or why the BBC must defeat No 10
¤ Only the Arabs can save US from a new Vietnam
¤ Only dopes get duped
¤ It's Miller time for Bush
¤ Pentagon Seeking New Access Pacts for Africa Bases
¤ Iraqi attacks on U.S. units hit new level
¤ MoD accuses BBC of 'skulduggery' over Iraq documentary

What To The Slave Is The 4th Of July?
Posted: Friday, July 4, 2003

Frederick Douglass Independence Day Speech at Rochester, 1841

Frederick Douglas, a former slave himself, became a leader in the 19th Century Abolitionist Movement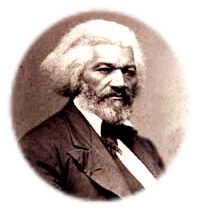 Fellow citizens, pardon me, allow me to ask, why am I called upon to speak here today? What have I, or those I represent, to do with your national independence? Are the great principles of political freedom and of natural justice, embodied in that Declaration of Independence, extended to us? and am I, therefore, called upon to bring our humble offering to the national altar, and to confess the benefits and express devout gratitude for the blessings resulting from your independence to us?

Would to God, both for your sakes and ours, that an affirmative answer could be truthfully returned to these questions! Then would my task be light, and my burden easy and delightful. For who is there so cold that a nation's sympathy could not warm him? Who so obdurate and dead to the claims of gratitude that would not thankfully acknowledge such priceless benefits? Who so stolid and selfish that would not give his voice to swell the hallelujahs of a nation's jubilee, when the chains of servitude had been torn from his limbs? I am not that man. In a case like that the dumb might eloquently speak and the "lame man leap as an hart."

But such is not the state of the case. I say it with a sad sense of the disparity between us. am not included within the pale of this glorious anniversary! Your high independence only reveals the immeasurable distance between us. The blessings in which you, this day, rejoice are not enjoyed in common. The rich inheritance of justice, liberty, prosperity, and independence bequeathed by your fathers is shared by you, not by me. The sunlight that brought light and healing to you has brought stripes and death to me. This Fourth of July is yours, not mine. You may rejoice, I must mourn. To drag a man in fetters into the grand illuminated temple of liberty, and call upon him to join you in joyous anthems, were inhuman mockery and sacrilegious irony. Do you mean, citizens, to mock me by asking me to speak today? If so, there is a parallel to your conduct. And let me warn that it is dangerous to copy the example of nation whose crimes, towering up to heaven, were thrown down by the breath of the Almighty, burying that nation in irrevocable ruin! I can today take up the plaintive lament of a peeled and woe-smitten people.

"By the rivers of Babylon, there we sat down. Yea! We wept when we remembered Zion. We hanged our harps upon the willows in the midst thereof. For there, they that carried us away captive, required of us a song; and they who wasted us required of us mirth, saying, Sing us one of the songs of Zion. How can we sing the Lord's song in a strange land? If I forget thee, O Jerusalem, let my right hand forget her cunning. If do not remember thee, let my tongue cleave to the roof of my mouth."

Fellow citizens, above your national, tumultuous joy, I hear the mournful wail of millions! Whose chains, heavy and grievous yesterday, are, today, rendered more intolerable by the jubilee shouts that reach them. If I do forget, if I do not faithfully remember those bleeding children of sorry this day, "may my right hand cleave to the roof of my mouth"! To forget them, to pass lightly over their wrongs, and to chime in with the popular theme would be treason most scandalous and shocking, and would make me a reproach before God and the world. My subject, then, fellow citizens, is American slavery. I shall see this day and its popular characteristics from the slave's point of view. Standing there identified with the American bondman, making his wrongs mine. I do not hesitate to declare with all my soul that the character and conduct of this nation never looked blacker to me than on this Fourth of July! Whether we turn to the declarations of the past or to the professions of the present, the conduct of the nation seems equally hideous and revolting. America is false to the past, false to the present, and solemnly binds herself to be false to the future. Standing with God and the crushed and bleeding slave on this occasion, I will, in the name of humanity which is outraged, in the name of liberty which is fettered, in the name of the Constitution and the Bible which are disregarded and trampled upon, dare to call in question and to denounce, with all the emphasis I can command, everything that serves to perpetuate slavery-the great sin and shame of America! "I will not equivocate, I will not excuse"; I will use the severest language I can command; and yet not one word shall escape me that any man, whose judgment is not blinded by prejudice, shall not confess to be right and just....

For the present, it is enough to affirm the equal manhood of the Negro race. Is it not as astonishing that, while we are plowing, planting, and reaping, using all kinds of mechanical tools, erecting houses, constructing bridges, building ships, working in metals of brass, iron, copper, and secretaries, having among us lawyers doctors, ministers, poets, authors, editors, orators, and teachers; and that, while we are engaged in all manner of enterprises common to other men, digging gold in California, capturing the whale in the Pacific, feeding sheep and cattle on the hillside, living, moving, acting, thinking, planning, living in families as husbands, wives, and children, and above all, confessing and worshiping the Christian's God, and looking hopefully for life and immortality beyond the grave, we are called upon to prove that we are men!...

What, am I to argue that it is wrong to make men brutes, to rob them of their liberty, to work them without wages, to keep them ignorant of their relations to their fellow men, to beat them with sticks, to flay their flesh with the lash, to load their limbs with irons, to hunt them with dogs, to sell them at auction, to sunder their families, to knock out their teeth, to burn their flesh, to starve them into obedience and submission to their masters? Must I argue that a system thus marked with blood, and stained with pollution, is wrong? No! I will not. I have better employment for my time and strength than such arguments would imply....

What, to the American slave, is your Fourth of July? I answer: a day that reveals to him, more than all other days in the year, the gross injustice and cruelty to which he is the constant victim. To him, your celebration is a sham; your boasted liberty, an unholy license; your national greatness, swelling vanity; your sounds of rejoicing are empty and heartless; your denunciation of tyrants, brass-fronted impudence; your shouts of liberty and equality, hollow mockery; your prayers and hymns, your sermons and thanksgivings, with all your religious parade and solemnity, are, to Him, mere bombast, fraud, deception, impiety, and hypocrisy-a thin veil to cover up crimes which would disgrace a nation of savages. There is not a nation of savages. There is not a nation on the earth guilty of practices more shocking and bloody than are the people of the United States at this very hour.

Go where you may, search where you will, roam through all the monarchies and despotisms- of the Old World, travel through South America, search out every abuse, and when you have found the last, lay your facts by the side of the everyday practices of this nation, and you will say with me that, for revolting barbarity and shameless hypocrisy, America reigns without a rival.

Latest News
Posted: Friday, July 4, 2003

¤ Iraq attacks linked to Bush taunts
¤ Violence unabated in Iraq
¤ Straw admits hiccups in Iraq
¤ Britain condemns US terror trials
Flashback: Liberia rebels fight for diamonds
¥ Guess who wants ultimate control?
¤ U.S. to send experts' team to Liberia
¤ No let up in Iraqi attacks for Independence Day
¤ 10 more Taliban killed in fighting
¤ Two U.S. Soldiers Wounded in Afghanistan
¤ Study deals a blow to claims of anti-war bias in BBC news
¤ American troops plead for reinforcements
¤ July 4th Protest Drives President Bush Out of Philadelphia
¤ Angry Protestors Target Bush Trip
¤ George, Would You PLEASE Shut Up!
¤ US forces attacked again in Iraq
¤ George Bush's reaction to Iraqi resistance
¤ War was 'lie' says Meacher
¤ US relied on old data as basis for War in Iraq
¤ Declaring My Independence from the Bush Administration
¤ It's worse than it seems
¤ How Free Are We?
¤ Over 44 die in Pakistan suicide bombing
¤ Anger rises for families of troops in Iraq
¤ Attacks Leave U.S. Soldier Dead, 10 Hurt
¤ US soldier killed, 20 wounded
¤ More attacks on US troops in Iraq despite reward
¤ One-day wonder at looted museum as amnesty to thieves pays off
¤ Americans restore ancient treasures to museum - for two hours only
¤ US forces kill three Iraqis
¤ After Tour, Senators Warn U.S. Is Spread Thin in Iraq
¤ For soldiers' spouses, the wait for a return wears thin
¤ The Che Guevara of Iraq could turn against the Allies
¤ Police kill Riyadh bomb suspects
¤ Trust Is Important
¤ Women allege decades of gang rapes by British army
¤ Israeli claim of victory denounced
¤ Palestinians Protest Gaza Arrests
¤ Palestinians cry robbery as Israeli land grab breaches truce
¤ Coalition Troops Launch Afghan Operation
¤ Afghan army officer shot dead in Herat
¤ Senators Disagree on Iraq WMD Evidence
¤ BBC launches inquiry into 'sexing up' story
¤ Blair's spin-doctor admits tinkering with Iraq dossier
¤ Researchers dismiss attack warning as hype
Flashback: U.S Government Warns of Mass Hacker Attacks
¤ The tyranny of George II
¤ Bush OKs Trial by Tribunal for Six
¤ Solo mission for Bush's buddy
¤ Whoever can play the US card in Iran wins the game
¤ Up to 17,000 unexploded bombs left in war zone, MP warns
¤ Musharraf rules out compromise on N-plan, Kashmir
¤ Pakistan's PPP protests decision to send troops to Iraq
¤ Life for spitting at police officer
¤ Bush may send peace-keeping force to Liberia if Taylor quits
¤ Don't mention the war to the Germans ... the Gulf war
¤ We fight on, say Aceh rebels
¤ Putting a leash on proliferation
¤ Biotech crops and hunger

Latest News
Posted: Thursday, July 3, 2003

¤ Israel defies peace plan with land grab on West Bank
> Bethlehem pullout is a cover for new settlements, say Palestinians
¤ Israel makes cosmetic show of peace as it builds the Bethlehem wall
¤ Recognition of Israel not on the cards
¤ US suspends £30m aid in row over war crimes court
¤ US hypocrisy astounding
¤ British arms exports to Jakarta soar 20-fold
¤ Reaping the whirlwind
¤ Straw promises no troop pull out
¤ Letter reveals Campbell proposed 11 changes to Iraq dossier
¤ Blair spokesman admits doctoring dossier
¥ This is the same Dossier the U.S used to justify the invasion of Iraq
¤ Campbell 'asked for changes to Iraq dossier'
Flashback: Microsoft Word bytes Tony Blair in the butt
¤ US 'lied' about Iraq: poll
¤ Analyst: Iraqi WMD Evidence Often Lacking
¤ Bush moves to reassure Americans
¤ 'Bring them on' Bush says as Iraqi attackers prolong war
Meanwhile: Cops go crooked in Kabul as pay and training lag
> Afghan officials say donor countries are reneging on promises
> to aid the police force.
¤ Bush promises to stay the course in Iraq
¤ Next challenge in Iraq: Sabotage
¤ 15 Taliban killed in clash with Afghan troops
¤ UN, Japan concerned over Afghan disarmament plan
¤ Straw denies quagmire claims in Iraq
¤ Two Iraqis Dead, U.S. Troopers Hurt
¤ New evidence suggests Royal Marine was killed by friendly fire
¤ BP benefits from Iraq oil delays
¤ Imperial history repeats itself
¤ Dangerous slippages
¤ Mistrust and misconceptions
¤ America hints at role in Liberia
¤ Europe-wide rules on GM food labelling likely to anger US
¤ Global scare dissolves with the end of SARS
¤ British arms exports to Jakarta soar 20-fold
¤ Iran nuclear head hopes talks will clear doubts
¤ Cops go crooked in Kabul as pay and training lag
¤ 22 Americans In Kuwait Embrace Islam In A Week
¤ Analysts 'uncertain' on Iraq arms
¤ 'Bring 'Em On' Fetches Trouble
¤ Mistrust and misconceptions
¤ Palestinians cry robbery as Israeli land grab breaches truce
¤ Aqsa Brigades renounce Palestinian truce
¤ Women allege decades of gang rapes by British army
¤ Soldier Dies in Baghdad in 'Non-Combat Shooting'
¤ Afghanistan Postpones Disarmament Plan
¤ The Purging Fires That Empires Need

Latest News
Posted: Wednesday, July 2, 2003

¤ What Do Americans Know? Not Very Much
¤ Autopsy: No Arabs on Flight 77
¤ Bush Asks Congress For $30 Billion To Help Fight War On Criticism
¤ US National Security Advisor invents theory and then attacks it
¤ Why the 'Captain America crowd' is on the defensive
¤ Ambiguity Equals Contradiction
¤ Defense of Your Home Is Not Terrorism, Not Even in Iraq
¤ Good Killing and Bad Killing
¤ We're on a mission from God
¤ War Prevention and the UN
¤ Quagmire Alert
¤ The Emperor's New Quagmire
¤ In day of violence in Iraq, attacks from all directions
¤ Beyond the War on Terror
¤ Bremer requests more troops as violence, tension escalate
¤ I never promised you a ruse garden
¤ Bush to Iraqi Militants: 'Bring Them On'
¤ Expectations gap rankles Iraq
¤ Cease-fire is a start, but can't be the end
¤ CIA raises renewed alarm over nuclear arsenal
¤ America switches its allegiance to Armenia
¤ Some Skeptical of U.S. Report on N. Korea
¤ Lying to wage war a 'high crime'
¤ US Must Prepare for More Attacks in Iraq — Senators
¤ Israel pulls out of Bethlehem
¤ Australia to restore order in Solomons with armed force
¤ Cease-fire is a start, but can't be the end
¤ Blair Challenges Critics of Iraq Dossier
¤ Vote To Impeach Bush: A Message from Ramsey Clark
¤ No Evidence of Ten Commandments in American History, Court Says
¤ US disgusted at Harare's racial attacks on Powell
¤ Zimbabwe calls Powell 'Uncle Tom'
Article From Zimbabwe Herald:
US secretary of state ignorant of Zimbabwean situation
> American foreign policy has always been underpinned by double talk,
> double standards, deception and false promises of money
> if certain leaders are removed.
¤ Washington gets heavy over International Criminal Court
¥ America has 'NO MONEY', they are threatening countries with illusions.
Flashback: US returns to triple-digit budget deficits
Flashback: U.S Budget Deficit Worse Than Projected
¤ Shia cleric challenges Bush plan for Iraq
¤ Pressure on Bush as casualties continue to rise in Iraq
¤ Bush: No Return to Tyranny in Iraq
¤ No Vietnam: Rumsfeld denial while toll rising
¤ U.S. troops face more attacks by Iraqis
¤ US soldiers injured after Iraqis blame army for mosque attack
¤ Iraq's resistance: A new Vietnam for the White House?
¤ Expectations gap rankles Iraq
¤ Dust and despair at Iraqi police post
¤ Afghan Troops Fight Taliban Near Border
¤ The long arm of resistance
¤ Inside Afghanistan: The warlords are reaping the spoils ...
¤ ... while the Afghans await the promised aid
¤ U.S. may not be imperial, but it does have an empire
¤ Washington Yatra - II
¤ Why democracy?
¤ New threats to international stability
¤ How the neo-cons operate
¤ Partners against terror
¤ America switches its allegiance to Armenia
¤ Iraqi holy men leap into postwar politics
¤ Enough playing games
> For every "unauthorized outpost" ostensibly dismantled by the IDF,
> two others are constructed by Israeli settlers.
¤ Israel sends BBC a tough message
¤ US presses Japan to stall Iranian oil deal
¤ Mass protests over security crackdown
¤ Howard is ready and willing to join coalitions

Latest News
Posted: Tuesday, July 1, 2003

¤ In Your Face
¤ Iraq Eerily Starting to Look a Lot Like Vietnam
¤ U.S. Strike Kills 10 In Fallujah Mosque, Iraqis Vow Revenge
¤ Falluja Vows "Martyr Operations" Against U.S. Troops
¤ Underestimating the Capacity of Americans to Detect a Fraud
¤ Mirror, Mirror On The Wall, Who Is Fairest.....
¤ Hamas truce puts Sharon in a fix
¤ Was Times Coverage Tainted?
¤ Arms and the Taxman
¤ The United States Dollar A Wmd? A Worthless Monetary Debt-Instrument?
¤ Iraqi mayor chosen by US accused of kidnap
¤ Weapons in Search of a Name
¤ Musharraf hits the 'Israel' button
¤ SE Asia Braces for Terrorist Attacks
¤ Washington gets heavy over International Criminal Court
¤ Abbas sees Israeli withdrawal from West Bank within six weeks
¤ US presses Japan to stall Iranian oil deal
¤ CIA raises renewed alarm over nuclear arsenal
¤ US admits to 50 secret tests of bio weapons on troops
¤ Mr Fixit finds his vision hard to sell
¤ CIA Removes Photos of Uranium Equipment
¤ Afghan warlord vows to fight Karzai, foreign troops
¤ The Forgotten Orphans Of Afghanistan
¤ Japan continues Iran talks despite pressure from U.S.
¤ Israeli fence sparks US fears
¤ 6 U.S. Soldiers Killed, 4 Injured In Baghdad: Reports
¤ Quicker and stronger: US Navy's new battle plan
¤ CIA raises renewed alarm over nuclear arsenal
¤ America To Build Planet-Dominating Super Weapons
¤ US threatens sanctions over ICC
¤ U.S. Suspends Military Aid to Nearly 50 Countries
¤ Bush delivers unprecedented snub to Mandela in Africa visit
¤ America to build super weapons
¤ Four Iraqis killed in flashpoint town blasts
¤ Israelis pull out but leave trail of devastation
¤ Afghan anarchy may delay election
¤ Freedom to operate in Iraqi quagmire
¤ Iraq cleric condemns US plans
¤ Cuba has been left out for too long
¤ Hostages of the empire
¤ Israel Offers Bethlehem to Palestinians
¤ The Homecoming
¤ US forces storm Iraqi towns; dozens killed in blast
¤ The unwilling and disinterested
¤ US admits to 50 secret tests of bio weapons on troops
¤ Remote control bomb wounds 16 in mosque
¤ We will not let Afghans down, Straw promises
¤ In Korea, a quiet US weapons buildup
¤ Sexy spy stories and unsexy truths
¤ To be peacemaker, America must denounce all violence in Middle East