Manning and the Jet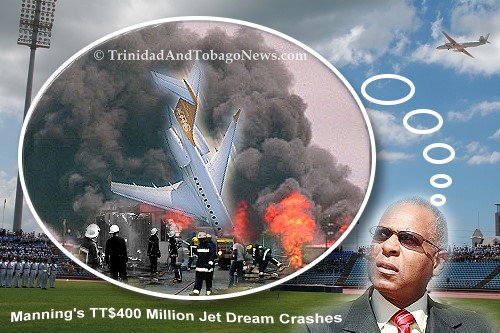 Manning's Jet Dream Crashes



Share your views here...

March 20, 2008

Public Outrage Did Not Break Jet Deal
The spokesmen for the government on the Bombardier jet deal have been trying to convince us that the deal was aborted because of government's insistence on a strict anti-corruption clause, and not because of widespread public outrage.

CAL to return jet $$ to Govt
Caribbean Airlines Ltd (CAL) plans to return every single cent, plus any interest accrued, on the US$54 million which the Government provided for the purchase of the Bombardier executive jet.

...PM ducks questions
Reporters who sought answers to questions on Caribbean Airlines Ltd's (CAL) now aborted private jet deal from Prime Minister Patrick Manning yesterday, received best Easter wishes from him instead.

Lok Jack: We may look to Bombardier again
If another Bombardier Aerospace executive jet becomes available again, that company may well contact Caribbean Airlines (CA) a second time, CA chairman Arthur Lok Jack indicated yesterday...

Progression here, retrogression there
The present deal to buy a jet aircraft is off after much public outcry (Progression!). Was the cancellation due to the public outcry? Did the Government insist on the inclusion of an anti-corruption clause come about through knowledge of a commission to be paid for the deal? Or was this a clever way to get out of the deal in the light of public insistence? On this morning's television interview of the Chairman and Chief Executive Officer (CEO) of Caribbean Airlines (CAL) the interviewer asked a direct question on the role played by the alleged existence of a commission but no response was forthcoming from either the CEO or Chairman.


March 19, 2008

Jet deal crashes
US$65m purchase 'downed' by corruption clause
Caribbean Airlines' proposed executive jet initiative has "crashed" after CA confirmed yesterday it will not be proceeding with the purchase of the controversial jet "at this time."

Panday credits people for decision
Responding on Caribbean Airlines decision not to acquire the jet "at this time," Panday said: "The government has been forced to back down from this lavish purchase because they could not convince the public that the deal was clean, the purchase necessary and that it was justified, given the prevailing social conditions."

A ploy that did not fly
Caribbean Airlines (CAL) will want the citizenry to believe that its decision to stall the plan to acquire an executive jet was based on the high principle of being determined not to go ahead with the transaction unless the contract included a watertight or, perhaps, more accurately in the context, an airtight anti-corruption clause.
But more citizens will be inclined to take the view, eagerly expressed by Opposition Leader Basdeo Panday, that the State airline's retreat was a "victory for the people", meaning those who made known their opposition to what was seen to be another example of the spendthrift ways of a revenue-rich administration whose leader, rather than set an example of fiscal restraint to the nation, was seen to be encouraging its traditional spendthrift ways fuelled, as he continues to be, by the grandiose delusions that often afflict prime ministers and presidents of so-called developing nations.

Jet Deal Off...For Now
The TT$400 million Bombardier jet deal is dead. The executive jet idea is, however, still alive and will return in a different form, probably involving a leasing arrangement.

Mark: UNC-A 'connecting the dots'
Opposition Senator Wade Mark says now that Caribbean Airlines Ltd's (CAL) attempted private jet deal has crash landed, the United National Congress Alliance's (UNC-A) investigation into the matter has only now begun.

...Lok Jack 'should be fired' for comments
Opposition Senator Wade Mark says Caribbean Airlines Ltd chairman, Arthur Lok Jack, should be fired for saying that if the money for the carrier's now failed jet acquisition were returned, this would not mean the immediate acquisition of more hospital beds.

Those mocking pretenders
But the more one looks at this development the more one ought to be bleeding vex over the way some bigwigs are trying to hoodwink the population into satisfying the egotistical desire of one man.

Trouble areas in obscene flight plan

Share your views here...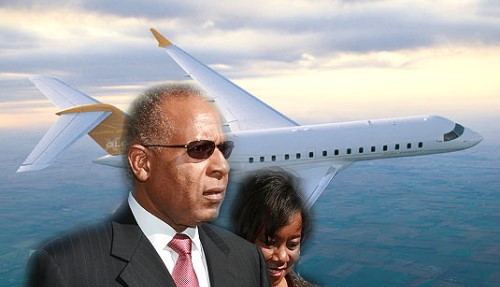 Manning And The Jet


Share your views here, here, here, here and here.

March 17, 2008

Manning and the Jet Stuck in Public Outcry
In my view, the government should not be buying a jet at this time. They have not made the case for it being necessary and they certainly have not been transparent about this deal.

Bombardier, CAL jet deal stuck on corruption clause
The controversial jet deal is heading for a fatal crash. Up to press time last night, there was no word on a meeting of minds with respect to the sticking point of the anti-corruption clause.

Economics and accountability
Transparency and accountability are the hallmark of good governance. Minister Browne does not appear to support these fundamental concepts nor does he appreciate the difference between a private sector company and one owned by the people.

Ready for take-off
Caribbean Airlines (CA) chairman Arthur Lok Jack announced last week that if a deal with Bombardier was not worked out today, CA would give back the Government its US$65 million investment grant-although the jet costs US$63 million. Minister in the Ministry of Finance Mariano Browne announced last week that Government had only advanced US$52 million for the acquisition.

Media in service of people, not politics
The palpable arrogance of Junior Finance Minister Mariano Browne's responses at Thursday's post-Cabinet press conference sends a dangerous message to media practitioners about the attitude of the Government regarding our essential business.

The 7 deadly sins of political man
Squandermania, Megalomania, Nepotism, Misfeasance, Malfeasance, Mendacity and Incompetence


March 16, 2008

Caribbean Airlines 'gouging' taxpayers
AS I listened to billionaire-businessman Arthur Lok Jack reel out the numbers surrounding Caribbean Airlines (CAL) decision to purchase a Bombardier Global Express SRX, I was puzzled. If anyone knows anything about basic "counting", it should be a billionaire.

Ticket to fly Bombardier
OVER THE last two weeks, Cabinet's decision to approve a Caribbean Airlines (CA) proposal to acquire a $400million executive jet has generated heated controversy. Not only was Cabinet's decision of February 28 leaked to the media, but subsequent statements made by all the parties involved, which failed to clarify and define the exact nature of the proposal, fueled even more outcry.

Warner: Jet just to satisfy Manning's ego
Trinidad and Tobago has been duped once again into spending money to satisfy Prime Minister Patrick Manning's ego.


March 15, 2008

Moonilal: Manning just a smartman
Prime Minister Patrick Manning was yesterday accused of trying to escape parliamentary scrutiny of the Government's proposed purchase of an executive jet "for his private use".

PM's a 'true Trini smart man'


March 14, 2008

Browne: Govt gave CAL US$52m for jet
"We did not advance the full US$63 million. On that I am clear. The number was 52 to $53 million," Browne told yesterday's post-Cabinet press conference at Whitehall, contradicting the statement made by CAL's Chairman, Arthur Lok Jack, that Government had advanced US$63 million to the company.

More conflicting figures in CA deal
Minister in the Finance Ministry Mariano Browne said yesterday the Government had advanced only (US)$52 million to CA for the jet acquisition, and not (US)$63 million which CA chairman Arthur Lok Jack had claimed on Wednesday.

Browne says jet costs US$52M
MINISTER in the Ministry of Finance Mariano Browne fuelled further controversy over Caribbean Airlines' (CA) plan to acquire a $400 million (US$65 million) executive jet, when he disclosed yesterday that US$52 million ($312 million) and not US$63 million ($378 million) was advanced to CA, for the jet acquisition.

Talk to us, Mr Manning

Mariano sweats under inflation probe
MINISTER in the Ministry of Finance Mariano Browne denied that removing the $2 billion gasoline-subsidy would aggravate inflation which currently stands at ten percent. Browne was answering reporters' questions at yesterday's post-Cabinet news conference at Whitehall which became heated.


March 13, 2008

Caribbean Airlines chairman: Jet purchase was our idea
CHAIRMAN of Caribbean Airlines Limited (CAL) Arthur Lok Jack yesterday confirmed that he was the main figure "pushing" for the purchase of a private jet, as part of the company's aim to establish an executive jet service, and not the Government...

Lok Jack: Jet $ not significant for public sector use
Chairman of Caribbean Airlines Limited (CAL) Arthur Lok Jack has said that any alternative use of the money being used to purchase an executive jet would not create any difference in the delivery of public sector services...

Jet deal hits snag

Monday deadline for executive jet
IF BOMBARDIER and Caribbean Airlines (CA) cannot work out the details of the contract for the purchase of a $400million executive jet by next Monday, then the deal is off, Arthur Lok Jack, the CA Chairman said yesterday.


March 12, 2008

Browne: Jet deal not done
As controversy continues over the proposed purchase of a TT$400 million Bombardier Global XRS executive private jet, Government sources insisted yesterday that the deal was nowhere near completion.


March 11, 2008

Mariano approves $M jet
MARIANO BROWNE, Minister in the Ministry of Finance, yesterday told Newsday he authorised payment of $400 million into a Caribbean Airlines (CA) account for the proposed purchase of an executive jet, one day after Cabinet gave the go-ahead.

Bombardier rep: Cost of private jet overstated by $13m
Caribbean Airline's move to establish an executive jet service at a cost of US$63 million is being overstated by some US$13 million, a representative of Bombardier Business Aircraft says indicated yesterday...

Panday: Parliament probe needed
OPPOSITION LEADER Basdeo Panday yesterday said special parliamentary committees and a larger Parliament are required to investigate the allocation of public funds for ventures such as Caribbean Airlines' (CA) plans to acquire a Bombardier Global XRS jet for an executive jet service, or the award of contracts to State agencies which exceed $5 million.


March 10, 2008

Caribbean Airlines Family Day 'grounded'
CARIBBEAN AIRLINES (CA) First Anniversary Family/Open Day celebrations failed to come off yesterday as controversy continues to swirl around the airline's plans to acquire a Bombardier Global XRS jet for an executive jet service.

More 'jet lag' in Parliament
ALTHOUGH the Senate is supposed to debate the Basel Convention Bill 2008 when it sits tomorrow at 1.30 pm, more questions are expected to be raised by the Opposition UNC Alliance about plans by Caribbean Airlines (CA) to acquire an executive jet for its proposed private jet service.

Private jet takes PM to Bahamas 4 hours faster

Abdulah wants answers on RBTT sale, private jet
He said, FITUN had noticed several inter-locking relationships, including the fact that Arthur Lok Jack was chairman of Caribbean Airlines Limited and also a Director of RBTT.

Jamaica PM supports State-owned private jet
Jamaica Prime Minister Bruce Golding says he supports the idea of a State owned-airline offering a private jet service to Caribbean Community (Caricom) leaders like himself and Prime Minister Patrick Manning, as long as it was saving the taxpayers money.


March 09, 2008

Against public opinion
When the furore over government owning an executive jet first erupted last year, I was among the very few persons who saw nothing wrong with it, and I wrote as much. I argued then that the Prime Minister could be likened to the CEO of an oil rich country, except that his responsibilities were far greater, and that right here in Trinidad and Tobago there were several conglomerates that owned such aircraft.

Megalomaniac Manning
As for Colm Imbert trying to deflect all questions to the board of Air Caribbean, rest assured we are not all dimwits; everyone knows Air Caribbean is simply dancing to the Government's beat on this one. The board and management of Air Caribbean have a duty to act in the best interests of the company, and the level of care, diligence and skill must meet objective standards, or else the risk of personal liability of directors arises. I find it impossible to believe there is no dissent from any director on this issue! It is a vulgar and obscene, abuse and waste of public funds and not a "beep?" It seems as if we're back to the good ole days of "not a damn dog bark"!

Buy/lease executive jet
Last Thursday, the minister studiedly refused to answer directly a clear question from the media, as to whether it was the Government (or more particularly, the Ministry of Finance) that had approached Caribbean Airlines (CA) to get into the deal. That alone must suggest that the answer is in the affirmative. But even if it were not, that is irrelevant, given the following: Is Caribbean Airlines not a wholly-owned State corporation? In other words, is the Government not the sole shareholder of the company?

Calculated bet on jet

Parliament paid for jet?
THE PARLIAMENT of Trinidad and Tobago may have paved the way for Caribbean Airlines (CA) to purchase a $400 million executive jet as early as January 18 by passing legislation accounting for an advance of $430million to CA for the payment of BWIA Voluntary Separation from Employment Packages (VSEP). A similar sum, of $400 million, was also approved for payment to the Central Bank on that date.


March 08, 2008

Travel expert blasts jet purchase
An air travel expert, involved in the Caribbean air transport business for many years, has questioned the absence of a feasibility study preceding the decision to enter the jet leasing industry...

$M jet, a rape on treasury
A HIGH-RANKING Govern-ment official yesterday accused Government of going behind Parliament's back to approve a $400million executive jet, as pressure on the board of Caribbean Airlines (CA) increased. "This is a rape of the treasury," stated the official who requested anonymity, noting that there was too much uncertainty looming over the proposed jet transaction. "We are dealing with too much vague information."

Jet fuels heat in the House
Caribbean Airlines' (CA) controversial executive jet service fuelled and dominated Parliamentary debate yesterday, with Opposition chief whip Ramesh Lawrence Maharaj accusing Government of hiding the truth...

Caribbean Airlines shifting blame from govt
Couva South MP Kelvin Ramnath said yesterday that businessman Arthur Lok Jack was "unfit to be chairman of Caribbean Airlines." "What they have done is to conspire to take the blame away from the Government of T&T and to take the responsibility as a state corporation," Ramnath said.

Ramnath: Don't trust Imbert's words
COUVA South MP Kelvin Ramnath yesterday told the House of Representatives that Diego Martin North East MP Colm Imbert's statements on the acquisition of a Bombardier jet plane by Caribbean Airlines (CA) "cannot be trusted."

Ramesh: Don't buy that jet...
'Spend the money on the people'

Food prices jet off
FOOD PRICES continue to jet off, even as the country is engrossed in fierce debate about the plans to purchase an executive aircraft by state-owned Caribbean Airlines.

Imbert: Govt's money still in CAL bank account

CA banks Govt $400M
WORKS AND Transport Minister Colm Imbert yesterday revealed that the US$63 million (TT$400 million) which the Cabinet agreed to provide Caribbean Airlines (CA) to acquire a private jet for an executive jet service is in a CA bank account.

Flying in face of public sentiment
Four years, one test flight, several denials and a general election victory after Manning confirmed interest in a private jet service, the actual item has appeared in sight in record time within months of the start of the new political term.


March 07, 2008

FULL SPEED AHEAD
Imbert: No backing down on buying executive jet
While Prime Minister Patrick Manning is perceived to be the driving force behind the proposal, it was Works and Transport Minister Colm Imbert who yesterday faced the barrage of questions on the jet at the post-Cabinet news conference.

No answers
ONE DAY after receiving a letter from Caribbean Airlines (CA) proposing the purchase of a $400 million jet for an executive jet service, Cabinet agreed to the purchase, Works and Transport Minister Colm Imbert said yesterday.

No done deal Imbert: No money paid yet
WORKS and Transport Minister Colm Imbert is denying that Government has already paid for the controversial $63 million Bombardier Global Express XRS executive jet to be bought by Caribbean Airlines (CA)...

...Panday wants details on $m buy

Probe Govt jet deal

Up, up and away
Supposing-now we only supposing, as Composer once reminded us-this country's local government election was tomorrow, day after tomorrow, next week, week after next, next month, month after next or next year-would the PNM end up losers because of the prime ministerial jet (let's call a spade a spade or a plane a plane). Or, five years or thereabouts from now, when the general election is, in fact, called will voters move to punish the PNM and its political leader for his vainglorious, spendthrift ways by voting them out of office? And now to make both questions one-will there be any political costs to be paid by this administration, this government, this party in power because (a) it (they) have decided to saddle the country with a multi-million dollar gadget purely because the Prime Minister is the kind of man he is and because (b) of the underhand, roundabout, taking-people-for-fools way all the interested and, indeed, connected parties have gone about it?


March 06, 2008

Deceit, greed set for take-off
"NO PM PLAN TO BUY PLANE," was the headline on a 2006 report in this newspaper that quoted Works and Transport Minister Colm Imbert as follows: "This present Government absolutely has no intention of purchasing a private jet aircraft for use by the Prime Minister or any other member of the Government."

Fooling TT
Two senior officials, one a former chairman of BWIA and the other a high official of Caribbean Airlines yesterday hit out at the airline's announcement of the purchase of a private jet for a Caricom "niche market."

Airline owes citizens hard data, says Panday

Jet will provoke population
OPPOSITION Chief Whip Ramesh Lawrence Maharaj yesterday called on Prime Minister Patrick Manning to state whether the Government had agreed to underwrite any losses associated with the purchase of a private jet by State-owned Caribbean Airlines.

COP members criticise 'Air Farce One' purchase

Private jet a Govt 'gift'
A HIGH ranking Caribbean Airlines (CA) official who wished to remain anonymous yesterday questioned why the Government feels the need to acquire an executive jet.

Govt didn't give CAL downpayment for jet
Government did not give Caribbean Airlines (CAL) any money to purchase the Bombardier executive private jet before the matter was discussed and approved by the Cabinet, reliable sources said yesterday.


March 05, 2008

State pays $65m on private jet
A down payment of $65 million has already been made on the private jet being bought by Caribbean Airlines to initiate its new private jet leasing company. This money, it is understood, was wire-transferred last Friday, after a Cabinet decision on Thursday.

Lok Jack: Jet under construction
Stressing that Caribbean Airlines (CA) was "not playing politics" with its proposed jet service, airline chairman Arthur Lok Jack yesterday categorically denied that Prime Minister Patrick Manning instructed the State-owned airline to get into the "risky" executive jet service business. In an interview with the Express, Lok Jack also disclosed the executive jet was being manufactured "right now" and is expected to be delivered to CA by October/November.

Flight Of Fancy
It is a Bombardier jet after all. The jet which Caribbean Airlines is set to lease will be the same model type on which Prime Minister Patrick Manning participated in a test flight to Antigua in September 2006.

Ramesh: Tell citizens total cost of jet
"The Prime Minister must tell the country whether the initiatives to acquire a jet for his use originated in the boardroom of Caribbean Airlines or whether it originated from the Prime Minister and/or the Government," Maharaj added.

COP speaks out against private jet
The purchase or leasing of a private jet by Caribbean Airlines should be immediately halted, Congress of the People (COP) political leader Winston Dookeran says.


March 04, 2008

Manning And The Jet
Under different conditions I could have supported the idea of the Prime Minister having a private jet at his disposal but not in this climate of increase crime, widespread traffic jams, double digit inflation and increases in the cost of essential services.


Flashback: September 14, 2006

Mannings on test flight of private jet
Less than 24-hours after Government announced it was shutting down State-owned airline BWIA, Prime Minister Patrick Manning went on a test flight of the executive private jet which the State is considering buying for a reported US$50 million. Government officials yesterday confirmed that Manning, his wife Hazel and other officials were taken for a test flight aboard the Bombardier Global Express Jet last Saturday.


Flashback: February 06, 2004

Manning wants private jet
Prime Minister Patrick Manning wants a private jet. He told a post-Cabinet media conference yesterday that "as Trinidad and Tobago moves into developed country status, and as we begin to exert greater influence in the region, the Caribbean and western hemisphere, and especially if we acquire the headquarters of the FTAA, you are going to see a need for greater travel by the political directorate of this country, and other questions (about an executive jet) will then arise if not before." He pointed out that this was the way the petroleum industry operated.


Share your views here, here, here, here and here.