The Unforgettable Tour Concert In Trinidad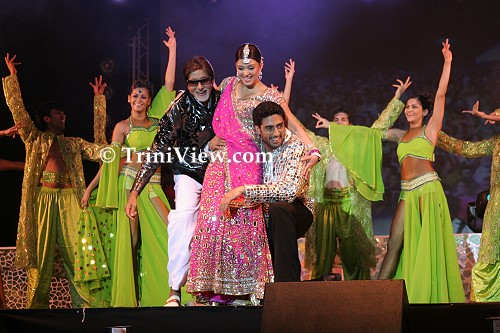 LEFT: Amitabh Bachchan, Aishwarya Rai Bachchan and Abhishek Bachchan


TriniView.com Reporters
Event Date: July 20, 2008
Posted: July 24, 2008

Thousands of adoring fans, some of whom flew in from different parts of the Caribbean, turned up at the Queen's Park Oval in Port of Spain for the Trinidad and Tobago leg of the Unforgettable Tour Concert on Sunday 20th July, 2008, to see legendary star of Indian cinema, Amitabh Bachchan, also known as 'Big B', and Bollywood superstars Abhishek Bachchan (son of Amitabh Bachchan), his wife Aishwarya Rai Bachchan (Miss World 1994), Preity Zinta and Riteish Deshmukh together with popular music composer and singer duo Vishal-Shekhar (Vishal Dadlani and Shekhar Ravjiani).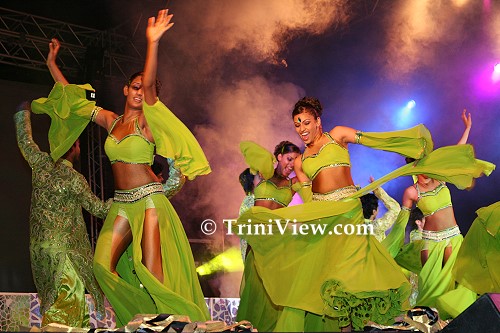 Bollywood-style performance


Produced, directed and promoted globally by Wizcraft International Entertainment Pvt Ltd., the Unforgettable Tour Concert was presented in Trinidad by CLICO together with Universal Concerts Ltd. promoters Sharma Ganess, Mahindra and Meera Persad. According to a press release, Trinidad and Tobago was the only Caribbean venue included on the show's international itinerary. The song and dance Bollywood-style performance was choreographed by one of India's most popular choregraphers, Shiamak Davar and the music was provided by Vishal-Shekhar.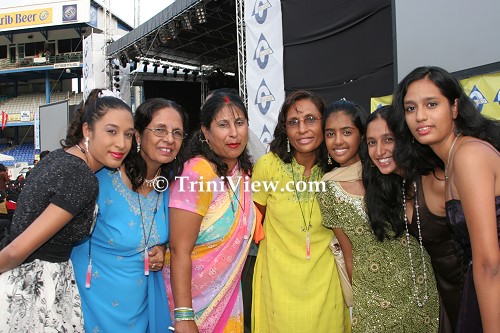 Patrons elegantly dressed in Indian apparel


Although the show was scheduled to start at 6:30 p.m., patrons were already at the gates from as early as 4:30 p.m. The crowd grew in size as the evening progressed, transforming the atmosphere into a fashion gala as patrons, elegantly dressed in very fashionable Indian apparel, strutted across the cricket field in saris, salwar kameez, ghagra choli, sherwani suits and jodhpuri, all colourful and beautifully designed, embellished with different embroideries like kundan, zari dabka and other sequins.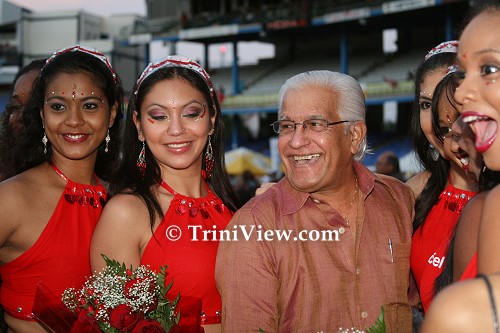 Former Prime Minister Basdeo Panday and Digicel models


People were warmly greeted and escorted to their seats by ushers who were positioned at various points in order to navigate a smooth flow of the crowd. The crème de la crème of Indian personalities in Trinidad and Tobago including former Prime Minister Basdeo Panday, his wife Oma, Siparia MP Kamla Persad-Bissessar and cricketer Daren Ganga attended this grand event.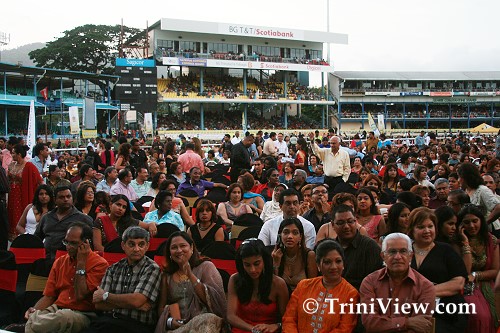 Thousands at the Queens Park Oval


The show did not start at the scheduled time due to a few setbacks but the crowd didn't seem to mind too much. Patrons were quite willing to patiently wait knowing they were going to experience a live performance by the Bollywood superstars. Some even kept busy fraternizing with each other and partaking in the eats and drinks until the show began.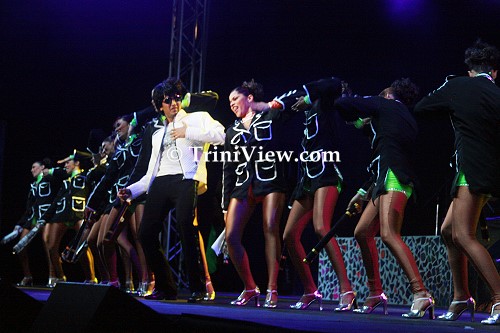 Riteish Deshmukh in a Bollywood-style performance


At about 7:40 p.m. the stage came alive with the national anthem on the Steelpan followed by the sweet rhythmic and vibrant sounds of Tassa music. Following the performance of the Tassa group, the first Bollywood star to grace the stage was Riteish Deshmukh. With thunderous applause, the excited crowd warmly welcomed Riteish as he made his grand entrance in his black and white, hip outfit. After a very high energy performance with a number of upbeat songs and modern dance moves with his dance crew, Riteish left the stage with the audience wanting more.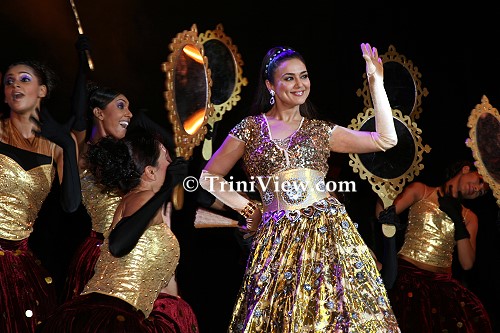 Preity Zinta performs to Bollywood movie hits


Preity Zinta came to the stage with an aura of glamour and changed into various elaborate costumes throughout her performance. She performed many dances from Bollywood movie hits such as "Kal Ho Na Ho" and "Mission Kashmir".


Abhishek Bachchan centre stage


When Abhishek Bachchan took to the stage with an energetic dance to the music from the film "Bunty Aur Babli", the crowd, especially the female patrons, were wild with excitement. Many were on their feet by this time singing and dancing to the vibrant and rhythmic music which echoed throughout the Oval. During his presence on stage Bachchan took time out from his performance to warmly acknowledge and introduce to the audience, his mother Jaya Badhuri who was seated in the audience. He also hailed the large number of people from Suriname who were on their feet most of the night, dancing, and proudly waving their country's flag.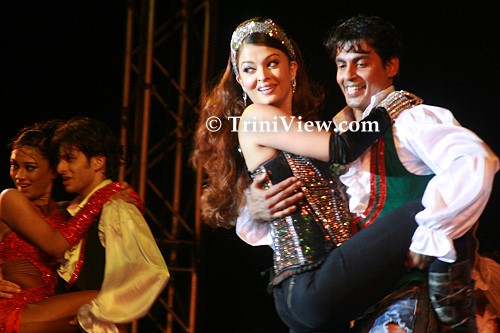 Former Miss World 1994, Aishwarya Rai Bachchan


His wife, former Miss World 1994, Aishwarya Rai Bachchan also had her fans on their feet cheering and shouting words of admiration for their Bollywood superstar. She changed a few times into both traditional and modern outfits during her performance, and her mere presence was highly anticipated, especially since she is regarded well in both Hollywood and Bollywood circles.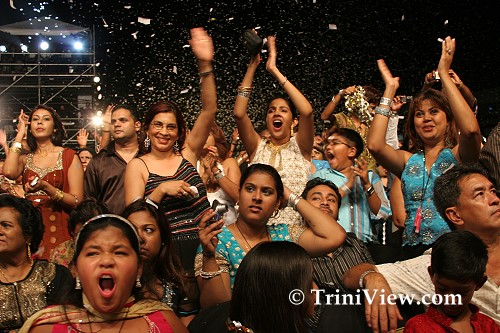 Enthusiastic crowd


The crowd, especially the younger ones, cheered music directors Vishal and Shekhar when they came on stage and started belting out their songs verbatim which included "Om Shanti Om", "Salaam Namaste", "Dus" and "Bluffmaster". They entered the stage with a burst of energy and their vigor was non-stop throughout their performance.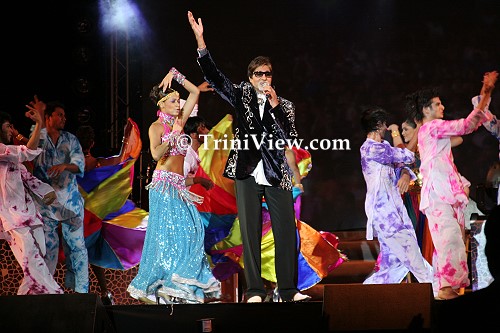 Amitabh Bachchan, centre stage


When Amitabh Bachchan finally graced the stage, the crowd went into a frenzy, cheering and screaming with excitement because they were in the presence of a Bollywood film legend. Elegantly dressed in fashionable Indian apparel for his performance, Amitabh sang, danced and expressed his appreciation to his fans. He treated his fans with a few intense scenes in the form of monologues from his movies such as "Silsila" and "Agnepaath". His performance also included an attempt at a traditional Calypso number which was appreciated by the audience.


LEFT: Abhishek Bachchan, Aishwarya Rai Bachchan, Amitabh Bachchan,

Preity Zinta and Riteish Deshmukh


For many it was a memorable night; some may say that it was indeed "Unforgettable". With a very dramatic and exciting ending, the curtains came down on the final act and the Bachchan trio, together with the rest of the cast made a final stage appearance to bid their fans farewell.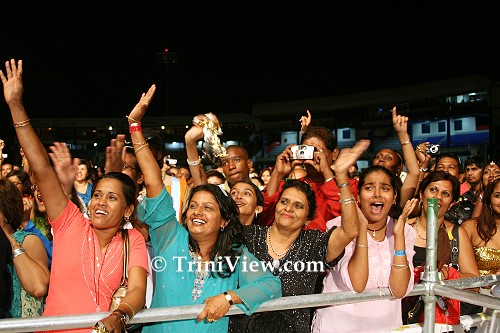 Enthusiastic crowd


The "Unforgettable Tour" moves on for performances in Los Angeles, San Francisco, Houston, Atlantic City, Chicago and New York in the United States, then London and Rotterdam in Europe before returning to perform in India.

The Unforgettable Tour 2008 Trinidad & Tobago Concert in pictures:
www.triniview.com/gallery/main.php?g2_itemId=277874