Machel Montano in Brawl at Zen Over Spilled Drink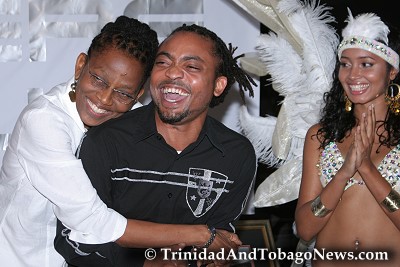 Machel and his mother Elizabeth Montano at Club Zen last night


TrinidadandTobagoNews.com
Reporters
April 26, 2007

In the aftermath of the Akon and Danah scandal at Club Zen, new reports have surfaced of another controversy/incident at the club in which Soca giants Machel Montano, Kernel Roberts and Benjai have been questioned by police. According to reports, twenty-five year old Russell Pollonais of Princess Town was the victim of a physical attack involving Machel Montano and members of his entourage around 2:30 this morning. According to a female relative of Pollonais, he and a group of friends, some visiting from England, went to the Zen Night Club on Wednesday night to celebrate an upcoming wedding when the incident occured.

Pollonais, now warded at the Port of Spain General Hospital, was allegedly hit in the head several times after he went to assist his friends outside the club. The sequence of the reports so far are contradictory.

One source indicates that a group of British nationals numbering about fourteen were at club Zen when one of them accidentally spilled a drink on a female who was dancing with Montano. Machel Montano reportedly slapped the person in the face. The brawl later moved outside the Zen building when Pollonais, in an attempt to help his friend, was slammed against a vehicle several times, thrown to the ground and beaten. Police have taken a statement from Mr. Pollonais from his hospital bed, but the details of the report are yet to be released.

The CNC3 report, unlike what TV6 presented, initially stated that the drink was spilled, not on the girl but on Machel Montano. This report also stated that Pollonais was allegedly beaten by Montano and others. It is said that the Soca artistes involved are to be questioned and statements taken as it may involve charges being laid by the seriously injured Pollonais.

A cousin of Russell Pollonais added another dimension to the story in a CNC3 interview later on in the programme. She had this to say:

"Some drinks fell on the young lady that Machel was dancing with. Machel was leaning against the bar... the lady, her back was to him and they were dancing. I don't know what she told Machel, but then Machel slapped my cousin and punched my cousin in his jaw...all his people started coming to us and we started going to them. Nothing actually broke out there other than that in the club."

The group of fourteen, nine females and five males, were then escorted by club bouncers to the exit foyer where owner Johnny Soong tried to get details on the incident, according to the female relative. She said that they were accosted again as they were making their way to the maxi taxi they hired.

She then said, "Some of the girls from England, went back to apologize to Machel just to make the peace and then Rus [Russell] goes back [by Machel] to call them because we just wanted to put an end to the whole thing and as he goes to call him, [he started] shouting [and] calling the girls to come and then they all charge on him; Zen bouncers, Machel bouncers, Machel, Benjai, Kernel Roberts, all of them. Next thing you know, he's on the ground...bleeding from the head."

The victim's cousin then said those responsible quickly drove off away from the scene and Pollonais had to be taken to hospital by ambulance where he remains warded for observation.

Elizabeth Montano, the mother of Soca star Machel Montano, did not give an official take on the issue from the Montano camp. Her only comment so far on the issue was that she was not present at the affair and people may say that she may possess a bias because she is Machel Montano's mother, hence her silence.

Johnny Soong, owner of the controversial club Zen was also questioned today and spent just under an hour at the Belmont Police Station this afternoon. Soong told reporters, "We are cooperating with all police investigations that they have for whatever they are investigating. We are cooperating fully and we stand to cooperate for anything that they need to find out." He gave no more details about the incident saying, "That is a subject of police investigations so I really cannot comment on that at this point."

Details of the full report remain sketchy but doctors say Pollonais remains in serious condition.

Share your views here...