Why Target the UNC Alliance Rally Alone?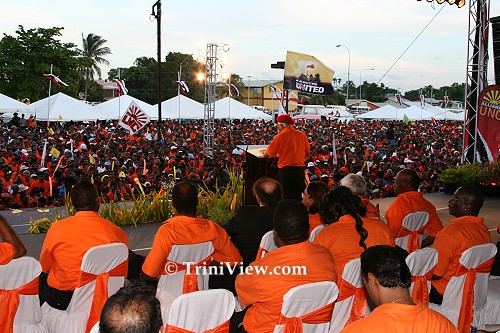 Basdeo Panday addresses the crowd at the UNC Rally


Trinicenter Reporters
October 09, 2007

This election season, many are uneasy about the unpredictability of the outcome of the November 5th polls. Each party wanting victory are hellbent on propagating untruths and they are even judgemental about absurdities that they too are guilty of.

The Trinidad Express published an article written by Richard Charan dated October 09, 2007, titled 'UNC Alliance rally was just a big fete'.

Here are some interesting points that was published in that article:

"The United National Congress Alliance's Mid Centre Mall crowd on Sunday was an illusion, and it cost $1 million in transport to take people there to fete all day, former UNC chairman Kama Maharaj has said."

"Maharaj said he knew the election tricks the UNC used to make a crowd look big."

"We put tents all around the car park and the inside gets really small. We will bring any amount of people we can find. We never knew that place could hold more than 5,000."

The reported criticisms by former UNC chairman and now COP member, Kama Maharaj of the UNC could easily apply to his party (COP) as well as to the PNM.

Triniview.com, which provided extensive coverage of three major political rallies involving COP, PNM and UNC, estimated that the UNC crowd was the largest, thus far, of all three political gatherings.

If the UNC pulled off an illusion to make their crowd appear larger than it was, then they certainly beat COP and PNM, both of whom attempted the same illusion.

Bussing-in people is quite common and all three major political parties (PNM, UNC and COP) do it. The UNC's Rally cost was made public and was estimated between four and five million dollars but this in no way means that the cost of the PNM and COP productions were less. If one is to think that the UNC had wasted money, then they should equally be of the view that the other parties engaged in similar financial wastage.

Trying to attract a large attendance by having entertainers during the rally is also common and was done by all three major political parties during this election season as well as for previous political campaigns. Additionally, packing the venue with tents as a way to fill spaces can be attributed to all three political parties.

I think many people were surprised at the turnout at the UNC Alliance Rally.

All three parties invested heavily to show the nation they had the largest support.

COP's Kama Maharaj reportedly said:

"When you sell your party they own you, and you have to do whatever they want. History has repeated itself and the UNC has been sold to a single financier."

This statement on its own can be deceptive.

When the dissident COP members were part of the UNC, the UNC was heavily financed by Jack Warner, Lawrence Duprey and Ish Galbaransingh, all of whom profited from that relationship. The PNM has always been heavily financed by the White/Syrian business community and they have always profited from that relationship. I am sure that the COP also has huge financial investors. (The Prime Minister alluded to Casino owners being COP's main financiers. We are yet to confirm this.) If Kama Maharaj is against big businesses financing political parties then he should be consistent with that position, but it appears that he has a problem with Jack Warner being the main financier for the UNC. He would have to explain why this is any different to what has always existed (minus the fact that Mr. Jack Warner is a wealthy African who operates in the frontline of the predominantly Indian-based UNC).

Share your views here...